Join ISPsystem's Affiliate Program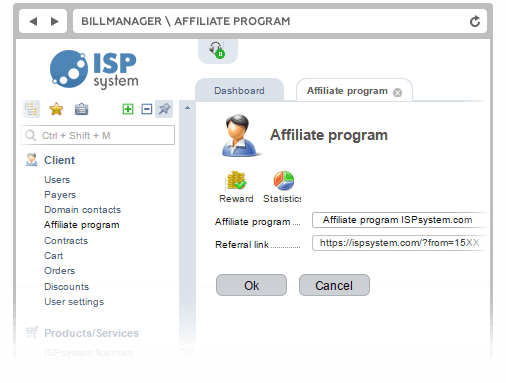 Place your unique partner link at your website or use it in combination with our marketing materials. When a user follows the link, he will be brought to ISPsystem's site and his activity will be tracked by our software. You will earn a 10% commission from each of your referral's purchases. When your balance gets to 50€ you will be able to withdraw the commission reward.
* You can find the referral link in BILLmanager: Client \ Affiliate program.
3 easy steps to start earning
Start earning with us. It's easy, free to join, and requires no technical knowledge.
Use professional banners with your unique partner link to promote ISPsystem.
Earn 10% commission from every purchase made by customers you refer to ISPsystem.
What's in it for me
Get a 10% reward for every purchase made by a client that you refer to ISPsystem.
You can easily receive your money once your account balance reaches 50 euro.
Ready to Use Marketing materials
There are a number of pre-designed ISPsystem's banners available for you.
Real-Time Statistics and Reporting
Track on-line stats about your progress in your BILLmanager Client area.