АТМЕМТА is engaged in development and IT outsourcing for B2B, developing websites and applications. ATMEMTA provides shared hosting with technical support so customers do not have to think about where to host them and how to administer them. The company's CEO Andrei Ivanov tells what solution is used for this and how it helps to reduce IT costs.
Why VMmanager
Users do not like the console — they like to work in a graphical interface
We have many customers who need shared hosting with a convenient management system. That is why we are using
VMmanager
. In fact, we have both Hyper-V and VMware, but for KVM virtualization, it is more convenient to use VMmanager, and it is cheaper and easier for customers. Tests show KVM's high performance when working with complex 3D graphics applications such as Autocad and Microstation, and working with 1C accounting system is more convenient on KVM. Things are easy here, as you can customize via the server console, VMmanager does not interfere with this, and you can manage virtual machines directly from VMmanager.
Users do not like the console, and we do everything for them. It fully supports both local and cloud infrastructure. Often we solve a problem without even informing the customer about it. For the customer, everything simply always works. VMmanager helps us in this.
A common situation: network cards in the virtual machines appear as pluggable devices. So sometimes customers confuse them with USB drives and mistakenly eject them. Then everyone who was working with the server loses access to it. You can only reconnect the network card or reboot the server barbarically through the console. But granting access to the server console is not secure because the user can affect other people's services. VMmanager solves this problem. The client accesses the virtual machine console directly from the browser. It is rarely needed, but it happens.
There is a ready-made monitoring system — we respond faster to problems
e can quickly go into the web interface and immediately see what is going on without having to enter a command — this is convenient. For example, if the server freezes, VMmanager will show absence of disk activity. The engineer, even when on the road, can access the panel from his/her cell phone. While it is not as convenient to manage services this way, you can quickly figure out what is wrong without having to connect to the console from the same phone.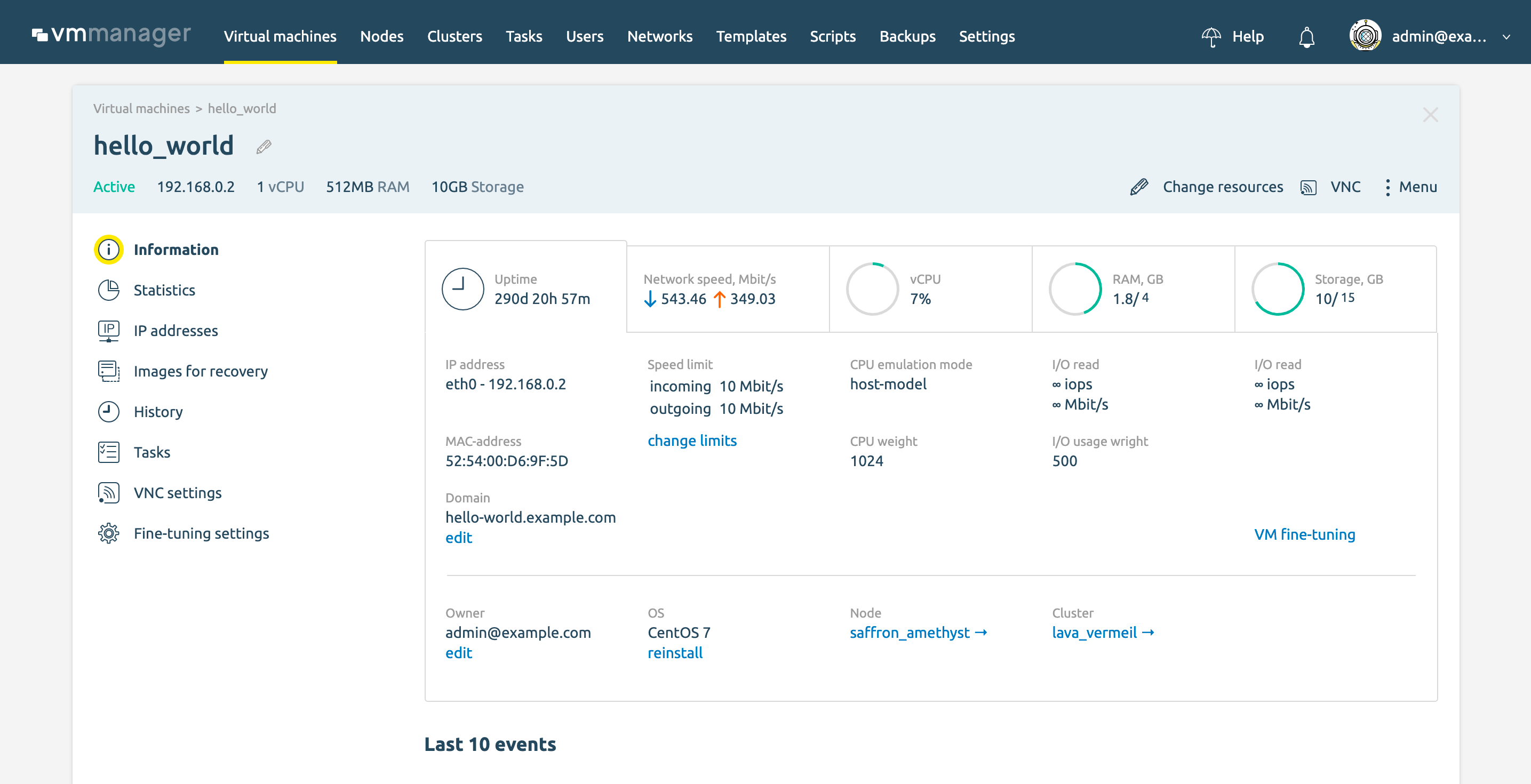 Virtual machine card in VMmanager with information about traffic, VCP, RAM, Storage. You can also view the event log here: what actions were performed and which user initiated them.
The entire virtual infrastructure can be managed in a single window — this speeds up administration
In VMmanager
we create VMs, resize disks, create backups and use monitoring. Backups are a critical element. Moreover, if something goes wrong when restoring from backups, there is the ISPsystem technical support service. They can quickly connect and help you recover a low-level VM or deal with a low-level problem.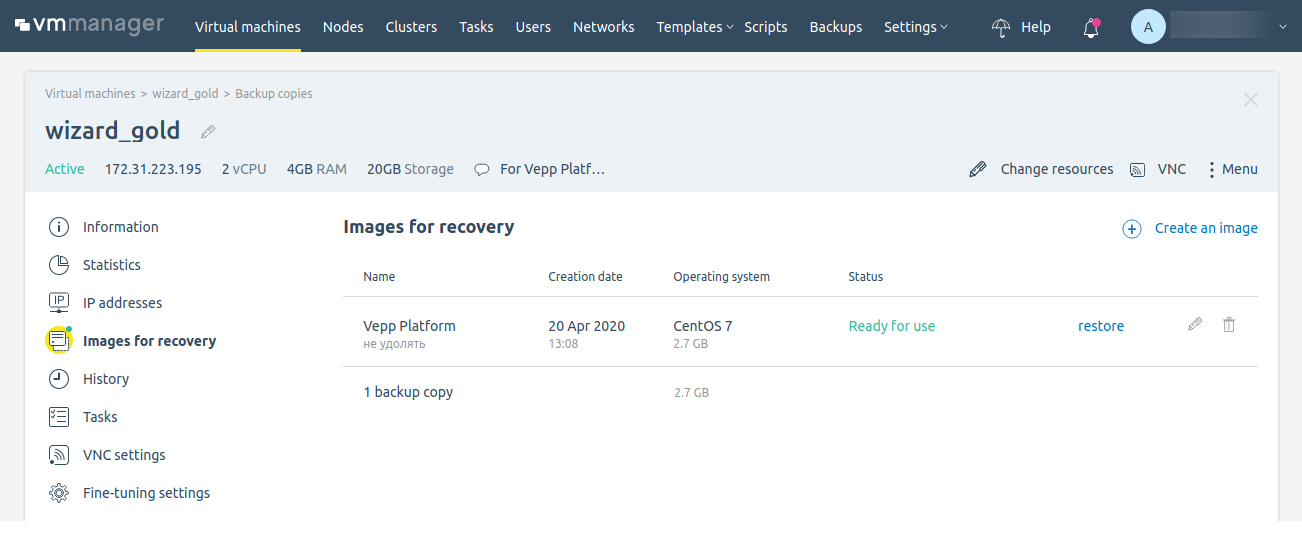 Backups management in VMmanager. You can set up integration with a billing system to provide backup services to your clients.
Easy integration with billing and other software reduces the cost of ownership of IT assets
One way to cut costs is to reduce the number of IT systems. This reduces the cost of asset ownership. We useVMmanager along with other ISPsystem platforms:
With BILLmanager we automate sales of hosting and our services. There are only a few good billing systems with functioning support in Russian and the possibility of customization. Meanwhile, BILLmanager is convenient both for users (everything is clear in it) and for us. It includes features that simplify technical support and is integrated with all services out of the box.
With ISPmanager we support user websites. The time-tested ISPmanager is completely suitable for this purpose. We do everything for clients, but sometimes they need to go in and correct their NS server records, make sure everything is under control, get low level access to the website, or create an archive independently. And this is where the panel helps. It is true though, that we had to work a lot with the technical support to customize the platform to our needs. However, ISPmanager covers all hosting issues for most websites (we recommend VMmanager-based virtual machines for 1C Bitrix).
VMmanager, ISPmanager and BILLmanager work in combination and have the same support window. If we have questions related to several services at once, we do not waste time explaining — the technical support knows all their products and their features. The platforms have a similar interface and the same operating principles. In addition, there is DCImanager. With our number of servers, we are not quite there yet, but we already have to look closely at the solution.