Dmitri Sidorov, Technical Director at Hypermetrica a Russian IT outsourcing company, is telling how the products of the ISP ecosystem help the company to automate its hosting services and equipment management.
We started offering hosting services 4 years ago. At that time, we had to invest heavily into the development of our own billing system. It took a lot of time. In addition, we paid strong attention to testing, because even a minimal error could lead to disastrous consequences — accidental deletion of client data.
We became worn out trying to develop an in-house solution and decided to use a ready-made billing system. Numerous standalone products are available on the market. We chose BILLmanager: it can be easily integrated with a set of hosting products without extensive modifications.
Any automation that removes an engineer from the chain of work brings savings.
BILLmanager has fully automated our sales. Even such small things as user email verification are an advantage, because our managers do not need to call customers in person.
We use BILLmanager in combination with other ISPsystem software. This includes VMmanager for virtualization and DCImanager for managing physical equipment.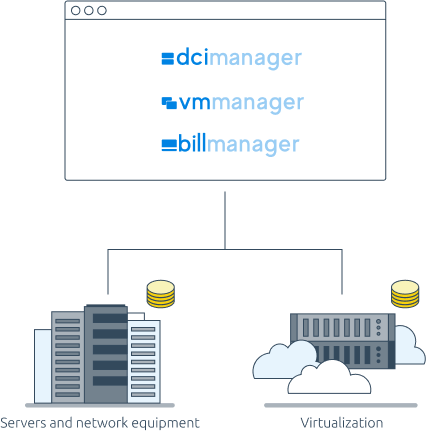 ISPsystem solution: billing, equipment management and virtualization platforms work together in
Hypermetrica
's infrastructure.
Automating virtual machine provisioning with VMmanager
VMmanager is a wrapper over libvirt and KVM. VMmanager simplifies our administration — all work with virtual servers is done automatically:
If it were not for VMmanager, we would have had to hire an engineer to create virtual machines manually.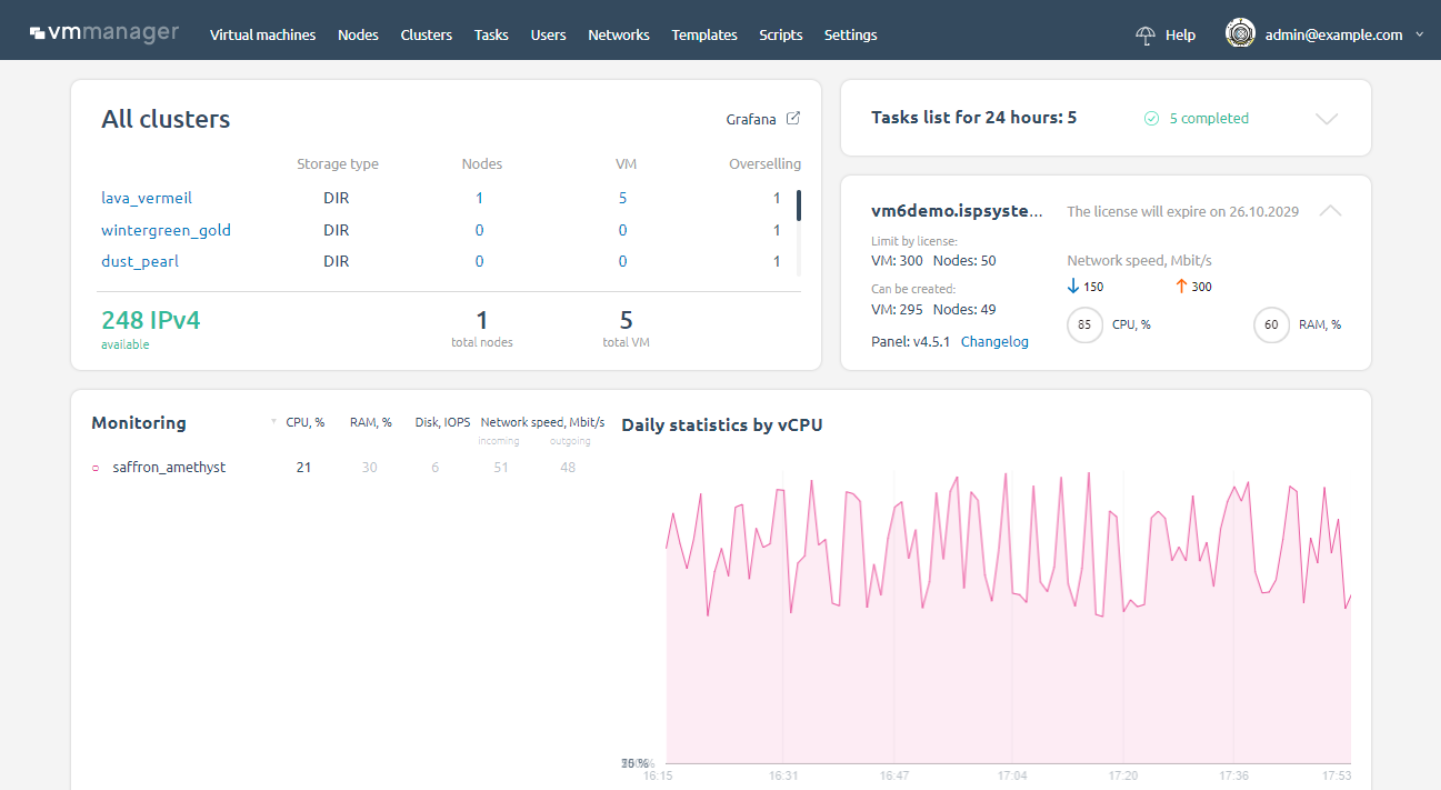 VMmanager dashboard. You can quickly assess the state of your infrastructure: clusters, nodes, CPU usage
DCImanager
DCImanager manages our servers:
Helps manage network equipment,
Tracks power consumption and network load,
Runs server diagnostics, Automatic server diagnostics in DCImanager
Installs the OS,
Collects network traffic statistics,
Disables server ports for clients with payments overdue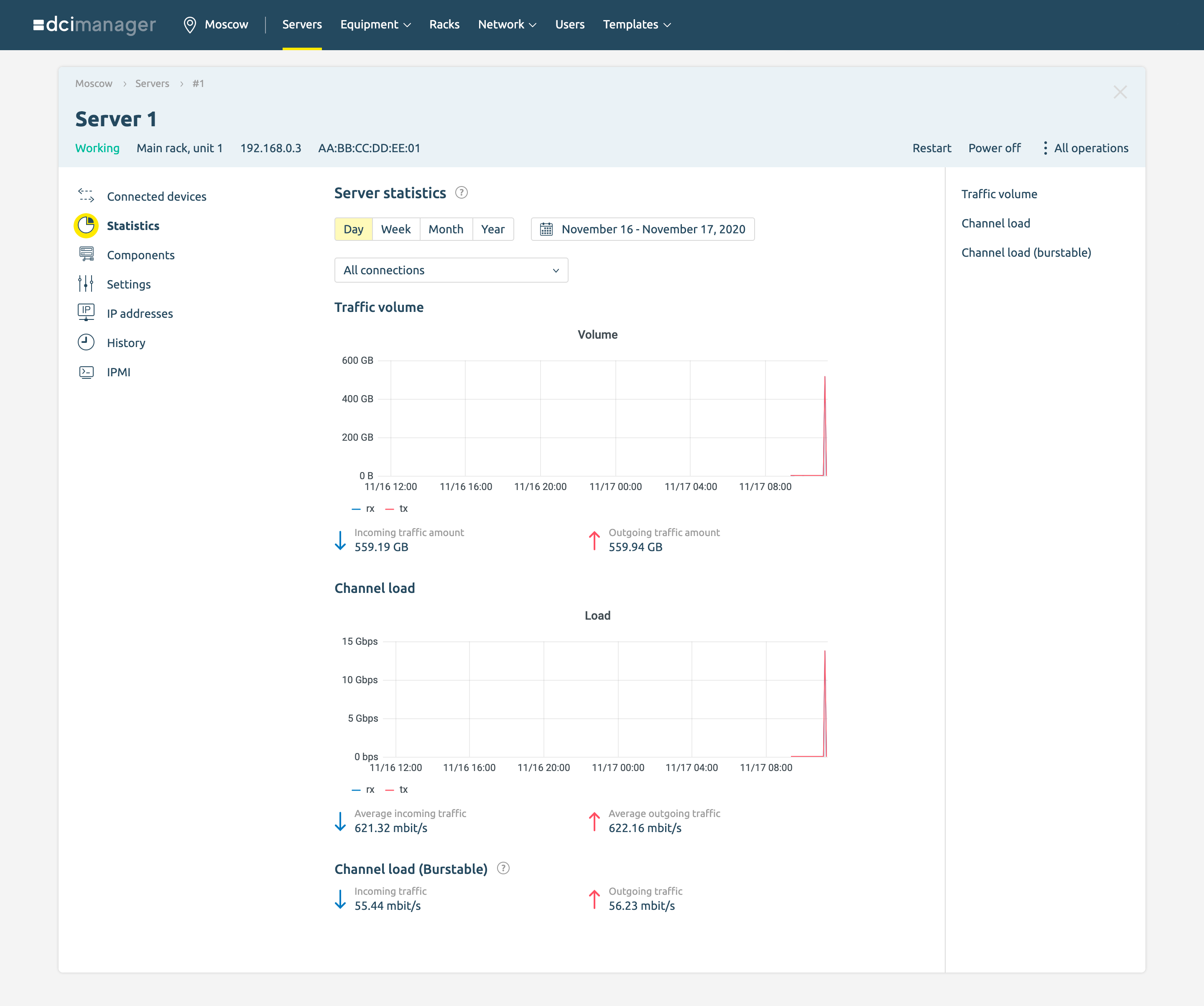 Statistics on traffic consumption in DCImanager: you can view the traffic volume, network load and actual consumption (based on burstable).
A big advantage of DCImanager is that it gives access to the server control panel. Clients can independently power their server on and off and manage it via IPMI and VNC.
At present, we are planning to start providing colocation services. We are looking for a room and an investor, as well as solving organizational issues. DCImanager provides useful features for colocation: PDU meters, client server traffic metering. Everything can be integrated with BILLmanager and a pay-per-use billing scheme can be configured. When our colocation service becomes available, DCImanager will make our work much easier.
Try the ISPsystem solution for your business:
Automate routine processes,
Reduce the technical support work load,
Reduce the cost of ownership of IT assets.
Order a free consultation now and we will help you find a solution to match your needs.