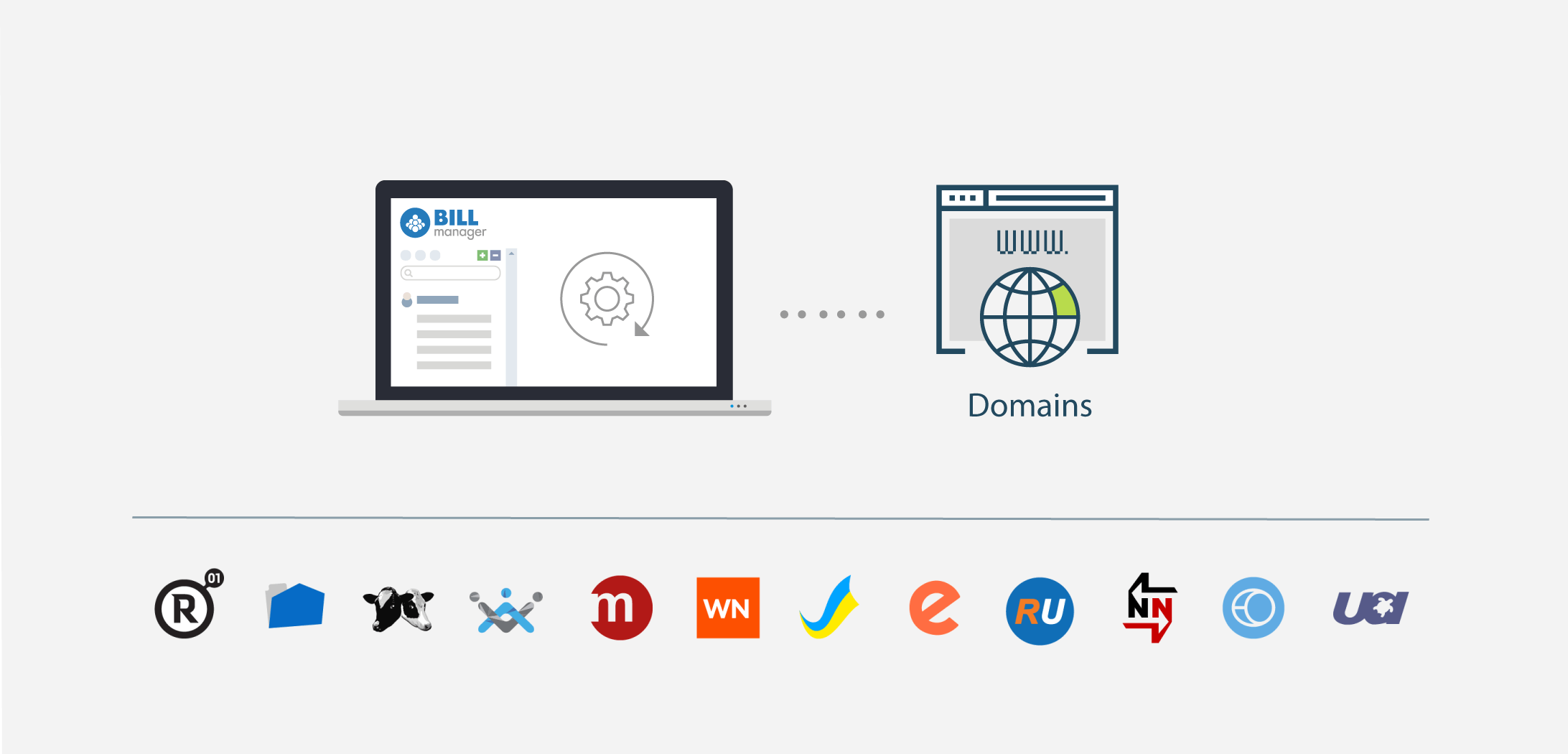 Pavel Karpovskii
Head of Marketing
A few weeks ago we have published
the article about selling domains and SSL certificates
. There were many questions from our readers — what registrar to choose for reselling? There are so many integrations with different domain registrars and SSL-resellers! Another popular question was about the business idea itself — is there any sense in selling domains now when many people say that the best time for this is gone. We decided to devote this article to answer these questions with regard to domains.
Trends
It may seem that domain market is shared between the large players and has no space for new companies. However, making money on domains reselling is still possible. Every year the number of websites on the web is growing. According to
Netcraft.com
the growth for 2017 is expected to be around 50%. All these websites need domains, that can be bought from you if you can provide right market positioning and promoting.
Market positioning and promotion
At my opinion, the positioning is the first thing to think about before starting domains reselling business. In fact, there are thousands of websites where a customer can buy a domain.
Take a look at TOP Google search results for "buy domain" request and you will hardly see a difference.
Every reseller sells domains for any business at the best prices.
Except for the large players like Enom, predominantly hosting providers are the ones who sell domains. Since a domain is not the main service for them, the domain selling sections of their websites are not convenient usually.
For beginners, it may be hard to compete with existing companies. You may have your own ideas how to find clients playing by the common rules. However, if you don't have them, here are my pieces of advice.
1. Create a thematic brand
In addition to selling domains to everybody, choose one or several popular business areas and focus on it. For example, you can focus on a traveling and sell domains in the .travel zone together with standard .com and .net domains. Build your company image as an expert in domains who also has a deep understanding of tourist industry.
Allow your clients to recognize themselves when they visit your website. The right design, content, and recommendations will help you with it. If a small travel agency will ever need a website they will go to you to buy a domain!
2. Promotion
Don't spend all your money on the Google ads. The domain giants flood the market with their huge advertising budgets and the price per click sometimes exceeds the price of the service itself sometimes.
Keep in mind your theme when you plan the promotion.
Pay a special attention to SEO-optimization. Besides the main page for selling domains for everybody, make the special landing pages for your target audience. You may use different variants for headings: Domains for a travel agency, Domains for a travel-blog or Domain for a travel forum. Pictures you use on the website should be also relevant to the theme. Keep your blog and publish the best content for your audience.
Post your articles at popular business portals. If you have a good and usefull content it can be published for free usually.
Build partner relations with other companies working in travel and tourism industry. Share your audience in social networks, make cross-promotions and release guest publications in each other's blogs.
3. Prices
At first, study the prices among your competitors. However, don't try to give the lowest prices on the market, otherwise, the money you invested in your project will never pay-off. Keep your prices on an average or even high level and make a stake on a customer service. Make the process of choosing and ordering a domain convenient, easy and fast. Talk with your clients in tickets or live-chat. All these tools are available in BILLmanager for free.
Choosing a domain registrar for reselling
In fact, it doesn't matter what registrar you choose since you can change a partner in your BILLmanager at any time. However, it is very helpful to have a general picture of the main players on the market.
ENOM
ENOM is an American domain registrar founded in 1997 and being a part of a parent company TuCows. ENOM website says they have more than 200 000 resellers around the globe and about 25% of them are active.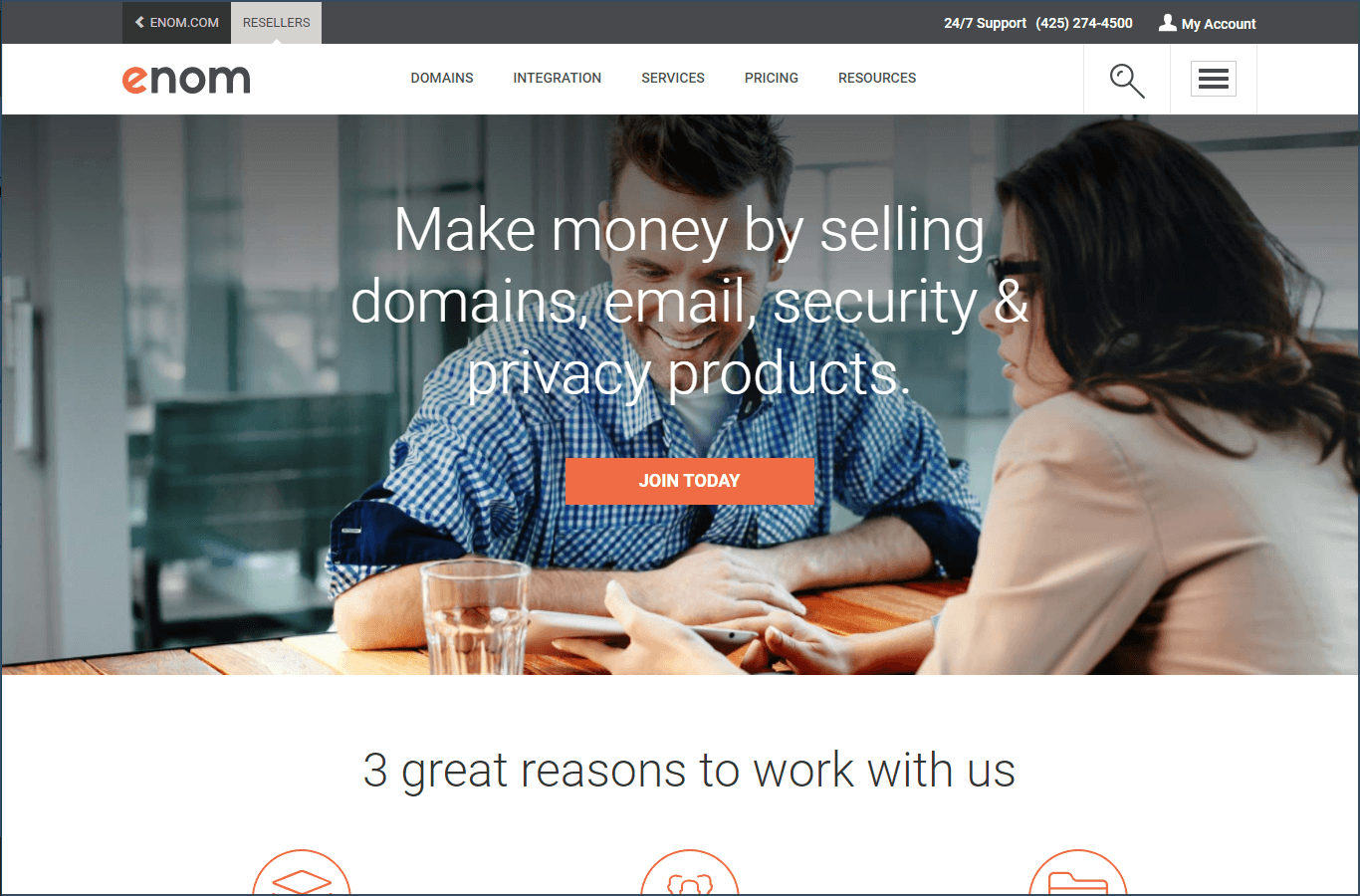 Joining the partner program will cost you at least $195. The company runs promotions occasionally and you can become a partner for just a quarter of the regular price. Discount depends on your partner level - the bigger your deposit, the better conditions you get.
Tucows and OpenSRS
Tucows is one of the oldest domain registrars in the world. The company was registered in 1993. Tucows brand is focused on investments and runs tens of large and small IT-companies. The company doesn't sell domains to end customers, it has its own cash cows (ENOM and OpenSRS) instead.
OpenSRS — is a "Canadian cow" of Tucows. Being created in 2008 for selling domains to partners, the company has the largest hosting providers, telcos and site-builders among its partners now. You can join this list as well.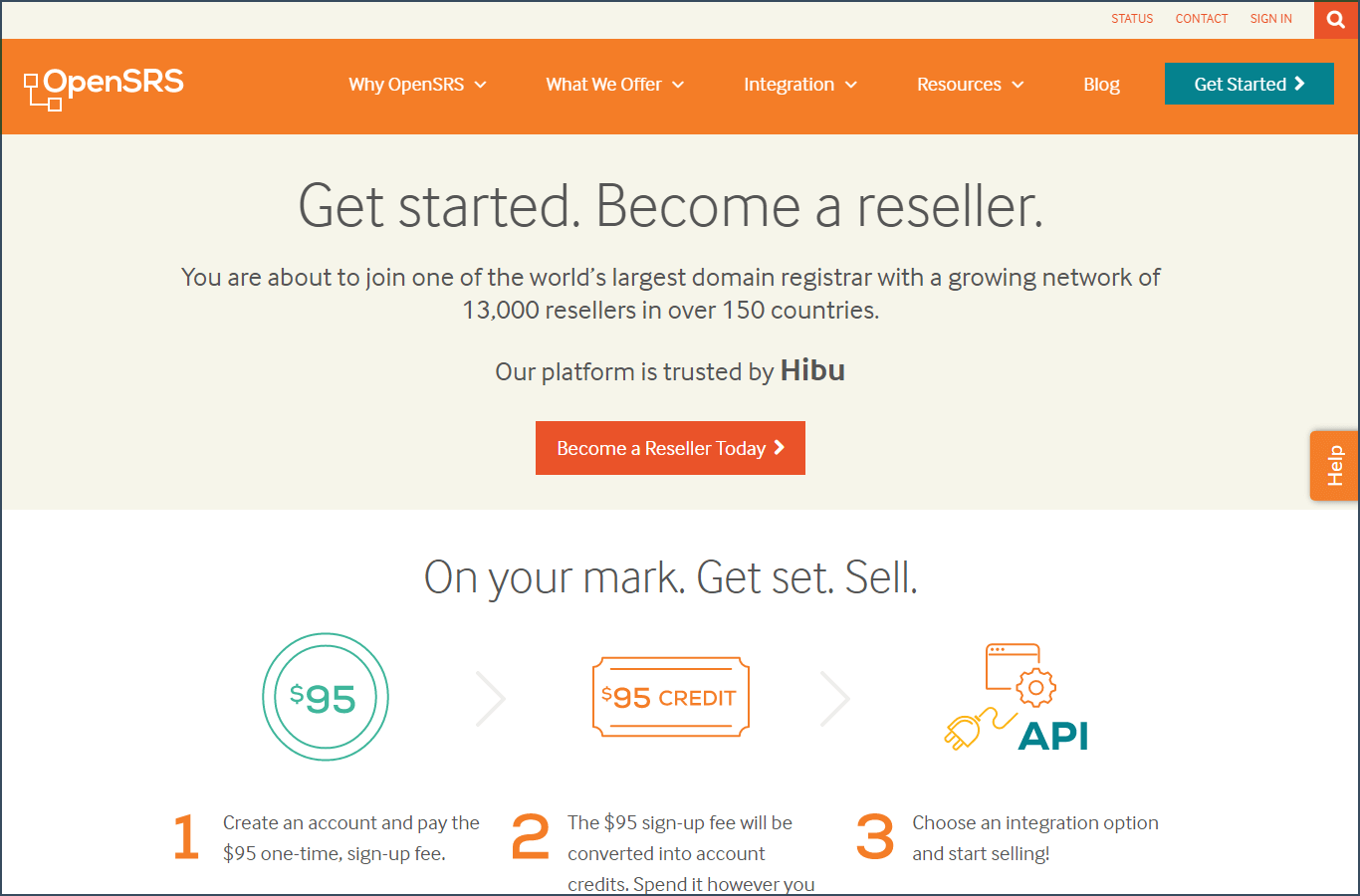 Joining the partner program will cost $95 to a new partner. This money will be added to your balance so you can use it for purchasing OpenSRS services.
ResellerClub
The company with headquarter in Mumbai was founded in 1998. ResellerClub operates globally and provides a wide range of services for domains, hosting and SSL-certificates resellers. Having a network of more than 100 000 resellers from 200 countries the company provides services to about 4 millions customers.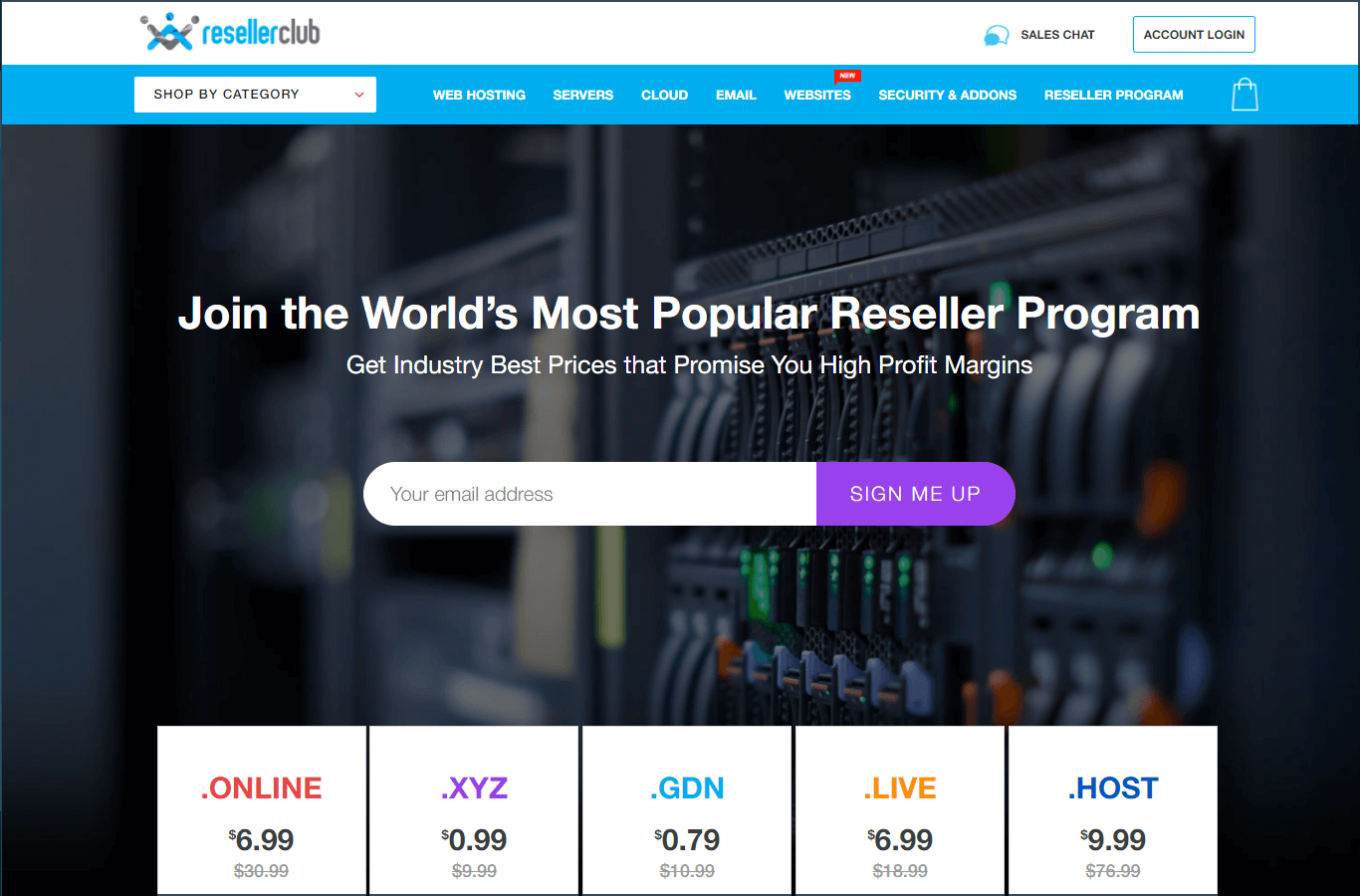 The lowest deposit is $25, but in order to obtain the highest discount, you need to add $2999 to your account. The company has many regional branches including Russian, Brazilian or Chinese, so it is possible to receive a support at your language.
RU-Center
RU-Center exists since 2000. The company was the first one who received a status of national domain administrator for .RU zone. Today RU-Center maintains more than 3 millions domains. The company has more than 750 000 clients and the number of their partner is well above 8 000. It is easy to find a regional representative of RU-Center in every subject of Russian Federation and 68 countries around the world as well.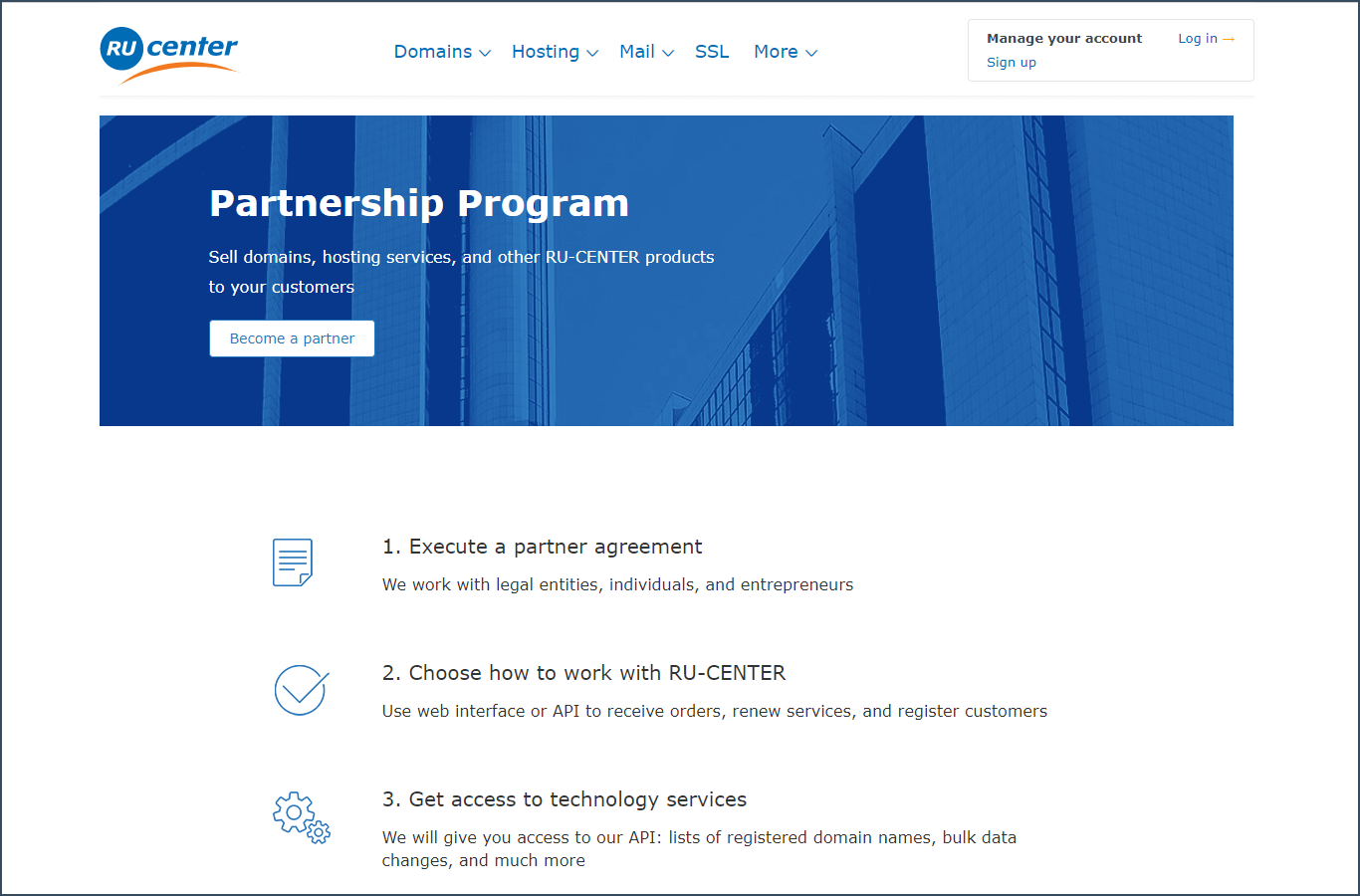 No matter if you a company or an individual you can become a partner of RU-center. There is no discount for partners by default, in order to obtain it you need to buy a subscription for joining RU-center Club that starts from $28 per year.
Ukrnames
Ukrnames is a Ukrainian domain registrar started in 2007. A year after founding the company became an official registrar for .UA zone. At the same year, Ukrnames had received an access to registering top-level Cyrillic domains. A head office is located in Ukraine, but the technical support team is spread among eight different countries.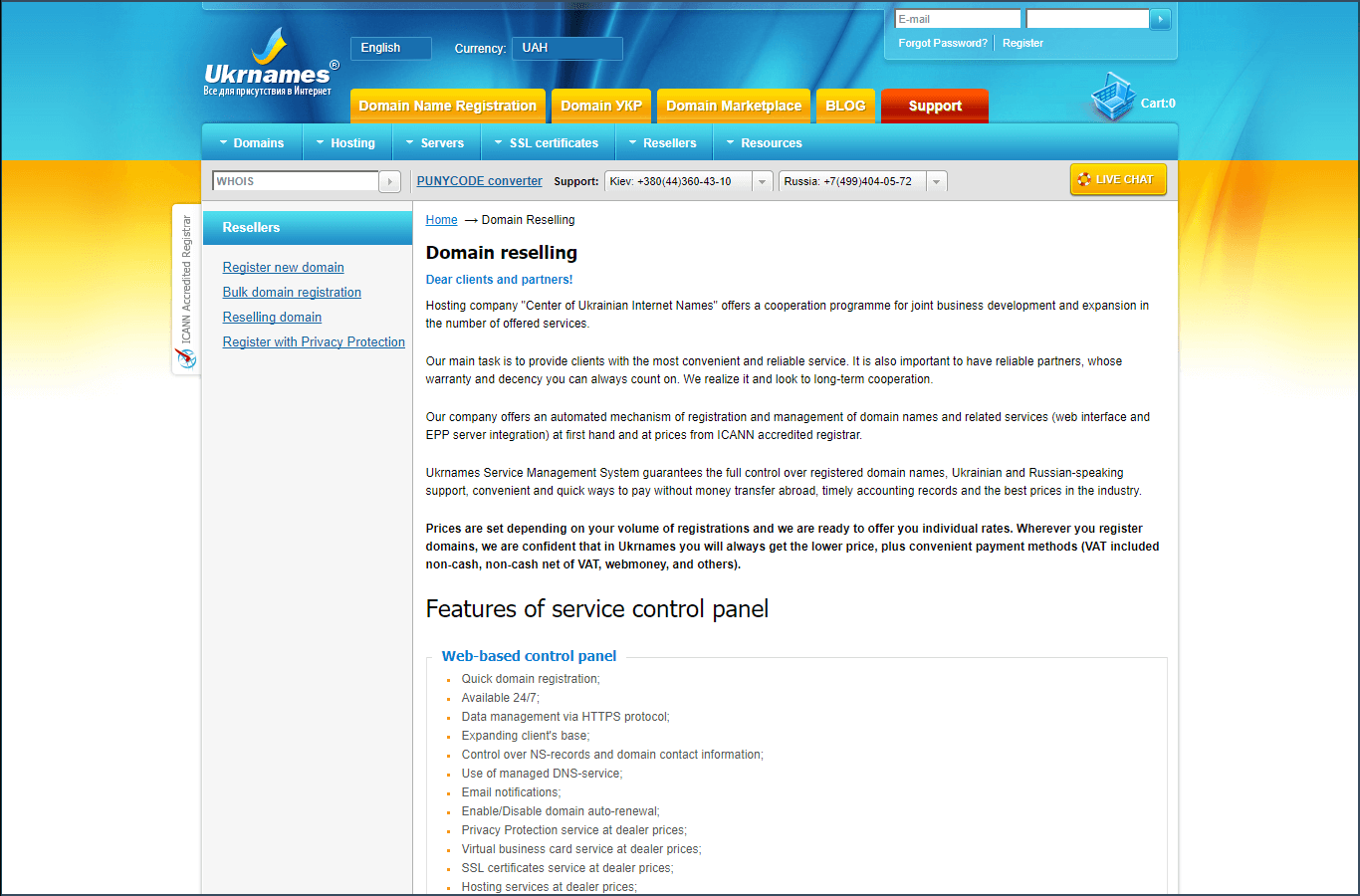 The partner discount depends on the turnover. The company accepts Webmoney payments.
REG.RU
REG.RU — is the biggest domain seller in Russia and CIS countries well known among European registrars as well. The company was founded in 2006 and provided their services to 1.5 million customers since then. More than a half of domains being bought in Russia today are registered in REG.RU.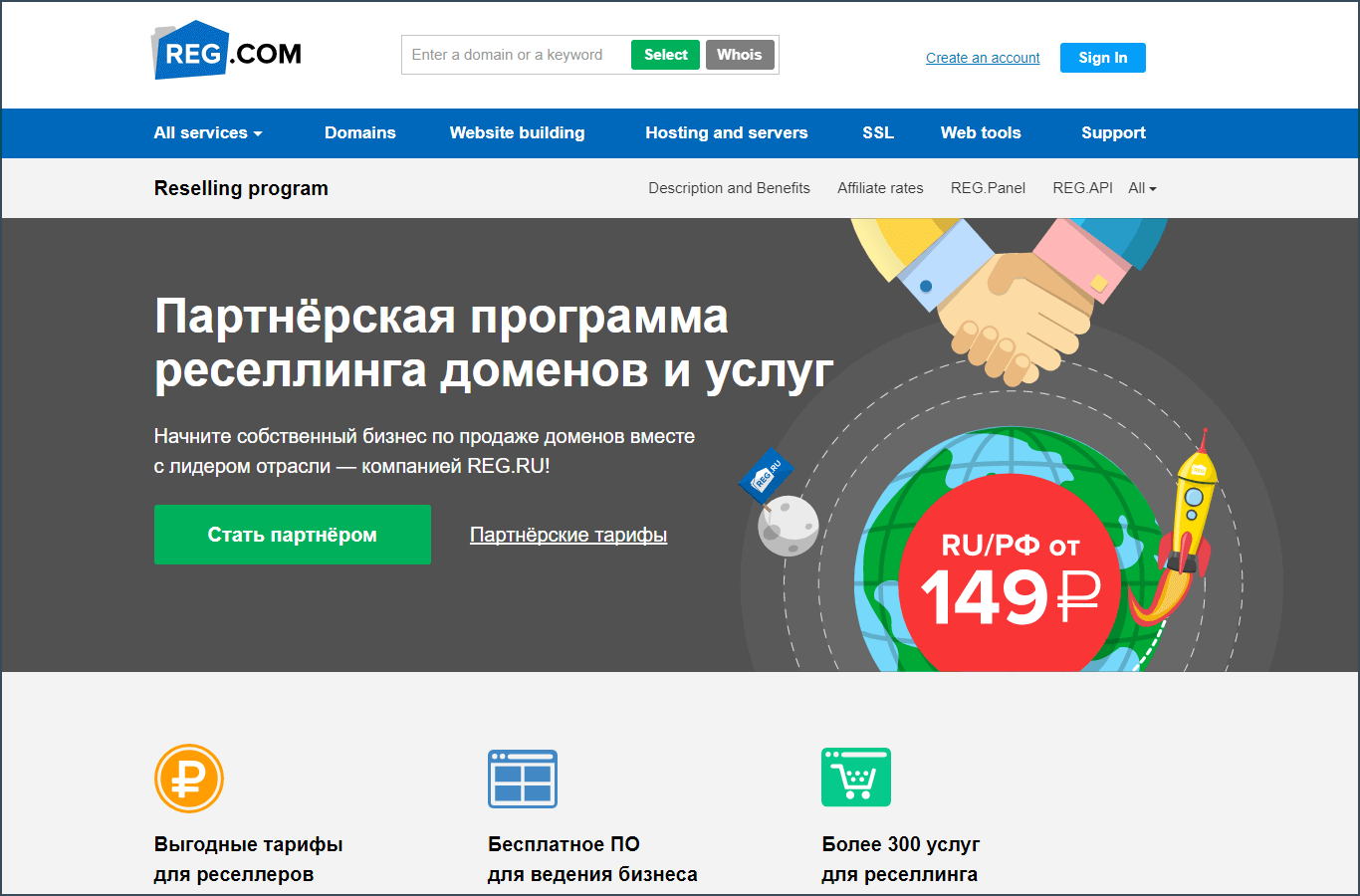 REG.RU supports their partners at every stage. It is quite easy to receive a partner status, you just need to fill out a standard form and apply for an individual tariff plan.
R01
R01 registrar belongs to the RU-Center Group. The company's focus is second-level domains (SLD). R01 is one of the leaders in registering .RU, .SU, .РФ, .МОСКВА and .MOSCOW domain names.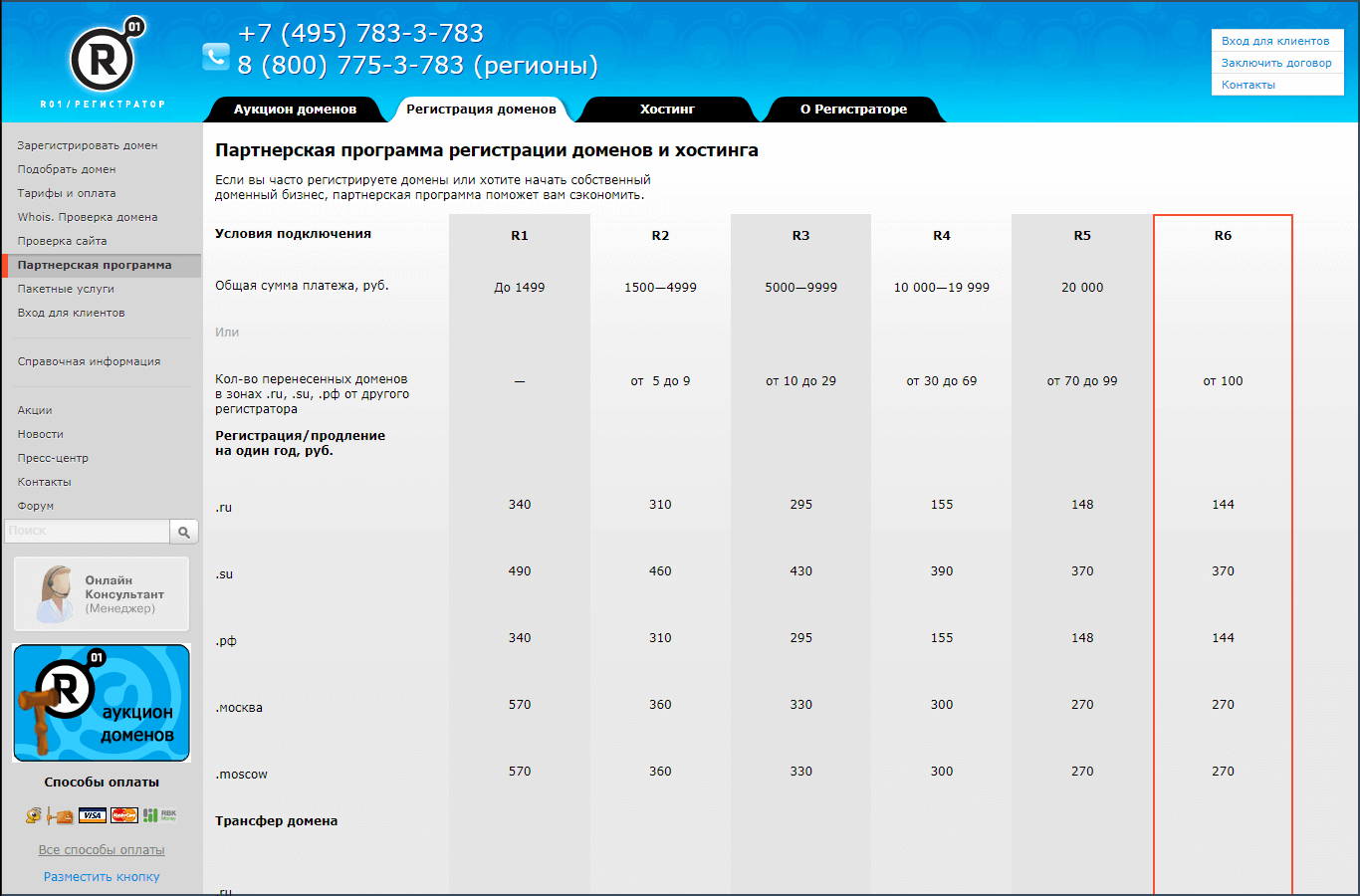 Any company or individual can join their partner program. However, if you want to get a higher discount, you need to transfer domains from another registrar to them or add a specified amount of money to your account.
Webnames
Webnames.ru exists since 2000 and has more than 30 offices in different cities of Russia and CIS countries. The company registers domain names for popular international (.COM, .NET, .BIZ, .INFO), national (.RU, .SU, .РФ) and many other zones. For the last 10 years, Webnames promotes the direction of Cyrillic internet-names, including .РФ domains and domains with Russian cities names.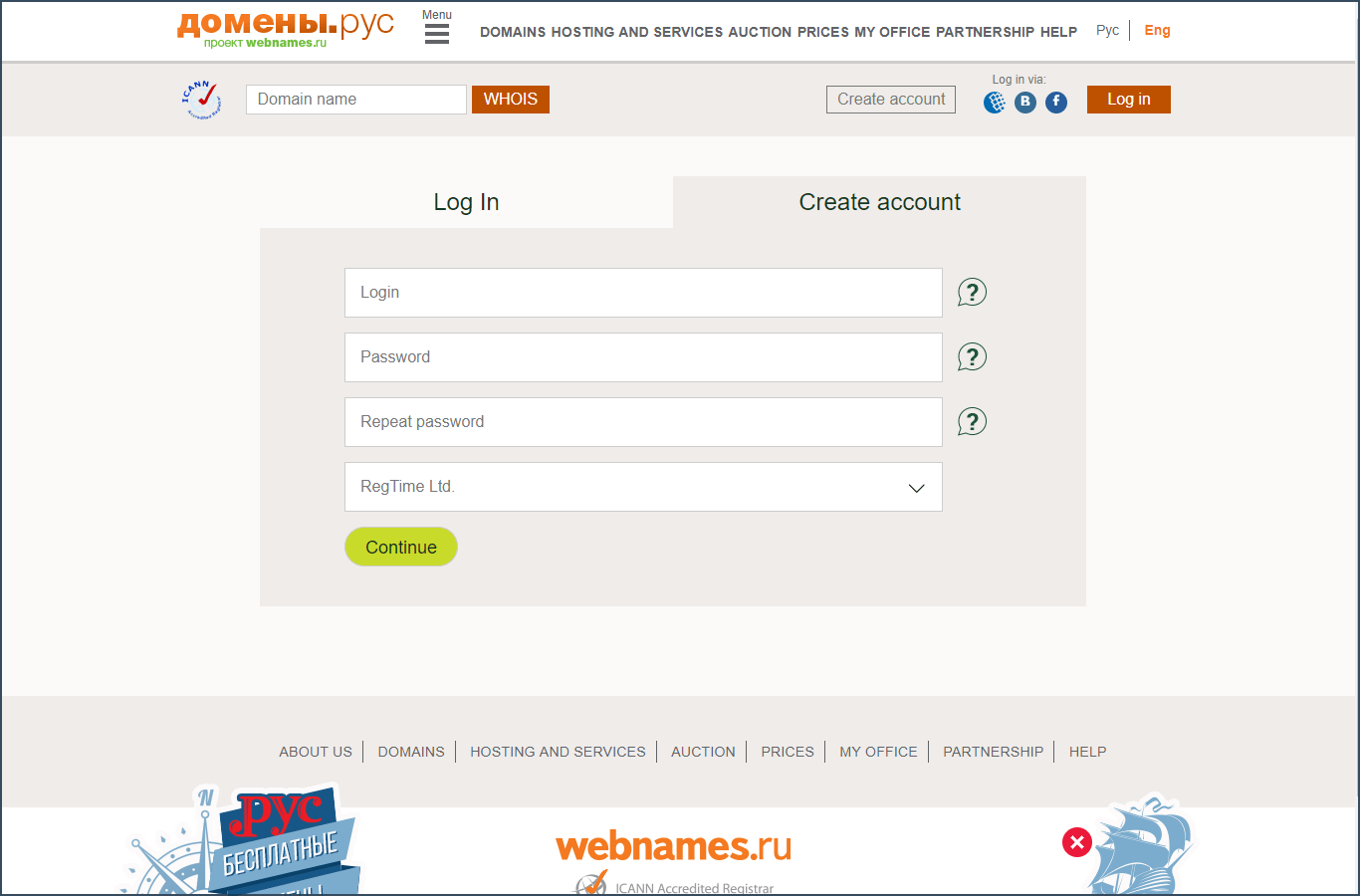 Tariff plans depend on the turnover. The first plan doesn't require any investment and it is appreciated by the most of the new resellers.
Mastername
The company operates since 2005. Mastername puts a big stake on selling domains through resellers, providing them a highly qualified support 24/7.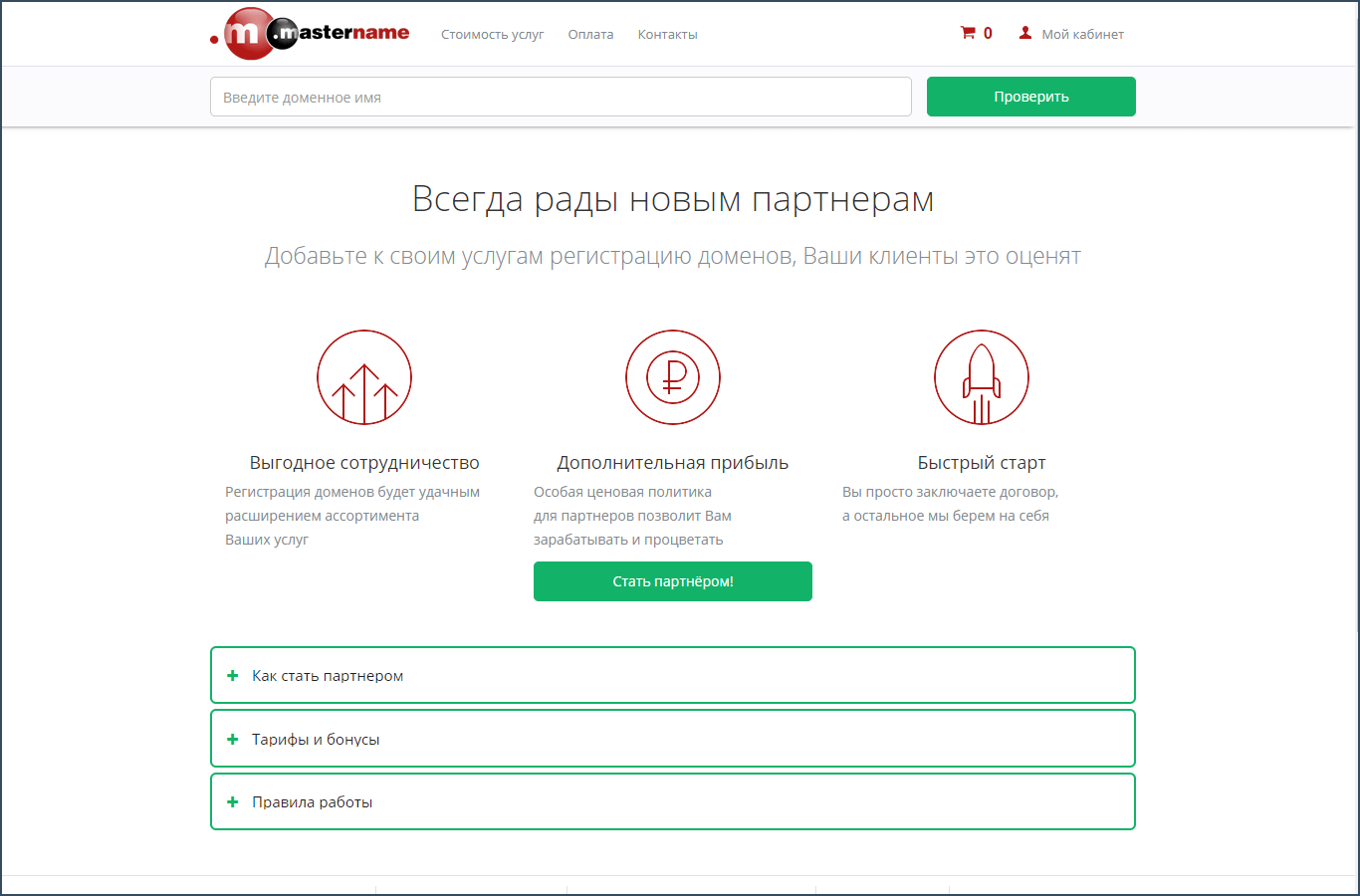 Mastername partners can only resell .RU, .SU and .РФ. domains. If you want to become their partner, you need to fill out the registration form and sign a contract. Please note that you should have a legal entity to join the partner program. A complete description of Mastername partner program with all the requirements to applicants is available at their website.
NauNet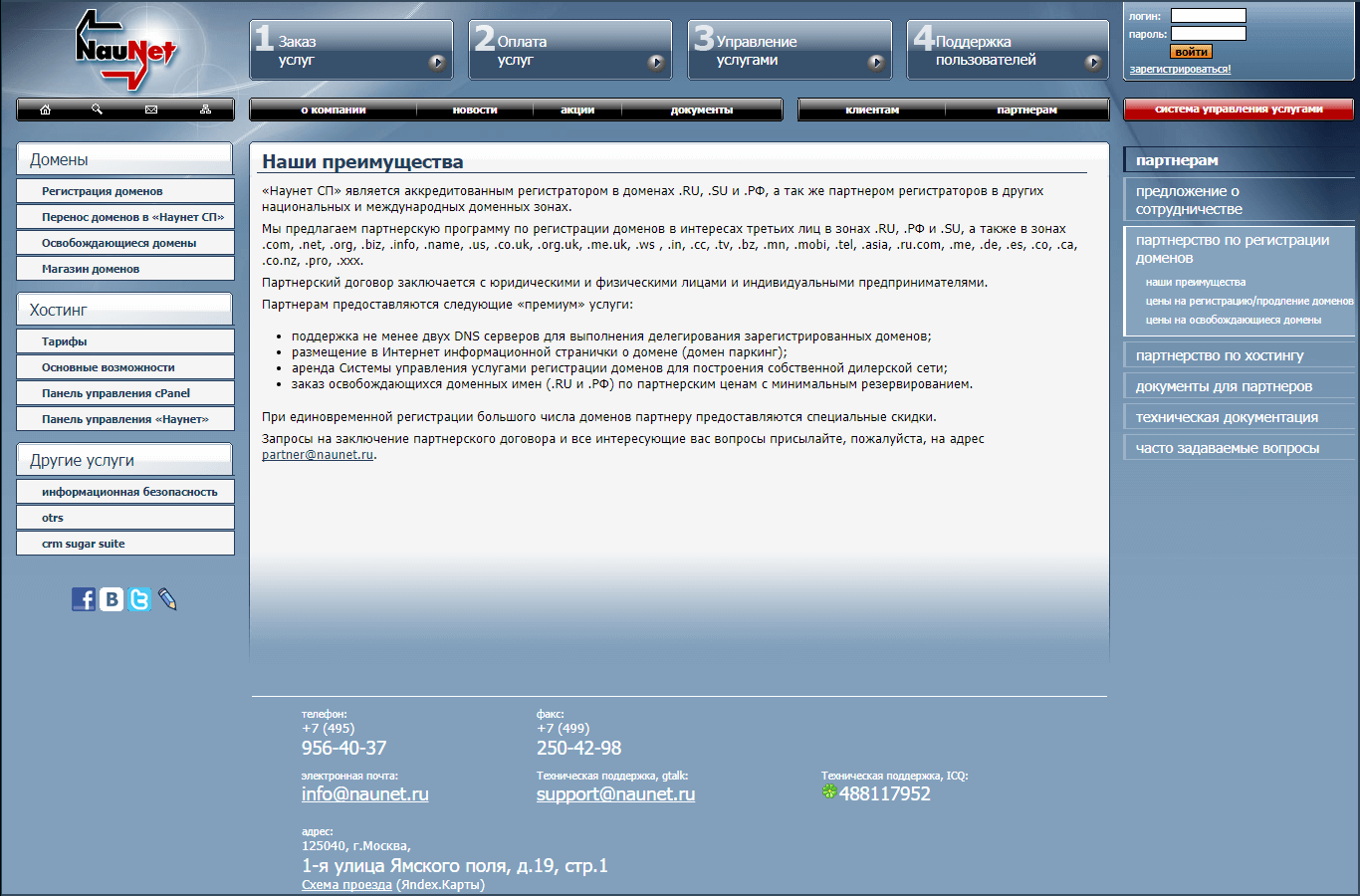 The company sells domains in all the popular domain zones and works well for individuals. The price for registration and renewal of a domain depends on many factors: a total amount of payments, number of transferred domains, monthly growth rates and others.
DRS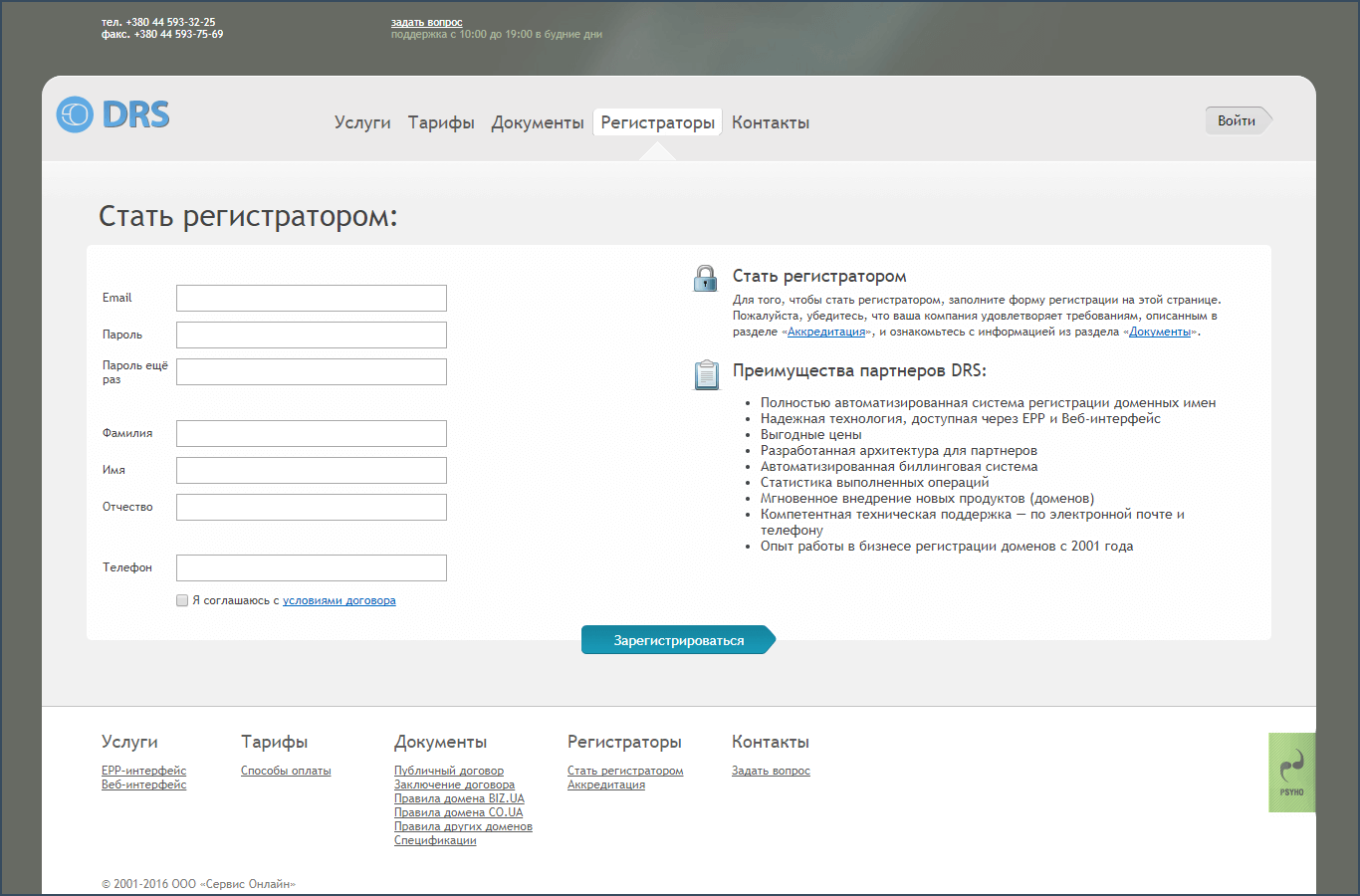 Another domain registrar from Ukraine. The company is a kind of discount store selling domains at their original cost but taking 7-17% commission from every transaction. The commission depends on advance payment.
Well, I guess that's it for today. In the next article I will give a short overview of SSL-certificates providers integrated with BILLmanager.