Andrei Garmatyuk, CEO at GMHOST, explains how VMmanager helps to cope with market demands
We used to provide virtual servers to clients using VMmanager 5. This is a relatively outdated product with an inconvenient interface. For the hosting market, it makes a big difference. If clients fail to understand how to manage services, they will either leave or flood technical support with questions.
Why we chose VMmanager 6
A user-friendly interface
I had a choice: to improve the interface of VMmanager 5 myself, to move to another data center and hosting management system, or to upgrade to VMmanager 6.
I found VMmanager 6 to be more advantageous. This way I get a user-friendly client area and functionality that is up to current expectations. No investment in development is necessary.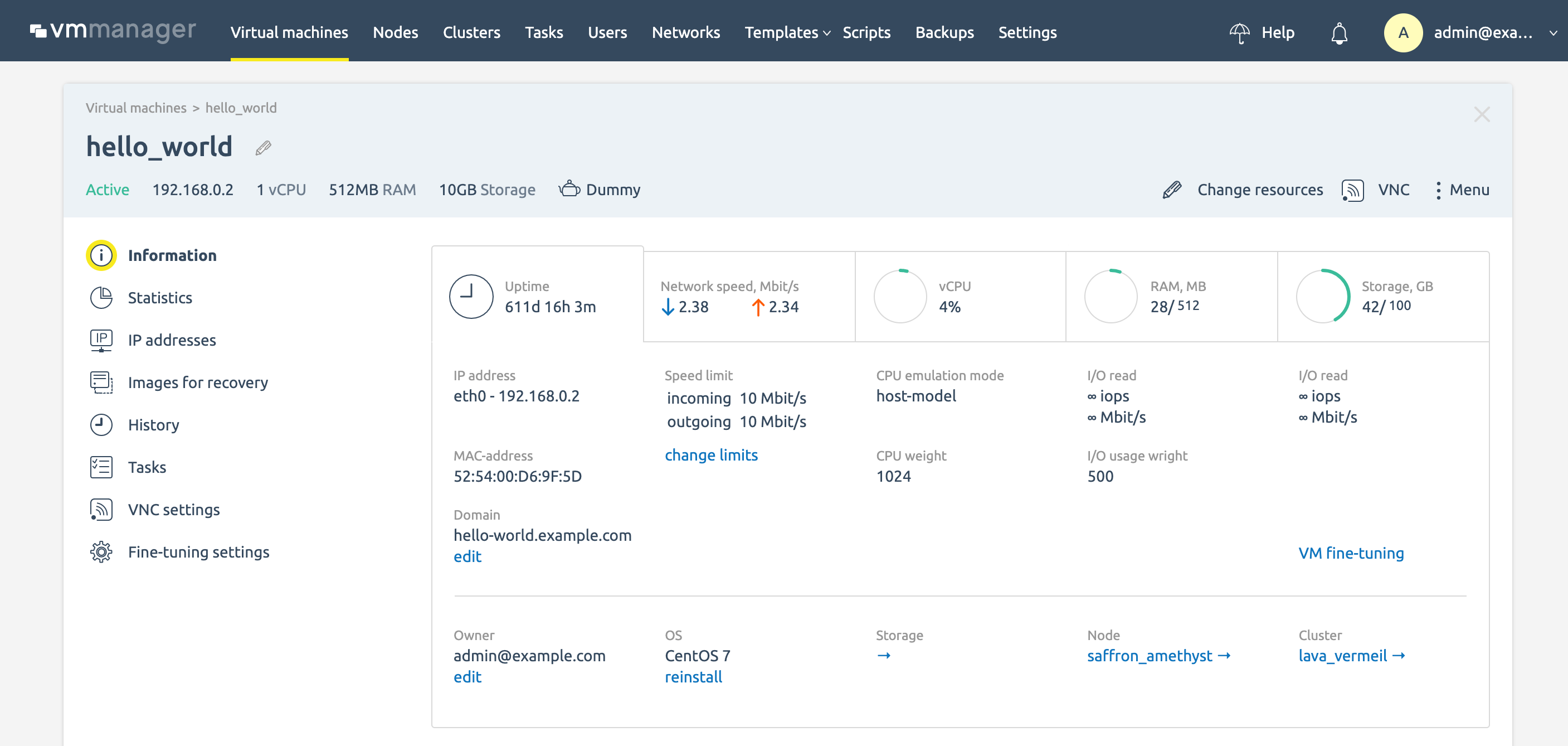 Virtual machine card in VMmanager 6. Users can easily navigate the interface. It reduces customer churn
SaaS support
Data centers used to provide clients with hardware servers, and that was enough. Now the market is moving toward abstraction from physical equipment. Eighty percent of all services we provide are virtual servers. Soon they will be driven out by cloud hosting.
The rise of the clouds popularity began about five years ago with Amazon Web Services. Then Google with its Cloud platforms, Microsoft Azure, and other giants joined in. They created new tools and taught clients how to use them.
Now users want to manage virtual infrastructure, not just the server: to have floating IP, to configure networks from the interface of the client area. Our physical infrastructure allows us to provide this, but at the software level, we had to additionally develop the service ourselves. Much of what we did was provided free because the billing system was not designed to process these services for payment. Meanwhile, we were not ready to spend resources on developing modules for monetization.
IaaS support is coming soon to VMmanager 6. This will allow us to provide a service that is in demand on the market.
You can increase the average purchase value and sell backups as an addon to the server
VMmanager 6 now allows you to sell backups without "crutches". Everything can be configured out-of-the-box and you do not need to spend any extra money. There is no need to involve specialists: it is enough to buy the equipment, set up a server for data storage and provide backups to clients. We like that you can set up backups as an option when ordering a server.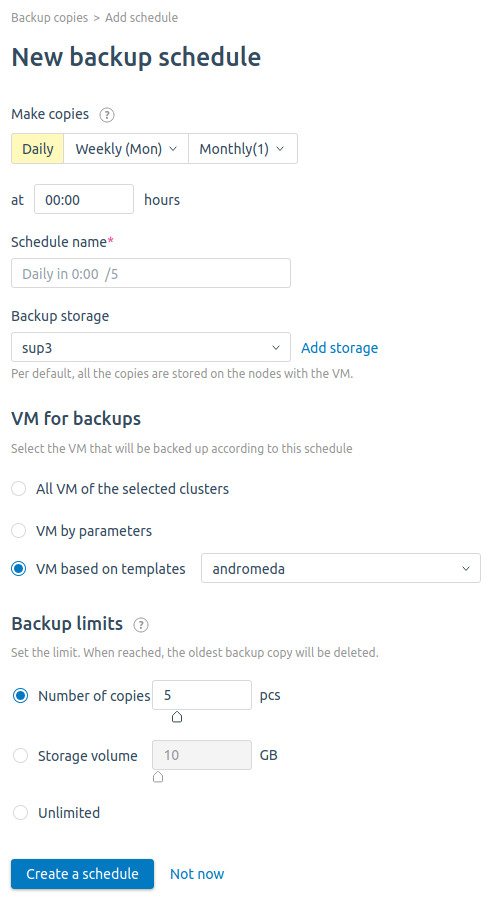 Configuring backup schedule in VMmanager 6
The architectural differences of VMmanager 6, which make the platform stable and resistant to load, were explained in the article
««VMmanager 5 and VMmanager 6: a comparison of features»»
Try VMmanager 6 for hosting organization
Virtual services provided:
KVM-based VPS;
lightweight LXD containers that work like a full-fledged Linux VM;
SaaS
IaaS (coming up in Q3 2021)
Provides fast and reliable service:
resources are provisioned automatically a few seconds after ordering;
high availability support;
user backups;
user-friendly interface.
nfrastructure administration is automated:
monitoring, analytics and notification system;
automatic provisioning of resources to end users;
management of all clusters in a single environment;
IP-fabric is a network configuration for clusters with support for floating IP addresses.