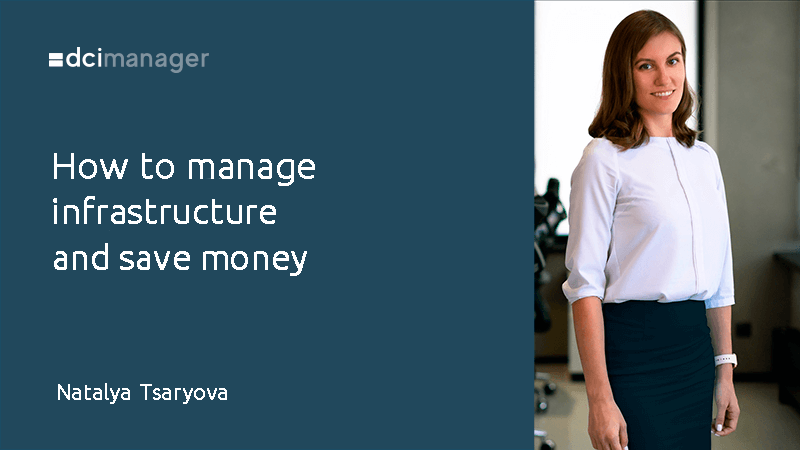 Pr. manager of DCImanager Natalya Tsaryova gave an interview for the Russian-language digital news portal Comnews. She explained how to manage infrastructure and save money, how the COVID-19 pandemic has affected the demand for DCIM solutions and what the future plans for product development are. Below is a shortened version of the interview.
What are the current trends in infrastructure management?
In 2019, the physical volume of equipment installed in data centers around the world increased by 9% and in monetary terms by 14.5%. At the same time, users are becoming more and more demanding in terms of service quality and want to be able to perform many operations on their own. In this situation, service quality becomes the main factor in competition on the commercial data center market. According to a survey conducted by ZenDesk, 69% of consumers evaluate the quality of their provider by the speed with which their problems are solved.
To meet market requirements, providers are improving the efficiency of their data center management system. The main emphasis is on increasing the speed of customer service. Data Center Infrastructure Management (DCIM) solutions are designed precisely for that purpose.
The global DCIM market is growing at the rate of 22% per year and this trend is predicted to continue. The reasons for the popularity of DCIM platforms are the opportunity to reduce costs, increase the speed of response to customer requests and plan the purchase the necessary equipment.
How has the pandemic affected the demand for remote infrastructure management solutions?
Data centers and hosting providers are now more influenced by long-term stable trends: focus on speed in solving problems, improving service quality and the ability to provide self-service to end users. But overall, the pandemic is both a barrier and an opportunity.
Not all companies are coping with the current crisis and are ready to invest in new IT tools. Many businesses are on the brink of survival. For example, airlines are now having quite a different set of problems than the implementation of DCIM.
On the other hand, the pandemic gave companies an incentive to optimize their current work processes. Companies are becoming increasingly willing to look at any new solutions that may benefit them, including infrastructure management platforms.
How do DCIM class solutions reduce costs?
DCIM systems enable to keep up with the times and automate many processes that previously required resources of specialists. For example, to disable a port during a DDoS attack, you do not need to enter a long sequence of commands into the console — just click a button in the control panel. As a result, administration time is reduced, which in turn reduces costs. The staff resources that become vacant can be allocated to other tasks.
DCIM can also reduce downtime and increase the speed of response to customer requests. For example, if a server shutdown occurs, an employee can fix it by connecting via IPMI (Intelligent Platform Management Interface) from anywhere without visiting the server room. Business processes are less affected thanks to prompt problem solving. DCIM also allows you to hand over some simple operations to users, reducing the load on data center technical support.
Another source of savings is the optimization of costs for power supply, cooling and placement of equipment. DCIM platforms allow customers to view thermal maps of data centers in real time, collect information on energy consumption and optimize the use of both energy resources and sites in general.
In terms of procurement planning, DCIM solutions help to understand exactly what equipment is available, how it is used, where it is located, and how productive it is. This information allows for accurate procurement planning. It is also possible to calculate the scale of assets to increase the efficiency of their use.
Organizations of what scale and industry would DCImanager platform suit?
The use of tools for remote infrastructure management is relevant for companies from different industries. Meanwhile, efficiency is vital for all. Over 12 years of work, we have helped to implement DCImanager among commercial data centers, hosting providers, telecom operators, trade, e-commerce and manufacturing enterprises, as well as in state companies and small and medium businesses.
The fact that last year the global data center market grew by 9%, and DCIM solutions – by 22%, shows that not only new data centers are implementing solutions of this class, but also existing companies are restructuring approaches to infrastructure management.
What are the advantages of DCImanager compared to similar solutions by competitors?
DCImanager "grows" with the infrastructure without losing performance. This is possible through the use of microservice architecture. All functionality, including statistics collection, monitoring, equipment management, is divided into isolated services. This allows you to simultaneously install DCImanager on several servers and distribute the load evenly between them. Even if an administrator has tens of thousands of servers, he can easily find servers that are running, off, or have errors.
For business, the advantage of using DCImanager is to save time and money. Automation of server, power, and network management allows accomplishing operational tasks faster. In addition, you can work from anywhere and from any device, which saves time without having to visit the server room.
In addition, the platform has a user-friendly and easy to learn interface. To master it, you do not need to undergo special training, which reduces the entry threshold for specialists and increases their speed.
Another important advantage of DCImanager is that the solution promptly provides information about the status of all vital infrastructure elements and predicts potential problems. This reduces troubleshooting costs and increases the speed of response to incidents. As a result, maximum continuity of business processes is ensured.
What are the future plans for product development?
We are regularly improving DCImanager and introducing new functions. For example, at the moment we are actively working on infrastructure control and planning services. A new version of the inventory module will be released before Q4. With this update, DCImanager will keep account of the complete equipment life cycle (from the start of use to decommissioning), receive the information on supplies, analyze movement of spare parts, and suggest procurement planning based on these data.
We are planning further improvements of data center map and, taking into account market trends, make it not only reflect the current state of the equipment and the amount of resources consumed by it, but also enable planning resource consumption through the analysis of the current capacity.
In product development, we focus on the needs of our customers and market trends: we take flexible approach to development and constantly update our plans.