A digest of product updates and a selection of useful articles on IT management
DCImanager
Improved monitoring and statistics services
Power consumption statistics by PDU port for RPCM and C3 Solutions handlers have been added. Now you can watch the consumption of each connected device and react to deviations in time. The functionality is available for all PDUs where it is possible to collect port statistics.
More options for BMC management
Support for Redfish server management is now available in DCImanager. It is a rapidly evolving IPMI counterpart that allows you to collect information from sensors, manage power and BMC user permissions. So far, Redfish has been tested for VEGMAN servers.
Также для новых моделей серверов ASRockRack можно загружать консоль IPMI.
Support for Ubuntu 20.04 on the master server
It is now possible to use machines with Ubuntu 20.04 as a master server in the location.
A list of chassis has been added to the Servers section
You can now view the overall chassis list, the number of available slots and installed blades, as well as rack space.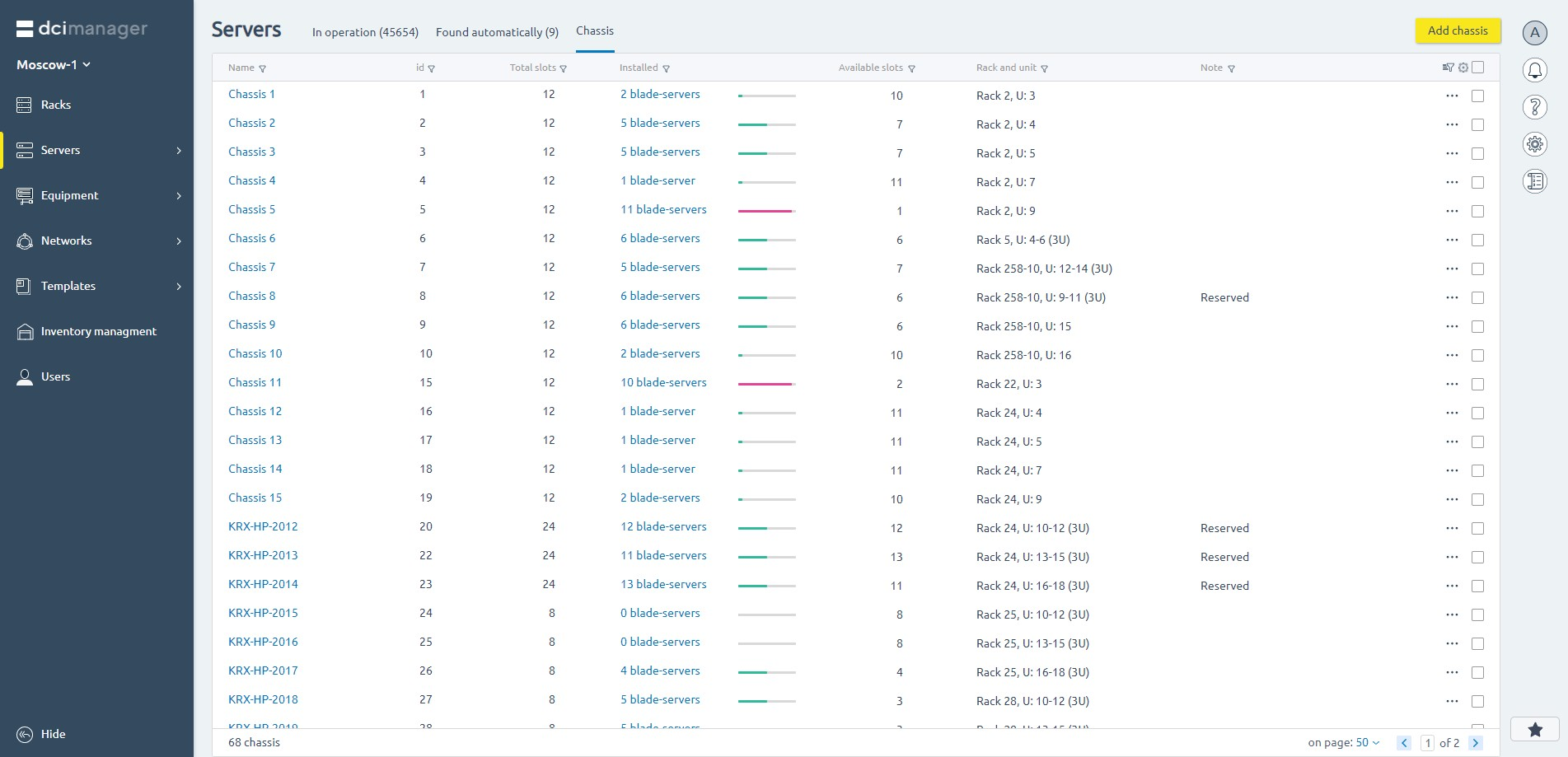 Chassis list in DCImanager
VMmanager
IaaS support (VxLAN)
VMmanager allows you to provide IaaS - infrastructure as a service. Users can configure private networks for VMs. The service is implemented on VxLAN and EVPN. BILLmanager bills networks by the piece.
Configuring VM distribution at nodes
In VMmanager, you can configure flexible VM distribution settings. Thanks to these, only those VMs that meet the specified parameters will be created on the node. For example, VMs with certain OS, configurations, RAM, CPU, or Storage resources.
BILLmanager
In the certificates of work performed and Universal Delivery Documents (UPDs) costs for one service are summed up in one item.
Now users can order several services of the same type in their client area at once.
Improved migration from fifth product versions and other news
It is now easier to migrate from DCImanager 5 and VMmanager 5 to the sixth version
We are preparing tools for easy migration from the fifth to the sixth versions of the products. For VMmanager, the ability to automatically migrate IP addresses has already been released. The entire toolkit will be out by March 2022. The EOL deadline for DCImanager 5 and VMmanager 5 has been moved to February 1, 2023.
How to migrate from VMmanager 5 to version 6
ACL management
In DCImanager and VMmanager, you can configure ACL to allow users to log in to platforms only from selected IP addresses.
Updated product interfaces