ISPsystem control panels: what you need to know before installing them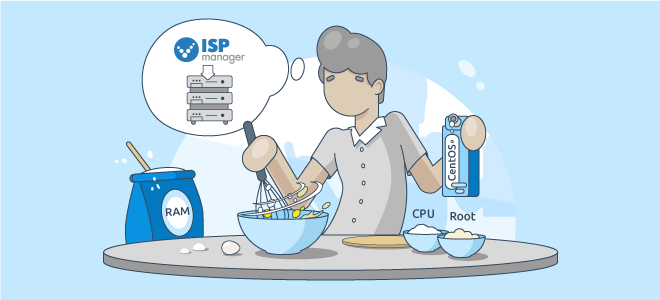 Head of ISPsystem Customer care, Ksenia Fil will tell what minimal hardware requirements a server must meet, how to install the panels on servers on a NAT-configured network, what products can be installed together on a single server, and other things you should be aware of before setting up ISPsystem control panels.
In this article we intend to provide you with instructions for the pre-installation steps. The installation guides can be found in our documentation and website (on the "Download for free" pages).
Hardware considerations
You must use only a freshly-installed VPS or dedicated server. Minimum hardware requirements are given below. To ensure the best performance of our control panels you should use more powerful servers.
ISPmanager
ISPmanager itself doesn't consume much system resources, that's why you can install it on any modern server. When you choose a server, you need to consider how much load websites that the control panel manages will create. System requirements vary depending on the size and volume of activity on the server.
Servers that host several websites with databases and mail system or high-traffic websites require more disk space, CPU, and RAM than the server hosting only a promo site.
Server
Dedicated server or KVM VPS.
OS for Lite
CentOS 6, 7, Debian 7, 8, 9, Ubuntu 14, 16;
OS for Business
CentOS 6, 7, Debian 7, 8; conversion into CloudLinux on CentOS 6, 7.
VMmanager
We do not recommend that you install VMmanager on a VPS. First of all, you cannot add a VPS as a cluster node. Next, your processor needs to support hardware virtualization. Most virtual machines don't support this technology. Finally, the virtualization inside virtualization requires much system resources.
Server
Dedicated server.
Disk
80 Gb (for OS templates).
RAM
1024 Mb (for the database server).
If you use a local storage, you need to allocate more RAM and disk space to clients' virtual machines. E.g. Intel Xeon E5-2630v2 \ 64Gb RAM allows to run up to 55 small VPS.
BILLmanager
Only the billing system can consume much system resources. The more clients you have, the more resources its database will consume.
Server
Dedicated server or KVM VPS.
Disk
50 Gb (for the database, logs, and ticket attachments).
DCImanager
You can install DCImanager on a VPS or dedicated server. When you install it on a VPS, you need to consider that the control panel doesn't work in the OpenVZ container. Besides, on the ESXi virtual machine you may face difficulties with DHCP and TFTP. Due to peculiarities of network device virtualization those protocols may work incorrectly.
Server
Dedicated server or VPS.
Disk
100 Gb (for OS templates).
RAM
1024 Mb (for the database server).
DNSmanager
Server
Dedicated server or VPS.
OS
CentOS 6, 7, Debian 7, 8.
Disk
20 Gb (for the logs).
RAM
512 Mb if you use BIND; 1024 Mb if you use PowerDNS.
IPmanager
Server
Dedicated server or VPS.
OS
CentOS 6, 7, Debian 7, 8.
Disk
20 Gb (for the logs).
Install several panels on a single server
We do not recommend installing several ISPsystem control panels on a single server.
If one control panel starts consuming much resources, it will affect the other panels on that server;
Vulnerabilities in websites in ISPmanager allow to gain access to the server, the control panels and their databases.
Moreover, some panels do not work together the same server.
The following panels must not be installed on a single server
You cannot install ISPmanager, DNSmanager, and IPmanager. They use the DNS service. When you install the panels on a single server, each panel will configure the service according to its needs and won't know anything about the settings made by the other panel. This can result in data loss.
All other panels can be installed together. Note: before installing DNSmanager and IPmanager on the same server refer to this guide.
Installation variants
Variant 1. OptimalYou need a dedicated server. Install VMmanager and use it to divide the physical server into several virtual machines. The number equals the number of control panels. Install BILLmanager, IPmanager, ISPmanager, DCImanager, and DNSmanager on the virtual machines, one per server.
Variant 2. EconomicalIf you cannot install the panels on separate servers or you don't use VMmanager, you can install BILLmanager, IPmanager, DNSmanager on one server, and ISPmanager (and DCImanager, if needed) on the other.
Choose an OS
Depending on the panel you can choose different operating systems for your server: CentOS, Debian and Ubuntu. Install a minimal version of the operating system with a standard kernel.
We recommend CentOS 7.X
In comparison with other operating systems, CentOS has a more stable distribution, it is frequently updated, and most of its packages have the latest versions.
Hetzner and OVH data-centers use a custom kernel that's why you can face difficulties when installing the panels on servers from these two data-centers. However, they also offer servers with standard kernels, so before you buy a server, contact Hetzner and OVH specialists to choose the right solution.
Products of the 6th generation can be installed only on CentOS 7 and later.
Installing panels in Docker. We don't have Docker images with our control panels and we cannot guarantee that they will work fine inside the container.
Root access
To install a panel on the server, you must have the superuser permissions. It can be root, a member of the wheel group, or a user added into the sudoers list.
Please note! ISPsystem software products cannot be installed on virtual hosting.
Run the panels behind NAT
Customers can order software licenses for servers running behind the NAT, and you will be able to install the control panel. However, if only a private IP is bound to the server interface, all services running on the server will use only that private IP.
It's not a problem when you set up the internal system and use the control panels without contacting other services outside that system. But if you provide hosting services behind the NAT, you need to configure many services manually.
ISPmanager
Apache may incorrectly process a website, because the request from the web-server will be sent to the public IP address (the router IP), whereas the Apache configuration file contains only the private IP.
The name server listens to the private IP, so the DNS service won't run correctly unless you configure the port manually.
Exim always checks DNS when receiving a new email. You won't be able to receive emails, as Exim will continuously pass them from the router to server and back.
You won't be able to set up integration with third-party systems, such as CloudLinux and Virusdie.
UPD 30.01.19: Starting from version 5.187 we simplified ISPmanager management behind the NAT. Now you install ISPmanager Lite on AWS and Digital Ocean instances without manual setup of the configuration files. Learn more.
BILLmanager
Some payment gateways integrated with BILLmanager do not work behind the NAT.
DNSmanager
The name server listens to the private IP, so the DNS service won't run correctly unless you configure the port manually.
Software licenses
To be able to use ISPsystem software products, you need to obtain a license. We offer free and paid licenses. You can order a license on the product order page at our website or in your Client area.
If you don't have a paid license, you can Install the panel on your server and activate a free (trial) license. Such control panels have limits by the time of usage, number of clients, and its functions. To activate the license after installation you need to register it in your Client area.
Delete the panel from the server
We do not provide an uninstaller. If you need to remove the panel from the server, the right way is to reinstall the server.
We do not recommend deleting the panel from the server. This operation will not reset the configuration file which may result in installation issues when you set up it again.
If you still want to delete only the panel, you can delete COREmanager. All the components of the control panel will be deleted as well.
apt
-
get remove coremanager
yum remove coremanager
Please note! The system components may be deleted together with the control panel. Make certain that you carefully read everything that the package manager writes when listing the dependencies.
If you still have any questions about a server or our control panel, please write to Live-chat or send a ticket from the Client area. We are always ready to help you!