Reddock is a specialized hosting service for 1C-Bitrix websites. Its settings are optimized for fast and reliable projects. Everything you need is included in the tariffs: administration and support, website acceleration, monitoring, anti-DDoS, as well as the ISPmanager control panel.
Dmitrii Yuzepchuk, Director of the company, explained how ISPmanager allows customers to get quality hosting, and the administrators to manage services in one system...
We were looking for a single solution for web server management
Shared hosting accounts for a large share of our services, and it needs a simple control panel. Previously, we used two different platforms, but they did not combine well. For example, we were lacking good tools for DNS management. It used to be really complicated: we had a cluster of several nodes, DNS were managed from one software, while the websites were managed from another.
We were looking for a panel to manage all services in one window. ISPmanager is the only solution that provides billing and platform integration in several classes - shared hosting, VPS system, cluster shared hosting, and cluster VPS.
Now 100% of our VPS and shared hosting has ISPmanager installed. We provide it to all customers free of charge.
"100% of our VPS and shared hosting has ISPmanager installed"
How ISPmanager improves service
Customers easily switch from shared hosting to VPS because they do not need to get used to the new interface
It is important to us that customers who have grown out of shared hosting can easily switch to a virtual server without changing the control panel. ISPmanager provides the same interface for all types of hosting.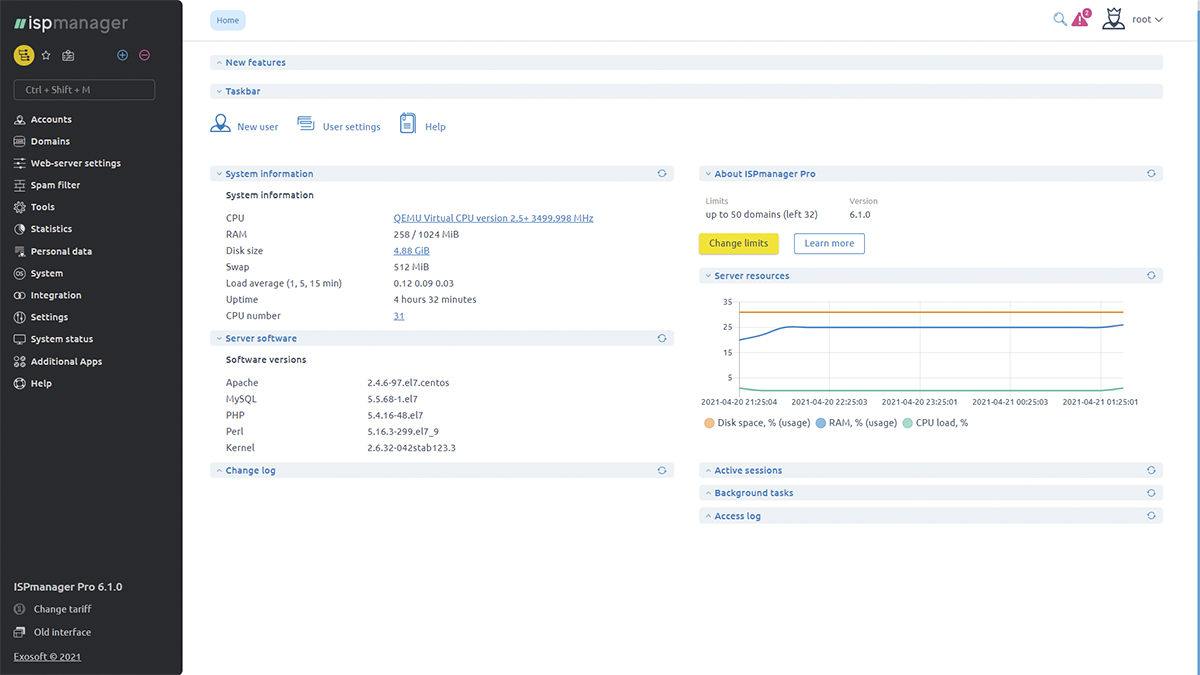 ISPmanager interface
Technical support handles tickets faster
At Reddock, ISPmanager is integrated with another ISPsystem product - the BILLmanager platform. Through BILLmanager, clients order services and contact technical support. Our employees do not need to log in to multiple systems to help a client. We can see tickets from users in BILLmanager, and we can go straight to ISPmanager and check the logs to see what actions users perform themselves, and what actions we perform on their behalf. This helps us perform routine operations without bothering customers with questions.
Users get a full service for website management
We provide hosting for websites running on 1C-Bitrix. Everything you need is already included in the tariff: administration, website acceleration, monitoring, and anti-DDoS. We have implemented much of this through ISPmanager. It contains tools for domain management, website protection, and backup.
We have been able to provide customers with high availability, centralized management, and backup service.
Try ISPmanager to manage all types of hosting
ISPmanager is a solution for shared hosting and management of web servers based on VPS/VDS and dedicated servers.