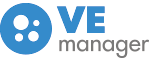 Irkutsk, August 20, 2013. The ISPsystem company is pleased to announce a new software product, VEmanager, which acts as an operating system-level virtualization solution for running on one physical server multiple isolated copies of operating system known as virtual environments or containers.
Currently VEmanager supports OpenVZ, however we are going to introduce support for FreeBSD Jail. Our experience shows that software products running on different virtualizations allow for more flexible and efficient management of your system through a centralized control panel.
Benefits and new features:
A single control panel for your cluster management
Live migration of containers between nodes
Dynamic distribution of CPU, RAM and hard drive resources between virtual environments
Modifying RAM, disk size and number of CPU enables to scale containers on the fly
Multithreading
Feature-rich and easy-to-use web-interface
Prices
A new control panel is installed on the main server; additional nodes are assigned to the server, when needed. The price for each additional node equals your license price for a desired period. You may learn prices and order a license at site.
Discounts
Clients who bought more than two licensees can accumulate their discounts:
Ordering the third, the fourth, the fifth licenses gives you a 10% discount
The sixth, the seventh, the eighth, the ninth and the tenth licenses - a 30% discount
The eleventh and the following ones - a 50% discount
Updates
All users who purchased lifetime licenses on VDSmanager 4-OpenVZ 6 month before the launch of VEmanager 5, can update their software product free of charge
All other users will get a 30% discount
Users who ordered one-month or one-year licenses will be able to update free of charge
Documentation
VEmanager installation guide.
For more information on how to purchase our new software product, please contact our Sales department sales@ispsystem.com