Free Wildcard SSL from Let's Encrypt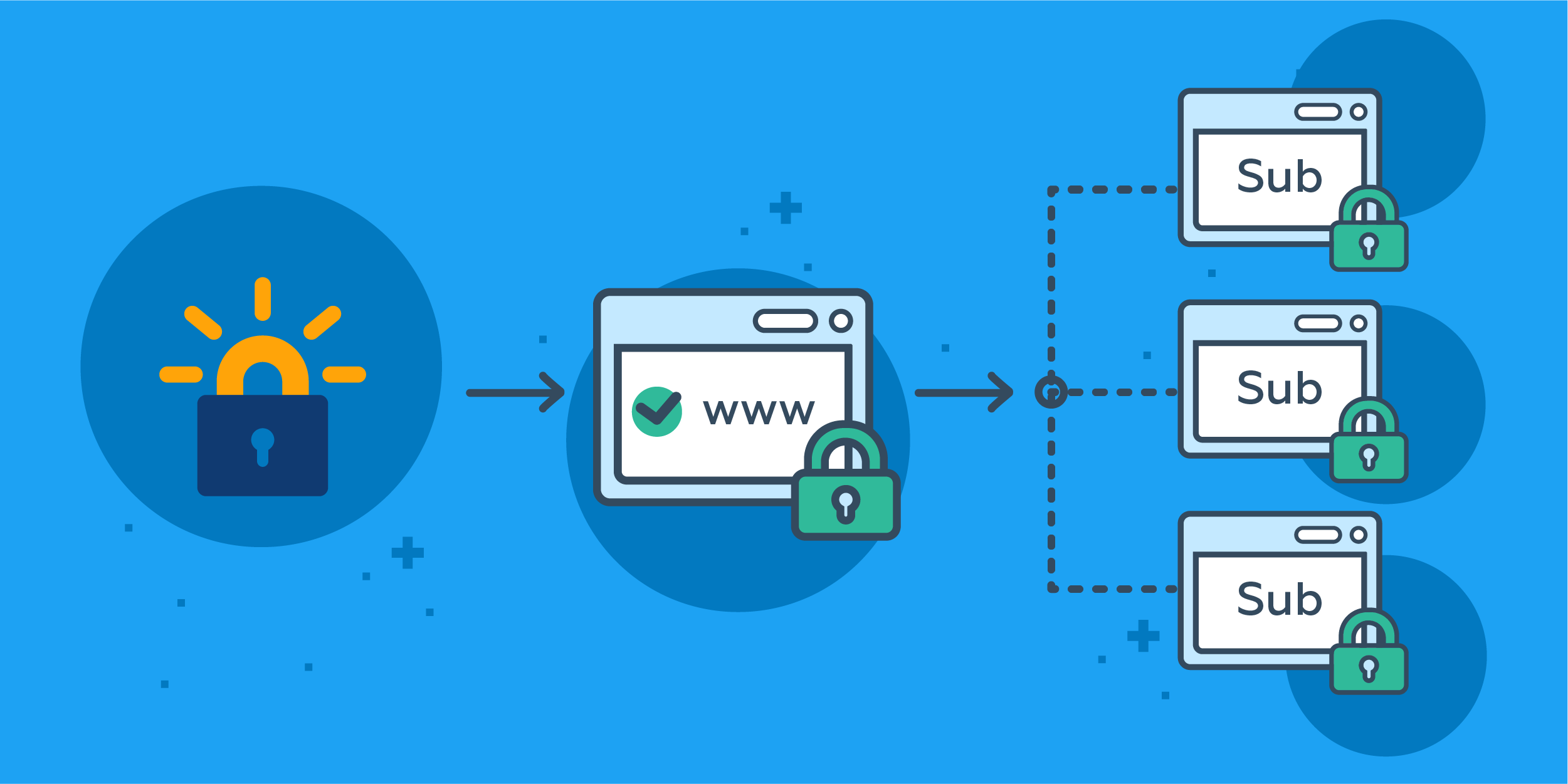 In previous versions you could not use free Let's Encrypt certificates for protecting subdomains. If you had not only "site.com", but also "forum.site.com", you had to issue two certificates. Now you can get only one Wildcard certificate. And it is still free!
On March 14 Let's Encrypt released ACMEv2 which allows to issue Wildcard certificates. We introduced support of ACMEv2 in ISPmanager 5.147.0.
Let's Encrypt is the only Certification Authority which issues free SSL-certificates. If your web-site requires an SSL-certificate only for HTTPS connection, Let's Encrypt is an ideal solution for you.
Limits:
you can get only 20 certificates per week
you can add up to 99 alternative names (subdomains) per certificate,
duplicate certificate limit of 5 certificates per week,
a certificate is valid for 5 months (ISPmanager will reissue it automatically),
a certificate can be issued only for top-level domains registered in Public Suffix List.
Let's Encrypt generates first level SSL certificates with domain validation (DV). It means that Let's Encrypt doesn't check business legitimacy. Thus such certificates cannot guarantee that the owner can be trusted in terms of logins, passwords, and credit card numbers. We do not recommend using DV certificates for e-commerce or corporate portals requiring a higher level of trust. You can buy OV or EV certificates at SSL-certificate section of our website.
How to add a free Wildcard-certificate in ISPmanager
A step-by-step guide can be found in our documentation. Complete the steps below:
1. Log in to ISPmanager as root — navigate to "Integrations" — "Modules" and instal Let's Encrypt.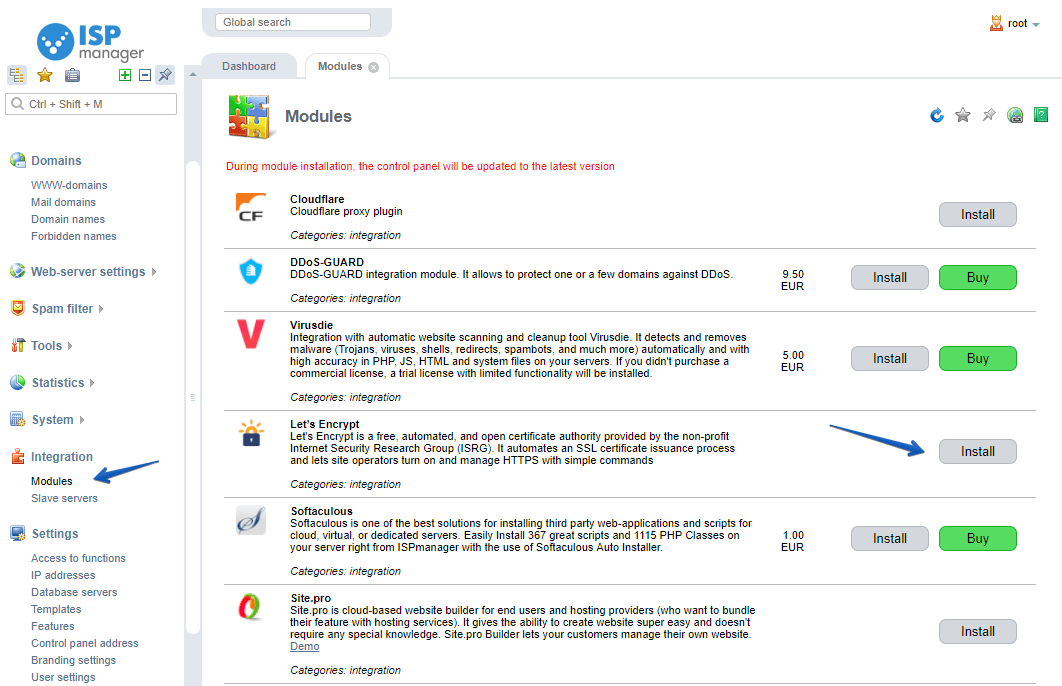 2. Navigate to "Domains" — "WWW domains" select a domain and click "Edit'.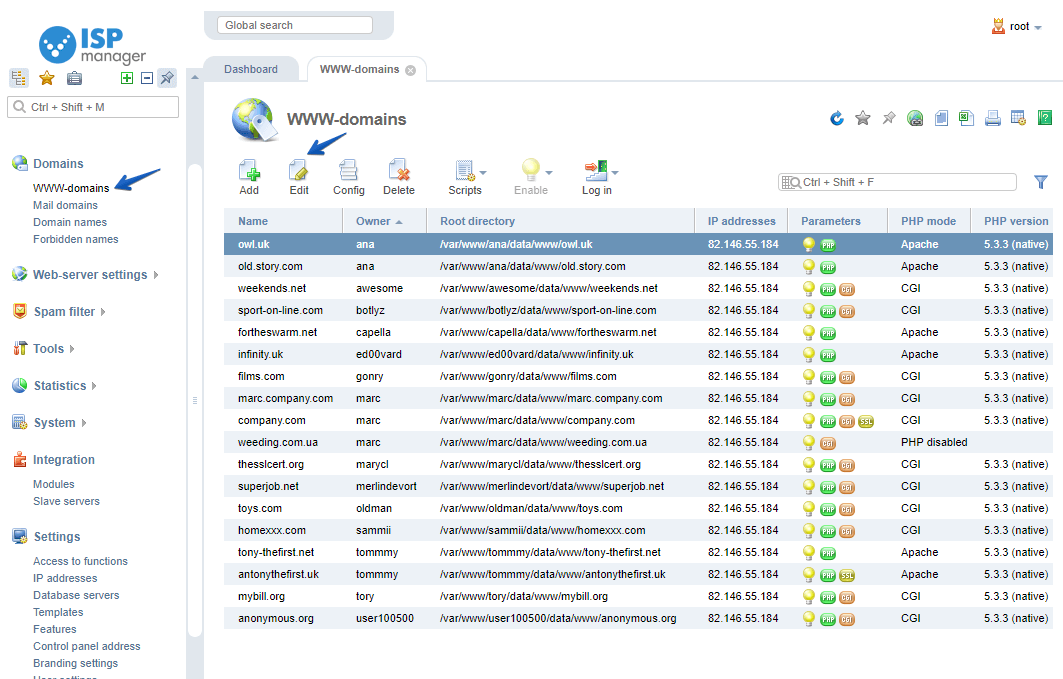 3. In the form that will open select the "Secure connection (SSL)" check box. Specify the IP address and select "New Let's Encrypt certificate" in the "SSL-сертификат" field. Click "Ok".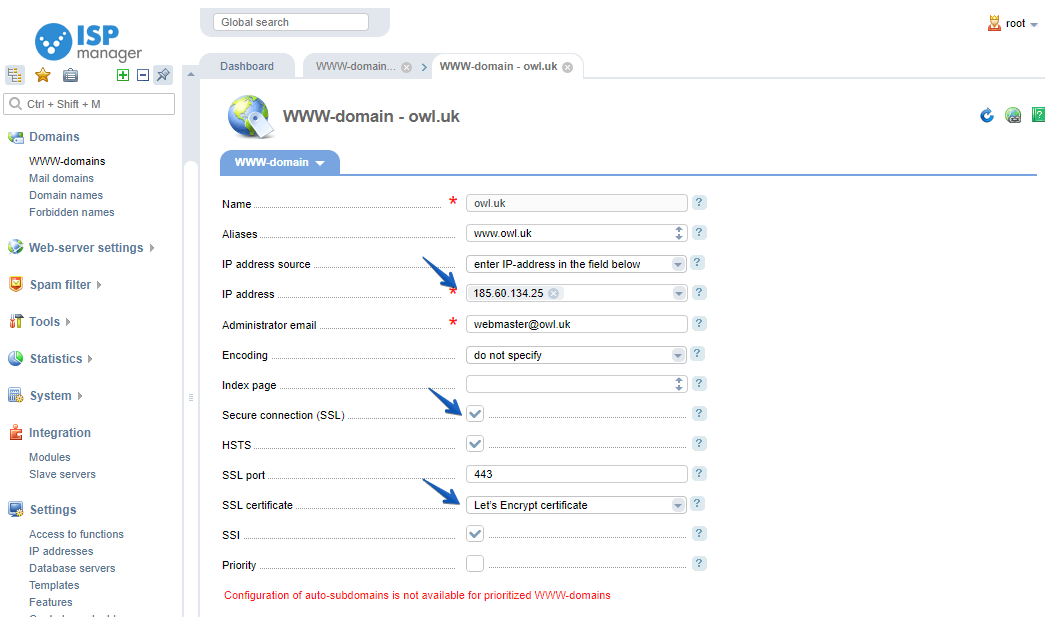 4. Next, select the " Wildcard" check box and click "Ok".
5. The operation will finish successfully or you will see an error message.
SSL-certificates can be issued in the User area as well. Learn more in this article.