Site.pro website builder
Create and customize your websites in convenient websitebuilder
Site.pro allows to create websites very quickly. It works like a constructor: you can add and move galleries, buttons and other elements with an easy drag and drop technique. You don't need programming or web-design skills to use Site.pro, however the websites created with it are modern, functional and responsive.
Site.pro library consists of 190 templates: blocks, galleries, online shops and landing pages. Every template is configurable, you can change fonts and colors of main, choose necessary buttons and change their location. Site.pro interface is very user-friendly, intuitive and adjusted for users from all over the world.
When you need a website builder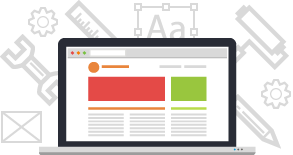 Website builder is the perfect solution for you to:
create a simple web page;
have a website quickly;
create website yourself without any technical skills;
avoid overpaying.
Website builder is the perfect solution for Hosting Providers to:
increase end customers lifecycle on hosting plans;
make hosting plans more attractive;
boost your sales by selling builder as add 'on;
fulfill all possible end customers' needs.
To start using Site.pro Website Builder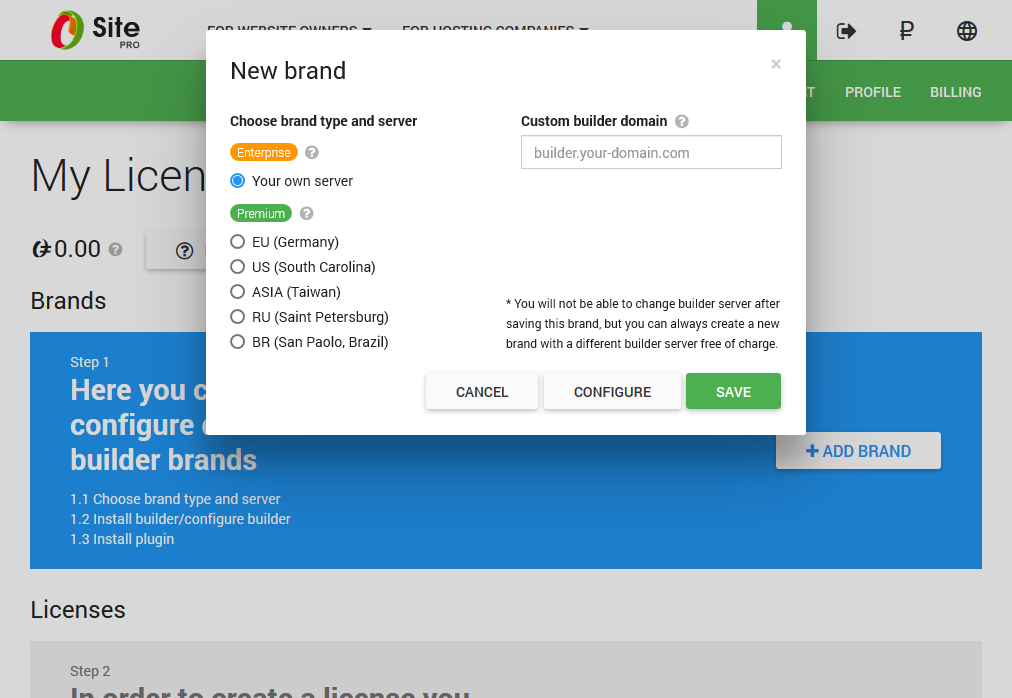 Step 1.
Step 1.
Register on Site.pro as a Hosting Provider. Create Brand on licenses page, choose Cloud brand type and builder server. Activate your 7-day trial license and specify IP address of your ISPmanager server in the license.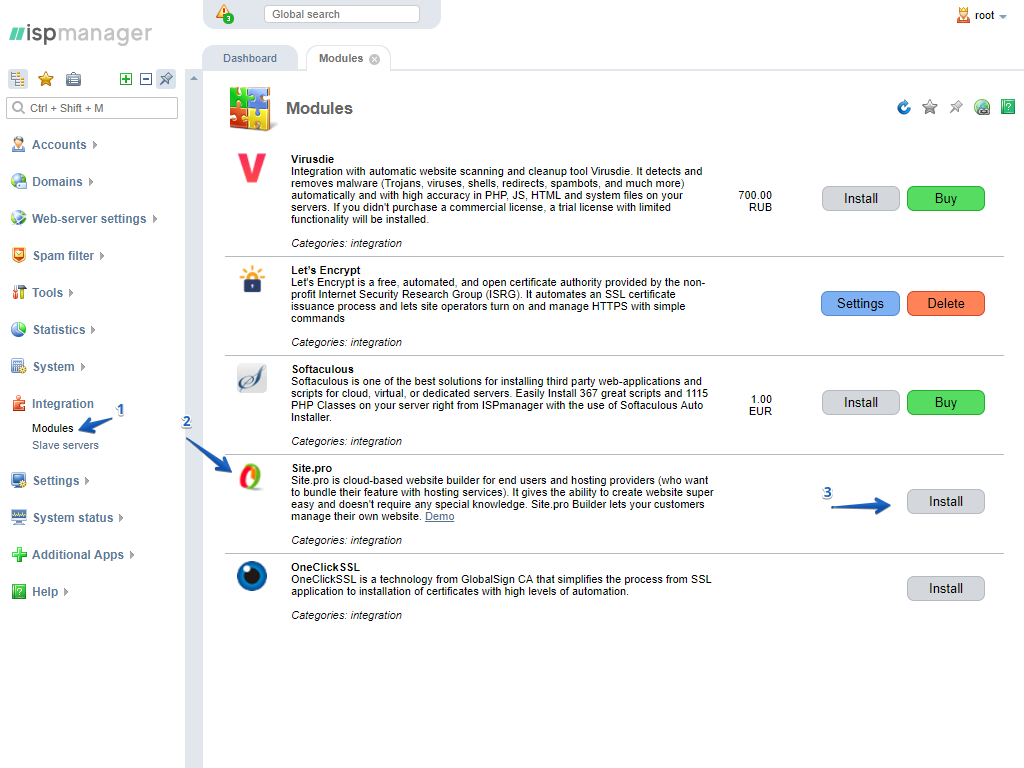 Step 2.
Step 2.
Install a module in ISPmanager. Go through "Integration" → "Modules", choose Site.pro and click "Install". The module will be installed automatically.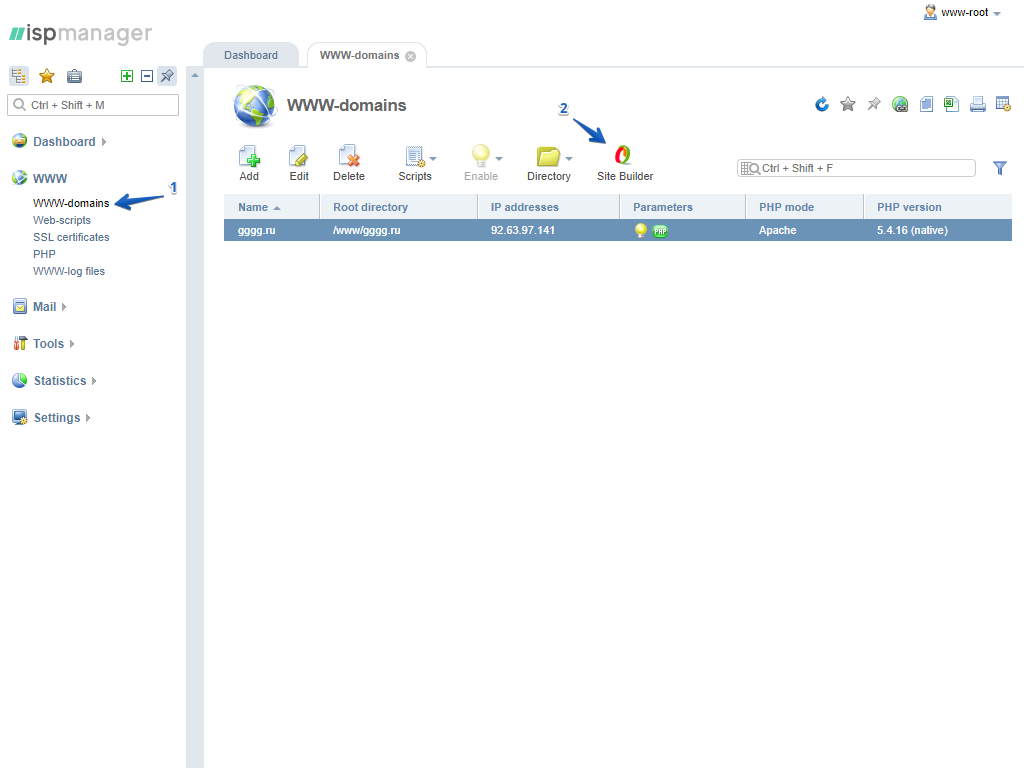 Step 3.
Step 3.
Log in ISPmanager as root user. Choose a web-domain in "WWW-domains". Press "Site builder" button on a dashboard to launch Site.pro and process with website creation.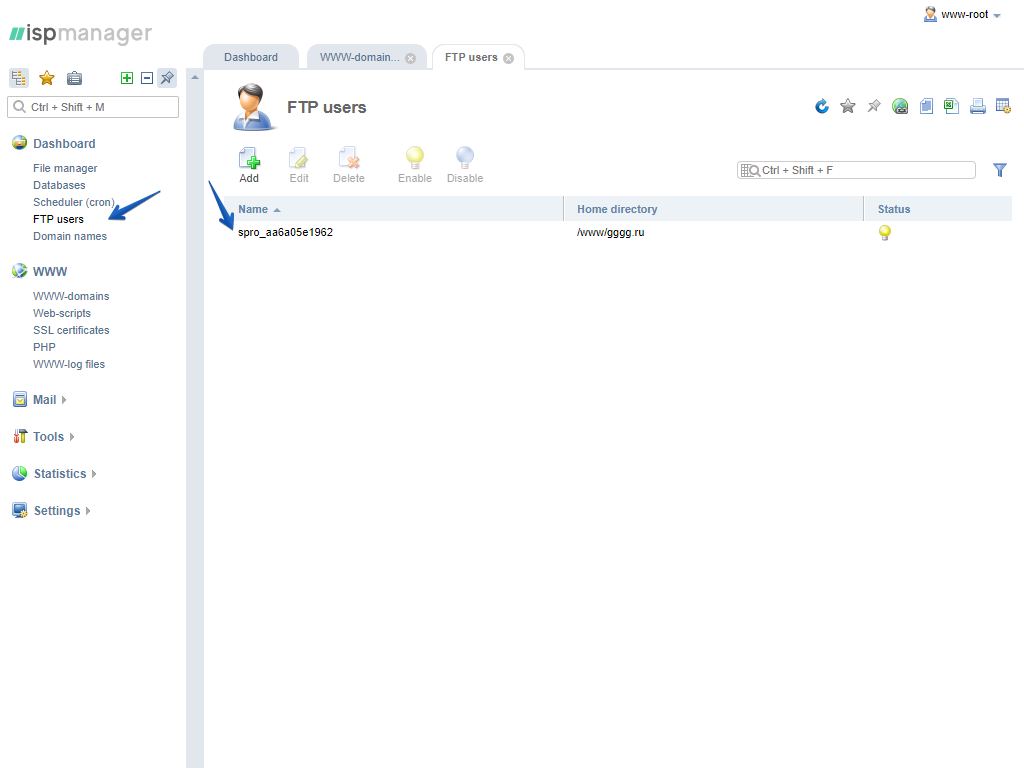 Step 4.
Step 4.
When the website is ready, press "Save" and move your website to ISPmanager. All the files will be located in a home directory of the chosen domain. ISPmanager creates ftp-user named spro_fhei3232dskj (where fhei3232dskj — is a unique combination of symbols).
Please note: website template in Site.pro is strongly tied to the domain, that was chosen before transition. If you move exported files from the directory of one domain to another one, you can access a Site.pro template only if you choose the first domain.
Site.pro benefits
Site.pro allows to build complex websites. Choose the template you like the most among 190 available templates and change it at your desire, using extended editing functionality. You can also add banners, advertising blocks, calendar, maps and other elements.

Huge gallery of ready to use templates
Site.pro offers 190 modern, professional and neat templates. There are special templates for businessmen, bloggers, photographers and others. Every template is configurable to match your specific needs.

Extended functionality
Builder allows you not only to edit text and pictures, but also to add banners and advertising blocks,social media and payment service buttons, calendar and maps, online chat and user behavior analytics. You can even build an online store with product catalog, shopping cart and analytics.

Freedom in choosing domain and SSL-certificate provider
Usually sitebuilders make their users buy a domain and SSL-certificate from them. It's hard to get a good price in such cases. Site.pro doesn't put such limits: you can buy domains and SSLs from any provider you want and use it for your website.

Simple website migration to another hosting provider
Many sitebuilders provide their clients with a "lifelong" hosting package serving it up as an advantage. However sometimes this advantage becomes a problem. If you are not happy with hosting service quality, you won't be able to change it as you don't have access to your files. Site.pro keeps your files in a cloud, however you can take these files at any time and move it to any other place.

Make some extra profit from installing an advertizing block
Site.pro allows you to install Google AdSense block — contextual advertising service from Google. Customize where ads appear, and choose which types fit your site best. You can also create your own ads in Google AdSense account, copy its HTML code and paste it to Site.pro.
Site.pro
Available for ISPmanager Lite and Business.