Virusdie: antivirus for websites
Scan and cure your website with Virusdie
With a click of a button, Virusdie can scan a website for malicious code: viruses, trojans, spam bots. If scanning has detected any infected files, Virusdie would automatically cure them.
With Virusdie you don't have to be an expert in information security. Any website owner, webmaster, or SEO specialist can use this service. No more need to manually look for and fix vulnerabilities: Virusdie can do it automatically.
Why a website needs an antivirus
If your website is infected, you are exposing your reputation to risk and loss of potential visitors and money. Search engines would mark your website as potentially insecure, and a new visitor would likely follow their alerts and leave, thus reducing your potential revenue.
If you don't establish regular antivirus scans, you might find out about infection only after your provider had already blocked your website. A few wake up calls that could suggest that it's time to check your website:
you cannot enter the administrator area of your website.
website visitors complain about pop-up ads or redirects to third party websites.
server load increased.
unknown content on your website.
spam is sent from your mail.
Virusdie can help avoid such situations and thus make sure that your web resource is secure. It can determine whether your server is infected, and automatically delete malicious code, if required. After the cure, your website will continue its stable operation.
How to scan your website for viruses for free
Virusdie trial version provides one free scan per month. It can check a website for viruses and confirm whether it is secure. ISPmanager version 5.101 or newer is required.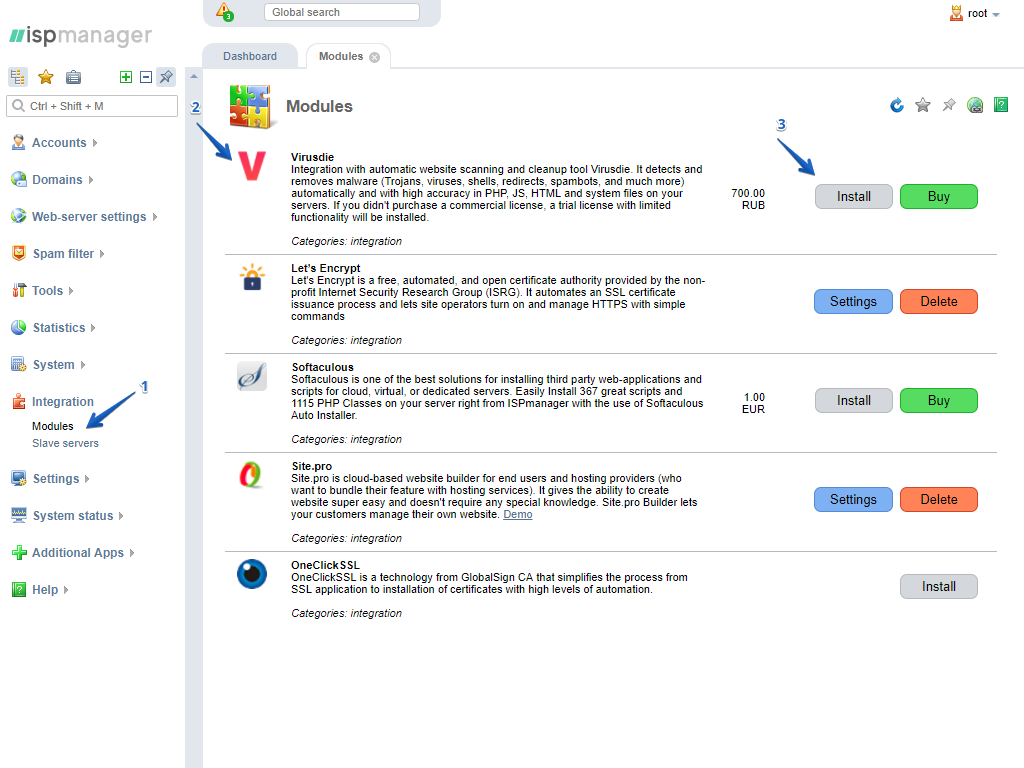 Step 1
Step 1.
Install Virusdie module in ISPmanager to scan your website for viruses:
Open ISPmanager;
Go to "Integration" → "Modules";
Install Virusdie;
The report size can be left per default (512 Mb). Click "OK".
The module is installed and available in "Tools" → "Virusdie".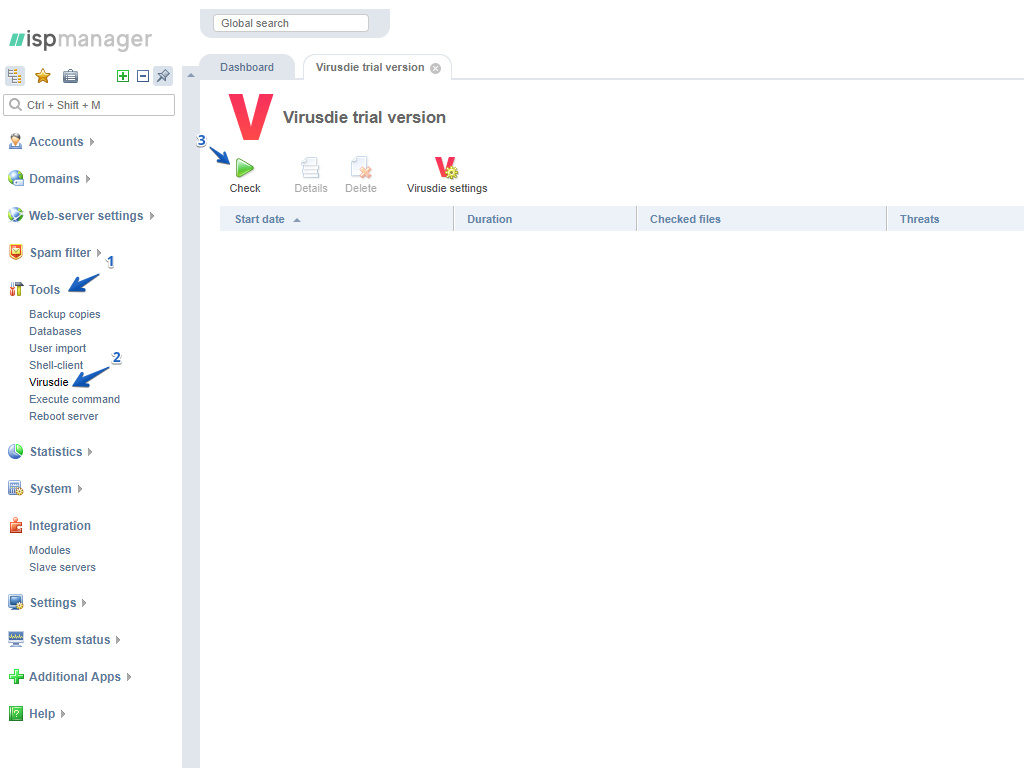 Step 2
Step 2.
Let's start virus scanning. If you have a few websites in ISPmanager, Virusdie would check all of them. Click on "Check" and refresh the page in a few moments.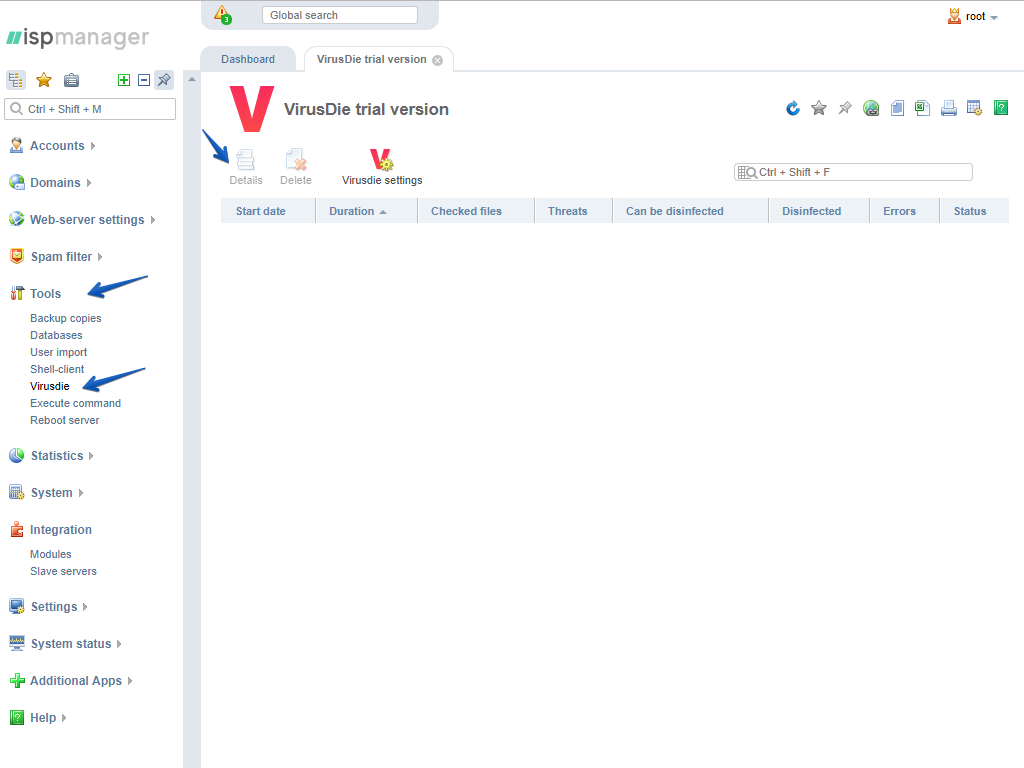 Step 3
Step 3.
Report on the finished scan will be shown. In order to view the infected files, click on "More". The report also shows a list of the infected files and their location on the server.
If Virusdie has found infected files, it is recommended to install the extended version to delete the malicious code.
Features of the extended version of Virusdie

Scan per schedule
Scan your website for viruses automatically each 24 hours and receive the full report. Scanning can also be started manually at any moment. You can scan the archive without unpacking and use filters to select files by type, date, and size.

Detailed test results
Reports include the name of the threat, its description, the level of danger, availability of automatic treatment and recommendations.

Automatic website curing
Virusdie can delete the infection swiftly and accurately. Your website will continue its stable operation after automatic curing.

Monitoring domain blacklists
Virusdie checks if your domain is blacklisted by Google and 50 other databases of dangerous pages.

Backup and restore
Save backup copies of files automatically. Restore the cured or deleted files.

Reporting malware or false positives
Inform the developer if the antivirus has missed an infected file or marked the file without any malicious code as infected. Virusdie experts will add the file to exceptions or include it in signature databases.
How to purchase and set-up Virusdie
You can purchase Virusdie directly from ISPmanager:
Open ISPmanager.
Go to "Integration" → "Modules".
Find Virusdie and click the "Buy" button.
Enter login and password of your Account area and click "OK".
Choose a payment method and click the "Pay" button.
Return to ISPmanager. "Service is ready for use" will be shown if Virusdie had been ordered successfully. Then you would need to install the script on a server to start using Virusdie.
Go to "All services" → "ISPsystem modules" in your account area.
Choose Virusdie and click "Buy".
Enter ISPmanager license ID. You can find it in your ISPmanager in "Help" → "About program".
Activate auto renewal if needed.
Choose a payment method and proceed to payment.
Return to ISPmanager. "Service is ready for use" will be shown if Virusdie had been ordered successfully. Then you would need to install the script on a server to start using Virusdie.
For providers
If you are a web hosting provider and you use ISPmanager Business, you can install Virusdie on your servers to deliver higher security.
If you are a VPS provider and you offer ISPmanager Lite to your clients, you can have higher revenues from reselling Virusdie. Right now your clients purchase Virusdie module from ISPsystem, while they could buy it from you as their provider.
We offer special prices for our partners depending on the amount of Virusdie sales. In order to set up reselling in your billing system, please reach out to us at bizdev@ispsystem.com.
Virusdie
Available for ISPmanager Lite and Business. Trial version available.