Managing IT assets
The use of the ITAM method helps infrastructure owners to organize the effective use of IT resources to accomplish business tasks. With this approach, you can make operational and strategic decisions on infrastructure management and ensure transparency of financial flows throughout the life cycle of IT assets.
Managing IT assets in DCImanager
Equipment placement
Equipment inventory
Managing IP addresses
DCImanager is a platform for managing the IT infrastructure at all levels: from global monitoring of the data center to daily control of equipment condition and one-stop asset management.
Success story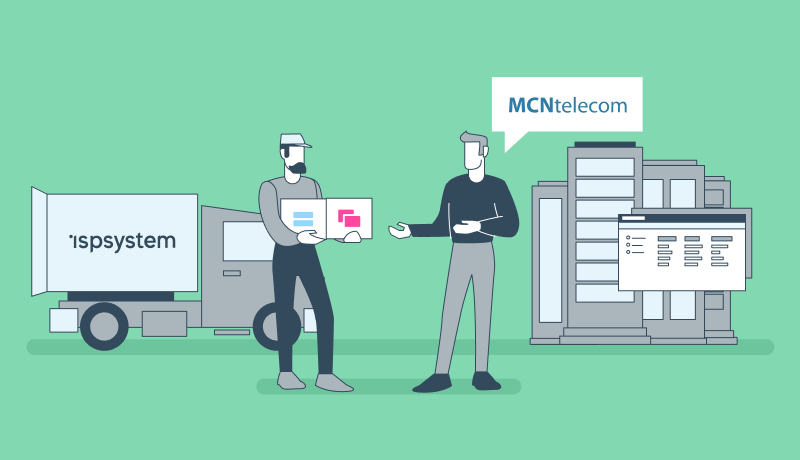 General Director of MCN Telecom platform Alexander Melnikov talks about the use of ISPsystem solutions in the company's infrastructure.
Equipment placement
To manage placement of equipment, you need to regularly inspect the racks, manually check the number of free and busy units.
DCImanager controls the filling of racks. You can quickly determine which data center, rack and unit a particular server is in, what kind of server it is and its status, how many units are in the racks and switch ports are free to host equipment, etc. All this is displayed in the platform interface.
Equipment inventory
Inventorying and control of data center equipment movement from commissioning to discarding is a time-consuming process. It is almost impossible to obtain current data on changes and movement of equipment without the use of automation tools.
DCImanager helps keep the inventory of equipment throughout the life cycle of IT assets: from purchase planning to decommissioning. The platform displays full information about the movement history of the entire server or switch, as well as their components.
It is no longer necessary to enter information about components manually — the platform will automatically diagnose the equipment and enter the required details. By integrating the platform with the accounting system, you can manage your equipment's life cycle in a single interface.
IP addresses management
Administrators assign IP addresses to infrastructure users, IP address blocks to specific servers, allocate IP address groups for special tasks, etc. Manual management is inconvenient and often leads to errors.
In DCImanager platform, it is easy to manage pre-configured physical networks, combine IP addresses into pools, and track the number of free and busy addresses. When installing the OS, you can assign IP addresses to servers manually or automatically.
Advantages of solution
Security and stability
The monitoring and analytics system allows the IT administrator to monitor the status of the entire system and prevent failures.
Intuitive interface
IT administrator and internal users will find it easier to manage the infrastructure thanks to a simple and intuitive interface.
Free technical support
Our technical support consists of network engineers and Linux administrators. We consult or help solve the problem "on the spot" by connecting to your platform.
Regular improvements
ISPsystem's team releases updates every 2 weeks. The product takes into account market trends and user requests.