Step 1. Choose an SSL certificate
Use our
search filters
and read our
article
about how to choose an SSL certificate if you need help. Press "Buy now" after you have made your choice.

Step 2. Sign in to your Client area
You need to sign in to your Client area where you can place an order, choose a payment method and keep track of SSL issuance. Afterwards you will be able to renew or to reissue your SSL in your Client area.
Step 3. Purchase an SSL certificate
Place an order in the shopping cart, press "Purchase" and select a desired payment method. This stage is only about placing an order: you will be asked to generate a certificate signing request and enter all required data at Step 4.

Step 4. Generate a certificate signing request
Press "Complete order" to create your CSR

Certificate Signing Request (CSR) is a file containing encrypted information about a domain registrant. It is a must for issuing an SSL. It contains the public key that is used to encrypt the traffic between server and browser. To decrypt data the server needs a private key which is generated along with CSR. Long story short, the public key and the private key make a pair and guarantee security.
1. Select one of the following ways to enter CSR:
Generate a CSR — this option is for those who don't have a CSR. Our billing system will generate a CSR automatically.
I have a CSR — please make sure to generate a CSR before you choose this option. Fill in the field below.
2. Complete form by entering data in each field.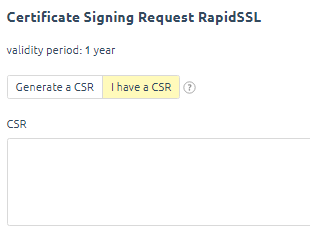 Step 5. Enter contact information
Administrative contact must be a senior member of your organization and have the authority to request a certificate on its behalf. This person receives a copy of the certificate when it is issued and is contacted if further information is required to process your request.
Technical contact is a person who will receive the SSL certificate and renewal instructions. The technical contact may coincide with administrative contact.
Step 6. Enter address for a verification email
The Certificate Authority will send you a verification email to approve the certificate and validate your domain ownership.
Normally it is sent to an administrative email such as:
admin@domain.com
webmaster@domain.com
postmaster@domain.com
hostmaster@domain.com
administrator@domain.com

Step 7. Сomplete order
Your CSR has been sent to the Certificate Authority. Please download your certificate signing request (CSR) and private key (RSA). You will soon receive a verification email to validate your domain ownership. Afterwards follow the instructions of the CA.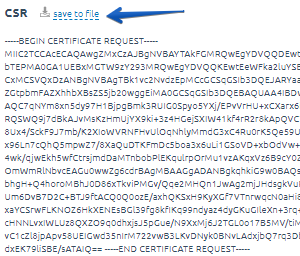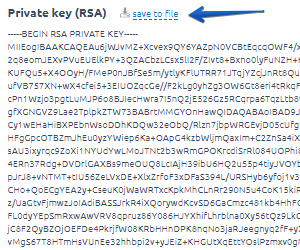 Step 8. Validate your domain ownership and complete verification
The CA will send you a letter to an administrative email, e.g. admin@domain.com. Click on a unique link in it to approve the certificate and validate your domain ownership.
If you have requested a domain validated SSL, it is the only thing you need to do. After that the CA will send certificate files to a technical contact. For OV and EV certificates you will also need to get your organization verified. Certification process depends on the CA. The CA will send its requirements to you over email. Your organization should be listed either in an official government database or a database like Dunn&Bradstreet or Yellow pages. Besides, you will be asked to submit a few documents and answer a phone call from the CA. Verification process takes 2-14 days depending on certificate type.
Step 9. Install SSL
After domain validation and organization verification, the CA will send certificate files to the technical contact. In order to install SSL, use our documentation.