Recently we announced a new interface for VMmanager 6 and DCImanager 6. Following these changes, the ISPmanager 6 panel will be redesigned as well.
A little hindsight: ISPmanager was previously designed according to an accepted standard, similar to the company's other solutions. With the advent of the Dragon theme, more possibilities have become available. Now we intend to develop it and create an interface that will take into account the peculiarities of the panel.
Upcoming changes
The updated color scheme of the panel will help to simplify the perception of information.

The upper navigation bar will become more contrast (darker) and will better highlight the main workspace
The side menu will become light and help to visually expand the workspace. Menus will be less distracting, so it will be easier to work with the main content.

The control buttons in the lists will become more compact: we will continue the idea of combining them into logical groups. The buttons will be smaller in height, so there will be more lines in the workspace than before. Working with tables will become more convenient.
The context menu (three dots at the end of the line) will become more convenient: we will add visual separators for meaningful blocks, and improve navigation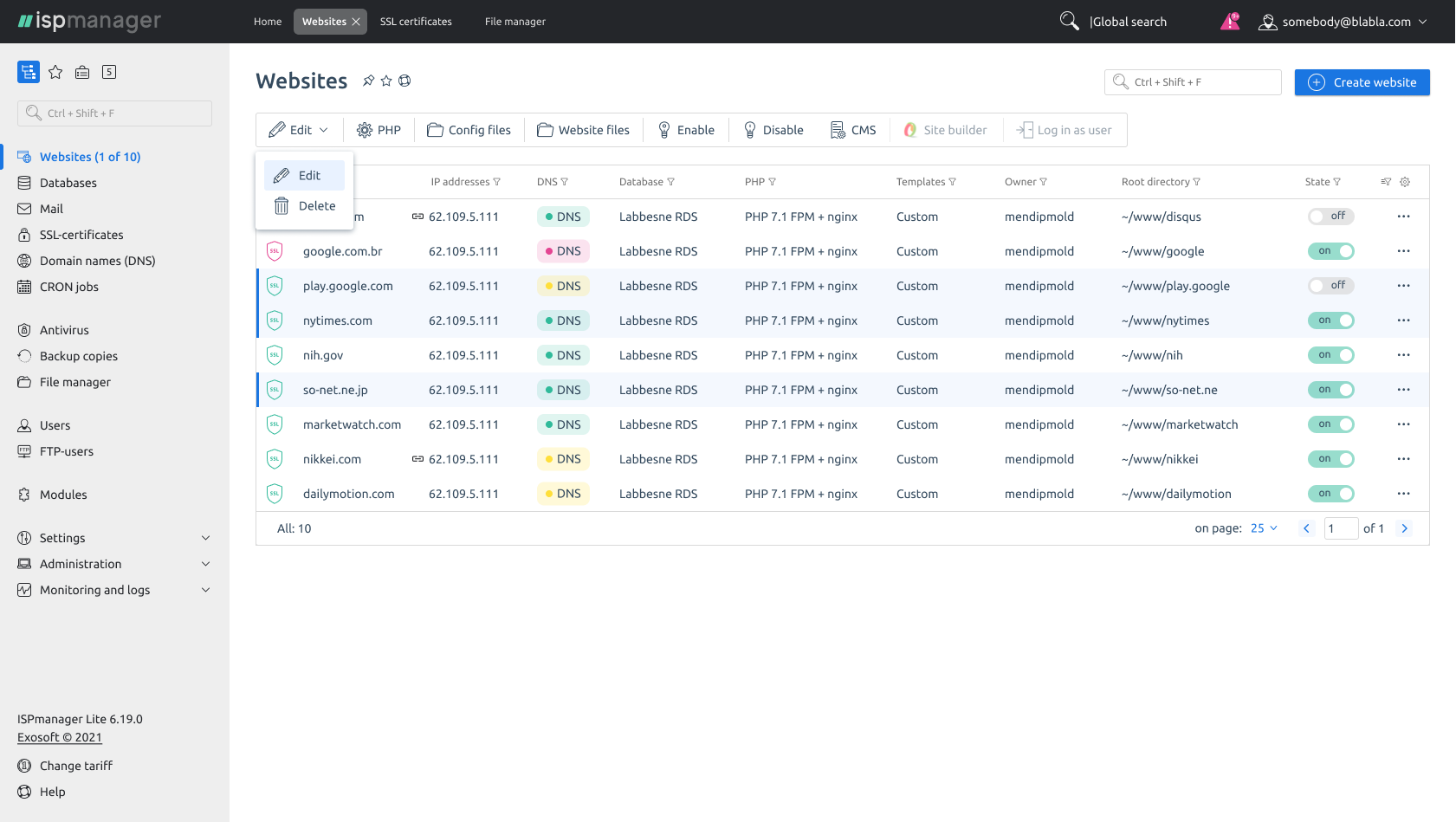 New ISPmanager 6 interface
Next steps
All of the described changes are the preparation to implementing a website card. The website card is the section of the panel, which will aggregate the information about the website: database used, PHP version and settings, caching settings, and DDoS protection. A little later, information about redirects, restrictions on access to files and directories of the website, error pages used and other data will be added to the website card.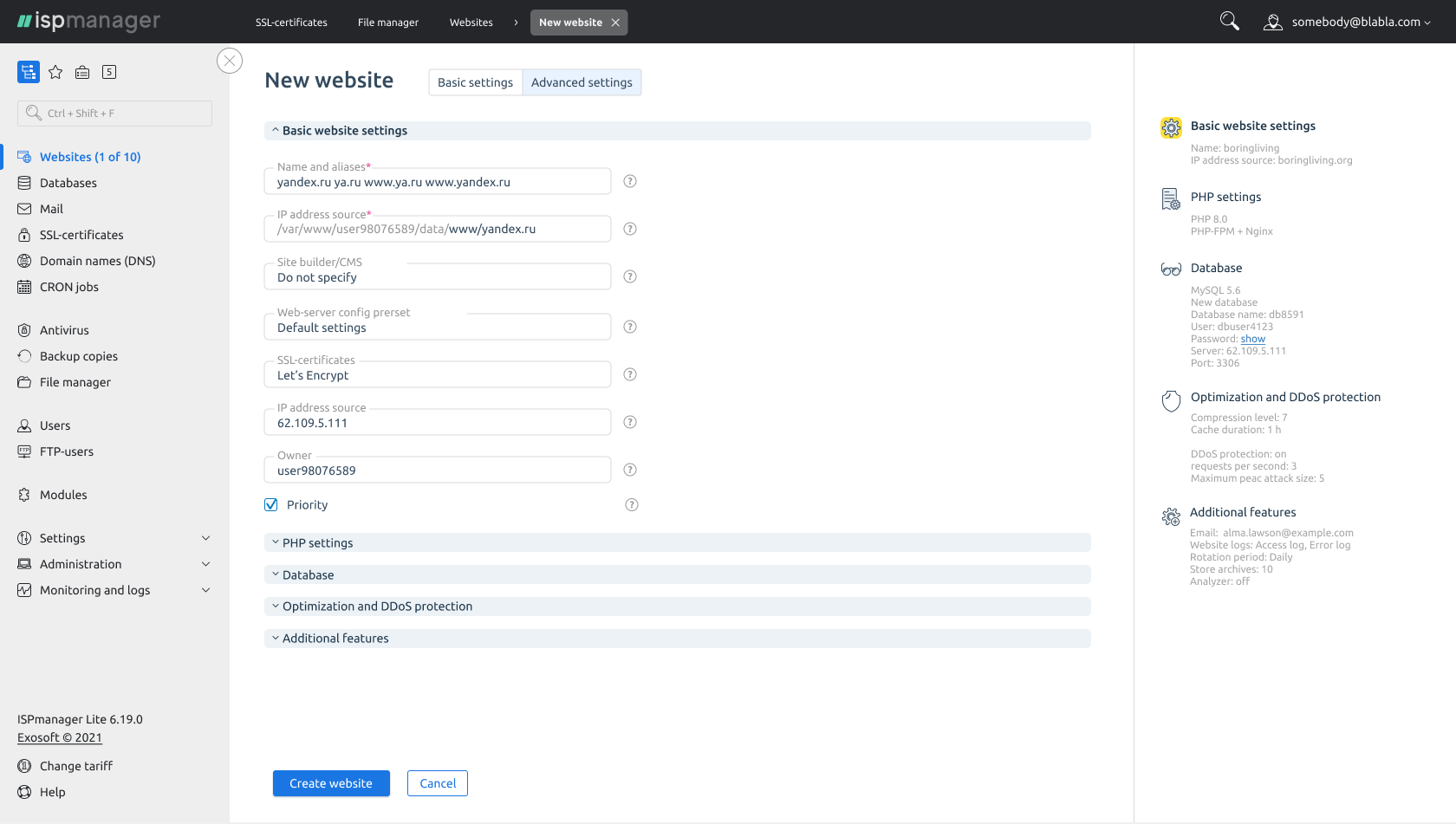 Website card
In addition, in the future, we will improve the work with dependent objects on the same screen. For example, when you create a website, you can immediately create and link a database to facilitate access to it, because after linking you navigate to the database from the Websites section. Also, when you create a mailbox, you can immediately create it on the necessary domain. The form for adding a new base or domain from the examples will open in a modal window on the side, not overlapping the main information and allowing you to create a new object with the required parameters.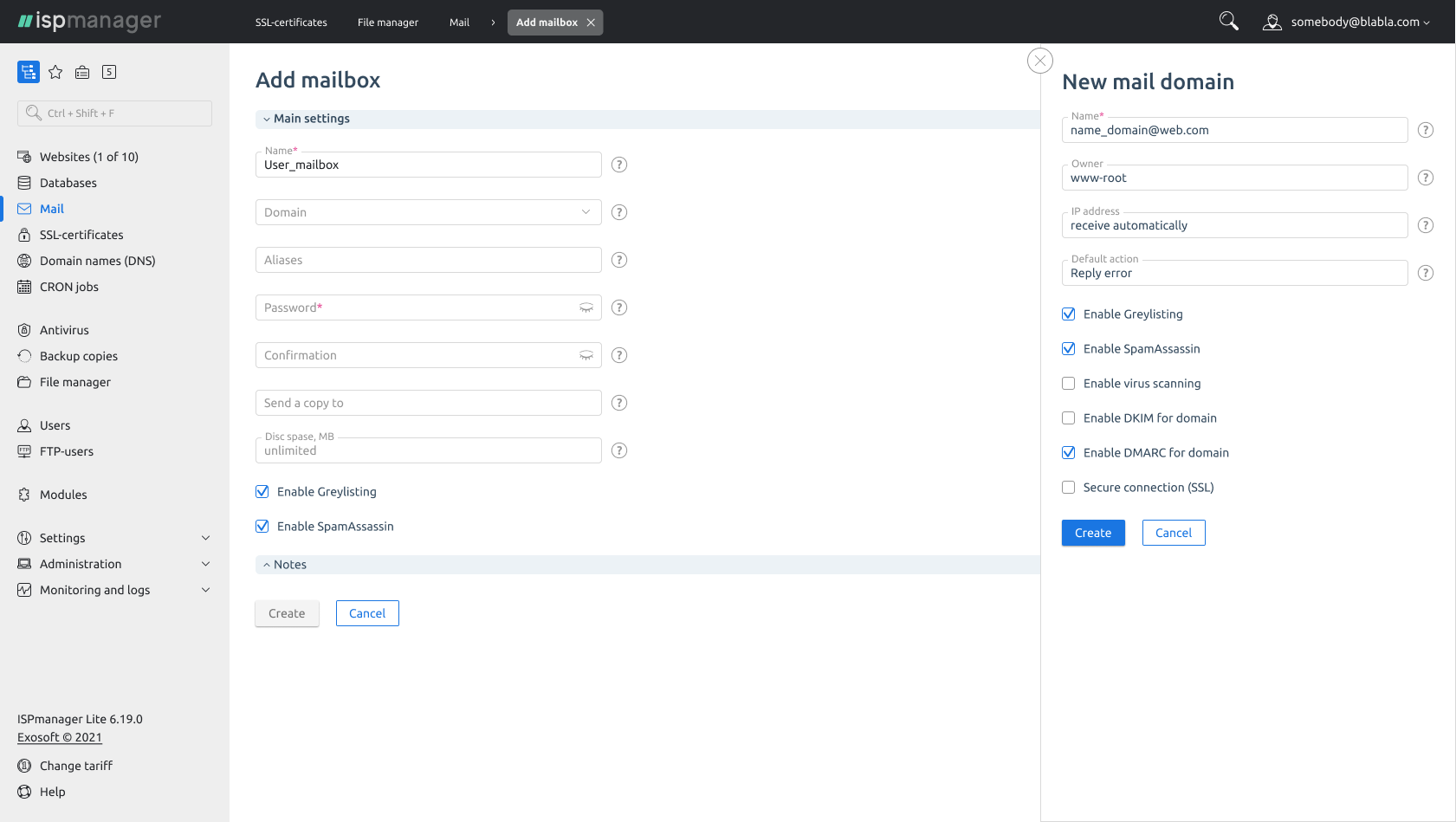 Connection of domain during email creation
How the changes will take place
The changes will occur in stages. In November, the color scheme, the appearance of buttons, and the list of Websites will change. The basic website card and the ability to work with multiple objects will appear at a later point.
Important: After installation, reverting to older versions of the interface will no longer be available.
Have you liked the interface? Have ideas to improve it even further? We'd love to hear from you in the comments.