How we support our customers
We have two support lines. The first line works with general inquiries
while the second one resolves complicated technical issues.
You need customer care department if you want to:
pay
prolong
activate
change the IP address of your license
restore access to your account
You need technical support if you want to:
install
set up
update
integrate
ask a technical question about ISPsystem software
We at the customer care department generally help with payments or service activation; however, we can also help to resolve deeper technical issues. We can assist in installation for free and provide links to documentation that can help.
Ksenya Fil, Head of Customer Care
Where can I ask my question?
Customer care
Monday-Friday: 00:00 - 16:00 GMT
Saturday-Sunday: via tickets, answers within 24 hours
Technical support
24/7
1 ticket — 30 €
5 tickets — 100 € (you save 50 €)
30 tickets — 300 € (you save 600 €)
Free
for
hosting partners
Free
ticket per each 100 € charged of your account balance
Technical support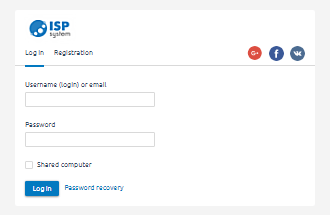 Step 1.
Send your request to technical support if you are sure that only this department can resolve your issue. You need to enter your account first.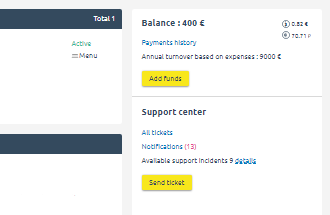 Step 2.
Find the block "Support center" in the top right corner and click on "Send ticket".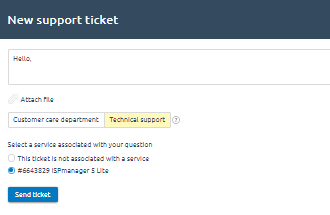 Step 3.
Describe your issue and select "Technical support". Select a product assosiated with the issue to get the faster response.
Technical support procedures
Our technical support can help you with the following:
Questions on installation, setup, and operation of our software.
Installation of ISPsystem software on a client's server.
Setting of ISPsystem products.
Integration of ISPsystem products.
Setting up internal ihttpd server.
Installation of an SSL certificate.
Troubleshooting of ISPsystem software.
Other work within promo actions organized by ISPsystem.
Technical support does not:
Provide server diagnostics even if ISPsystem software is installed there.
Set up systems, third party software, and client networks.
Develop and support modules and plugins developed for ISPsystem products.