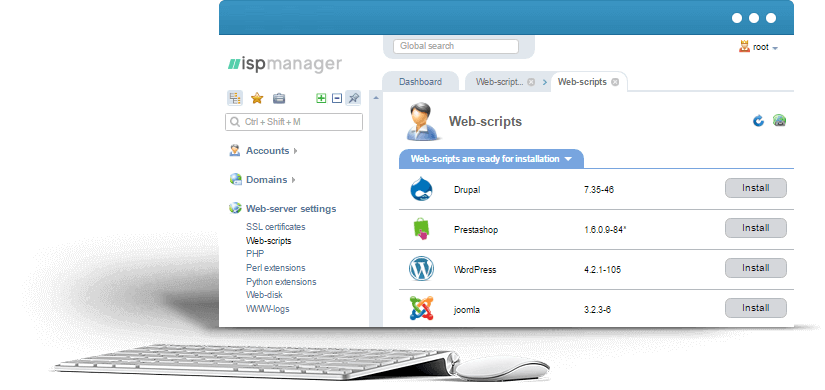 Web hosting & Linux
server control panel
Advanced solution for both dedicated servers & VPS management, as well as shared & reselling hosting provisioning
Manage linux web server
ISPmanager Lite provides rich feature set for managing websites, creating users, handling domains, emails, databases, etc. ISPmanager has the same affordable price for both dediсated and virtual servers. It also supports an unlimited number of users and domains without any extra charge.
The panel already has lots of various integrations such as Let's Encrypt, website builder, anti-viruses, etc. You can also create plug-ins by yourelf by using open and well documented API.
Provide shared or reseller hosting services
ISPmanager Business is the ideal solution for providing shared or reseller hosting services. Single ISPmanager Business can be used by providers for managing multiple servers (hosting cluster). The panel can manage data located on both local and remote servers (hosting cluster nodes).
The panel also guarantees uninterrupted operation of provider systems and allows flexible configuration of user roles to give customers client-access for managing their hosting.
Get started with ISPmanager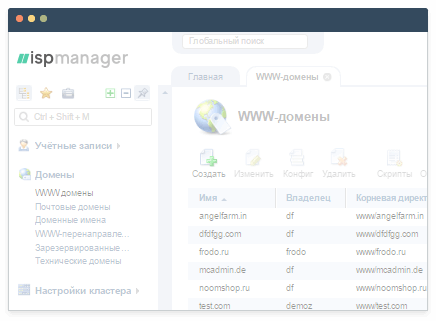 We'd like you to experience the advantages of ISPmanager.
That's why we offer a free 14-day trial version.
ISPmanager Lite features
ISPmanager Lite lets you easily manage your personal server and maintain your websites.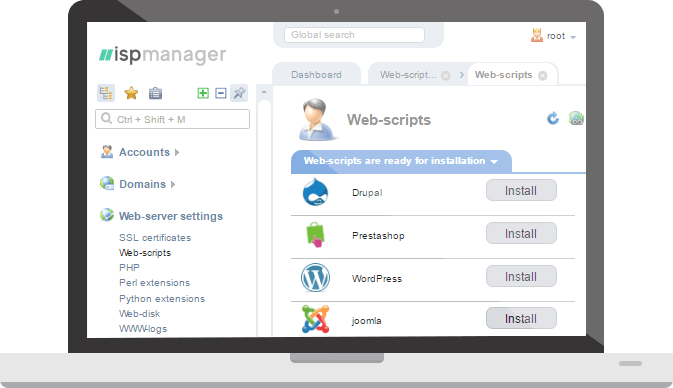 Features available only in ISPmanager Business
ISPmanager Business gives you the ability to provide and resell shared hosting services. The control panel is integrated with the popular billing systems such as BILLmanager, WHMCS, and HostBill.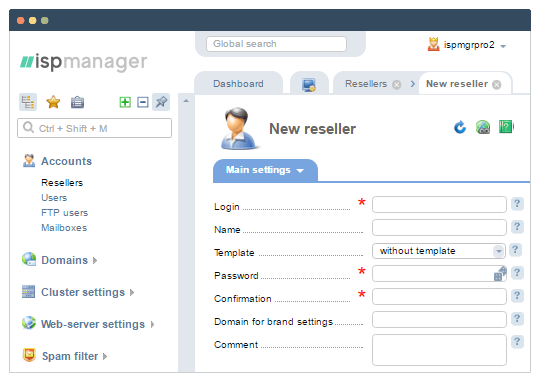 Trusted by
CloudLinux module features
CloudLinux is specifically designed for hosting companies and optimized for shared hosting. This OS brings a lot of benefits by allowing you to improve stability, density, security, and performance of the server.
Cage each customer in an individual virtual system.
PHP selector allows users to select specific PHP versions they need.
Limit the amount of resources any single account can use in system.
Monitor MySQL usage, preventing abusers from overloading the server.
It makes it possible for users to choose a PHP version independently for different domains. .htaccess is supported.