12 months, 38 releases, 4 087 improvements and bug fixes in ISPsystem's software products. Our Business development team visited 10 conferences and trade shows, and joined 40 new partners to our Partner program. 2016 was rich in events, both for ISPsystem Company, and its software products.
Let's have a look at the most import changes!
ISPmanager

1. Integration with Let's Encrypt. This is a popular tool that facilitates creation and management of free SSL certificates. It enables to ensure high levels of data encryption via HTTPS on any Internet-project. We are sure that the demand for this tool will be growing due to new Google Chrome rules.
2. Integration with Virusdie. Users of ISPmanager Lite already highly estimated this anti-virus application. VirusDie is a security tool that helps you clean and protect your websites from malware, spam-bots, etc.
3. Owners of ISPmanager Business can now use a built-in PHP-selector that was available only to users who purchases a CloudLinux license.
4. Owners ISPmanager Lite can now set different PHP and MySQL versions for their domain.
5. External storages (Yandex.Disk, Dropbox or Amazon Cloud Drive) are now available to ISPmanager Business users. If the admin didn't configure backups or disabled them in settings, there is no need to request help from the hosting provider any more.
6. Our control panel can be installed on Ubuntu 16.04 LTS Xenial Xerus. This new operating system allows users to take advantage of the latest software versions, including:, such as MySQL 5.7.13, PHP 7.0.8 Native, Apache 2.4.18.
BILLmanager

1. During 2016 году we integrated BILLmanager with 18 external solutions, such as Alipay and Skrill (payment gateways), GoGetSSL (SSL provider), Evonames (domain registrar), and many other.
2. Moreover, we are now distributing the Source Code for many modules within your BILLmanager installation. Experienced users can take advantage of BILLmanager's Developer Pack for building their own modules. It can significantly save time and funds needed for development.
3. You can take advantage of a universal handler based on shell-scripts to set automated provisioning of any services.
4. Live chat module. It is fully integrated with BILLmanager, which greatly increases easy and speed of reaction time, when communicating with your customers. Install this module into your site, or BILLmanager, and you will be able to Log your customers in directly from the Chat dialogue box, keep track of all communications, view Client information within the Chat, and convert chat sessions into Tickets, for further review.
5. BILLmanager owners can set up integration with VMware vCloud Director. vCloud Director is an integrated solution for cloud virtual infrastructure's management based on IaaS (Infrastructure as a service) model. The integration module allows to use the main functions of VMware vCloud directly from BILLmanager interface.
6. BILLmanager Corporate has flexible options for configuring tax rules for different countries. You can also set individual tax rates for different clients. This feature will be appreciated by providers working with clients from different countries.
7. We have introduced reselling of SSL certificates between BILLmanager control panels. If you already have a sustainable partnership with SSL vendors, you can offer your reseller partners to purchase SSL certificates from you for further reselling. on the other hand, if you're just starting your business, you can apply to any provider selling SSLs and discuss reselling certificates from this provider.
VMmanager
1. Special attention should be paid to new Recipes. They are designed to make configuration of virtual machines easier. Recipes represent scripts that can be executed by the control panel on a VM after OS is installed from a template. This functionality allows users to create their own Recipes in VMmanager or connect repositories with various sets of scripts.
2. We added GlusterFS, a new storage type for mages of VM disks. Learn more.
DCImanager
1. Recipes that were added to VMmanger, are also available in DCImanager.
2. It became easier for our clients to get started with DCImanager Enterprise, as this premium DCIM solution is now licensed by the number of racks. Visit our web-site in order to calculate the price for your data-center.
3. A number of new handlers, including the one for APC rPDU 79xx It makes it possible to collect energy usage data from banks. Added in release 5.69.
4. Since October 1 clients cannot order BILLmanager Standard and DCImanager Essential licenses and receive new updates for this versions. Such elimination would allow us not only to raise the bar of BILLmanager and DCImanager starting features, but also to maximize stability of the two remaining versions. Learn more.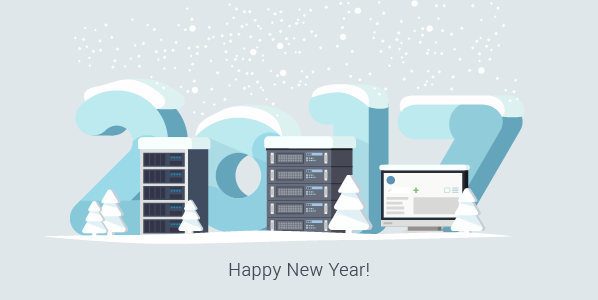 Some words about the new year. We have a lot of plans for 2017: from small improvements to large useful features and new options. We will keep you informed!