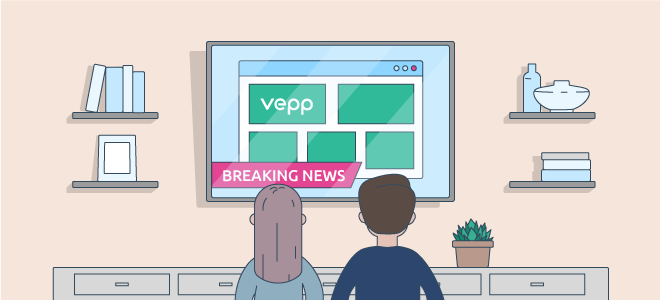 Vepp development has stopped. But there is another solution – ISPmanager 6! It has new interface and more awesome features available. Learn more in the ISPmanager company website
Not only professional developers but also inexperienced users create websites. Notably that novices prevail. Server and website control panels should help them, however, they make the process even more difficult. They are flexible and multifunctional, but not intuitive as they are designed for advanced administrators.
We strive to change this approach because we believe that a website should be available to everybody. Today, we introduce Vepp, a new control panel for server and website management. It performs all difficult technical operations itself, providing the intuitive web interface for any user.
New control panel for a new time
We started to design Vepp by analyzing the current auditory of hosting panels. We took information about third-party solutions from open sources. For ISPmanager 5, we got more accurate data but they were very close to general results:
in 58% of cases there is only one user in a control panel;
36% of users are newbies in administration;
There is only one domain (i.e. one website) per 30% of servers.
This means that most users are owners of one website; many of them don't have experience. They might be professionals, but not in development and administration.
Our conclusions match the general trends. The market of site builders has grown over recent years and it will keep on increasing. WordPress is getting new visual constructors of pages and plugins that help solve the easiest tasks. All these tools are created for inexperienced users.
That's why we first thought about users without technical background; we were trying to understand their goals and work through solutions. Our goal was to create an intuitive web interface. Now it's time to show you the result.
Meet Vepp!
Vepp is an absolutely new product that's why it has a different name. It provides easier tools for newbies yet being functional and secure.
Every tool in Vepp has its own place. You don't need to have special skills to upload a website to the server, assign a domain, and configure backups. The service makes difficult operations easier and saves the user time.
Let's look at the interface to see it ourselves.
Website creation. We have created a wizard that consists of three steps. A user only needs to select a CMS template, specify or buy a domain — and his website based on WordPress is ready to go. However, a webmaster still can create a website without CMS and configure the system according to his needs.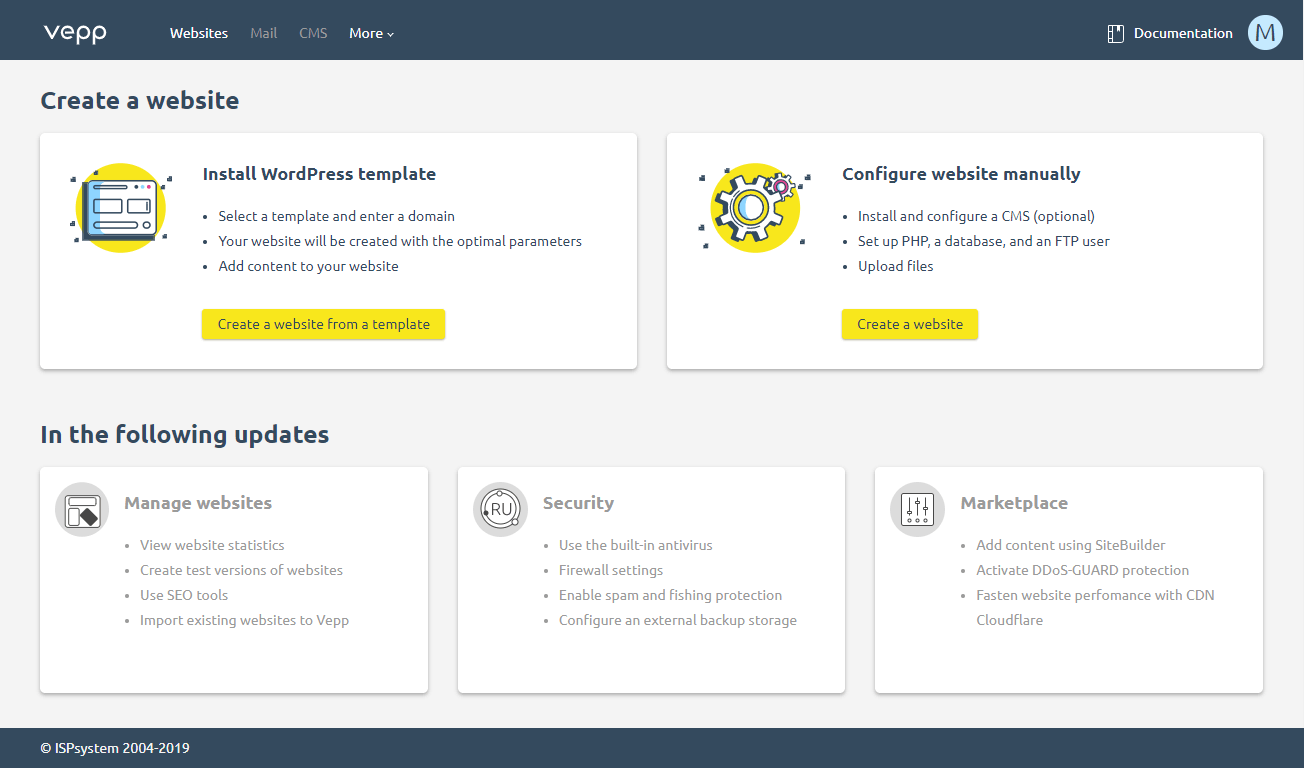 The first page where a Vepp user starts his way
Website card. After you have created the website, on the dashboard you will see the information about your website: if it is accessible or not, when the last backup copy was created, and if an SSL-certificate is connected. Every widget has links to the section where you can solve the problem.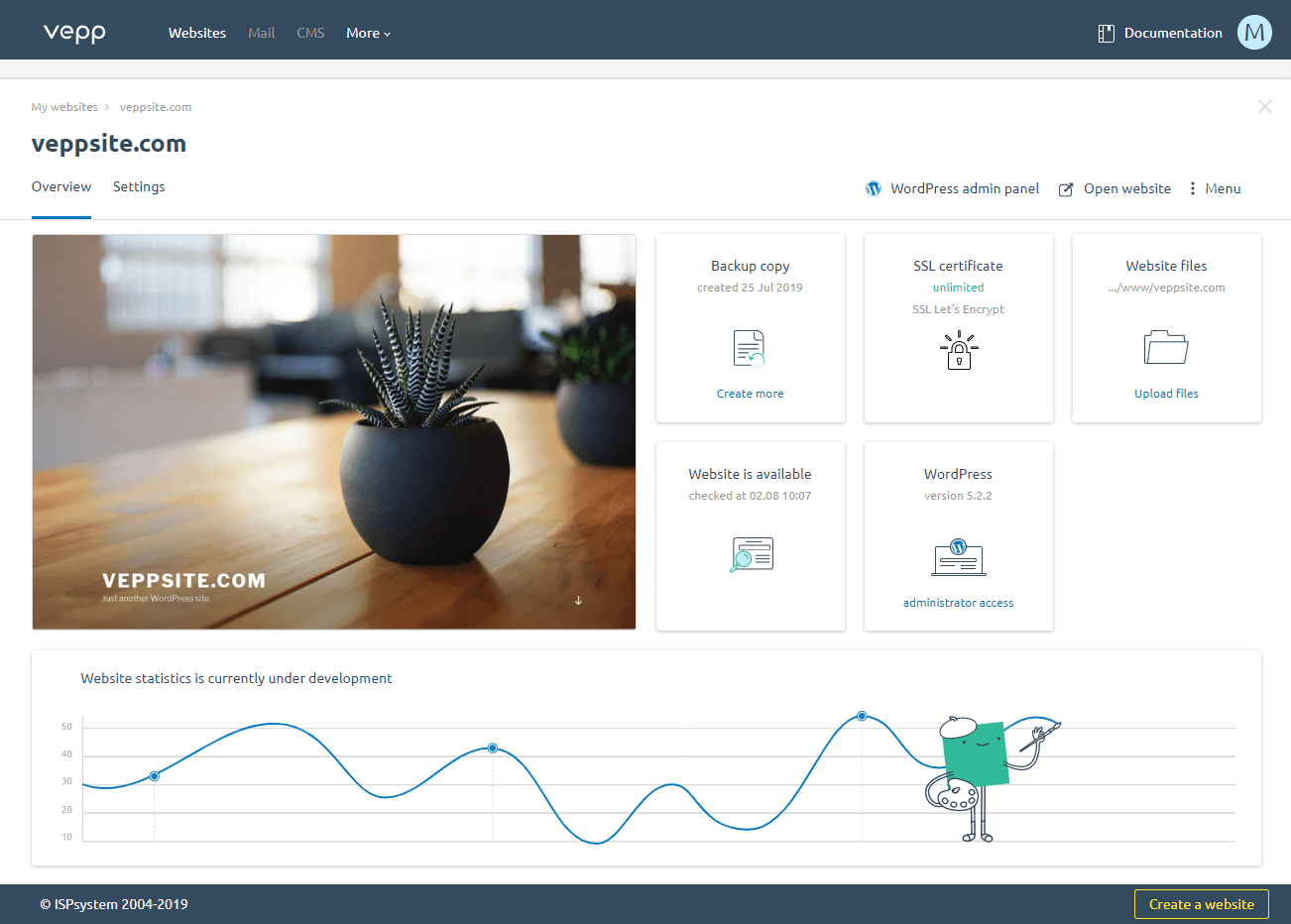 The main page of the website card
Detailed settings. In the "Settings" section you can find the tools for domains, mail, backups, and file management. Every section is designed in such a way that a novice won't waste much time on understanding the configuration and an advanced user, on the other hand, can focus on details.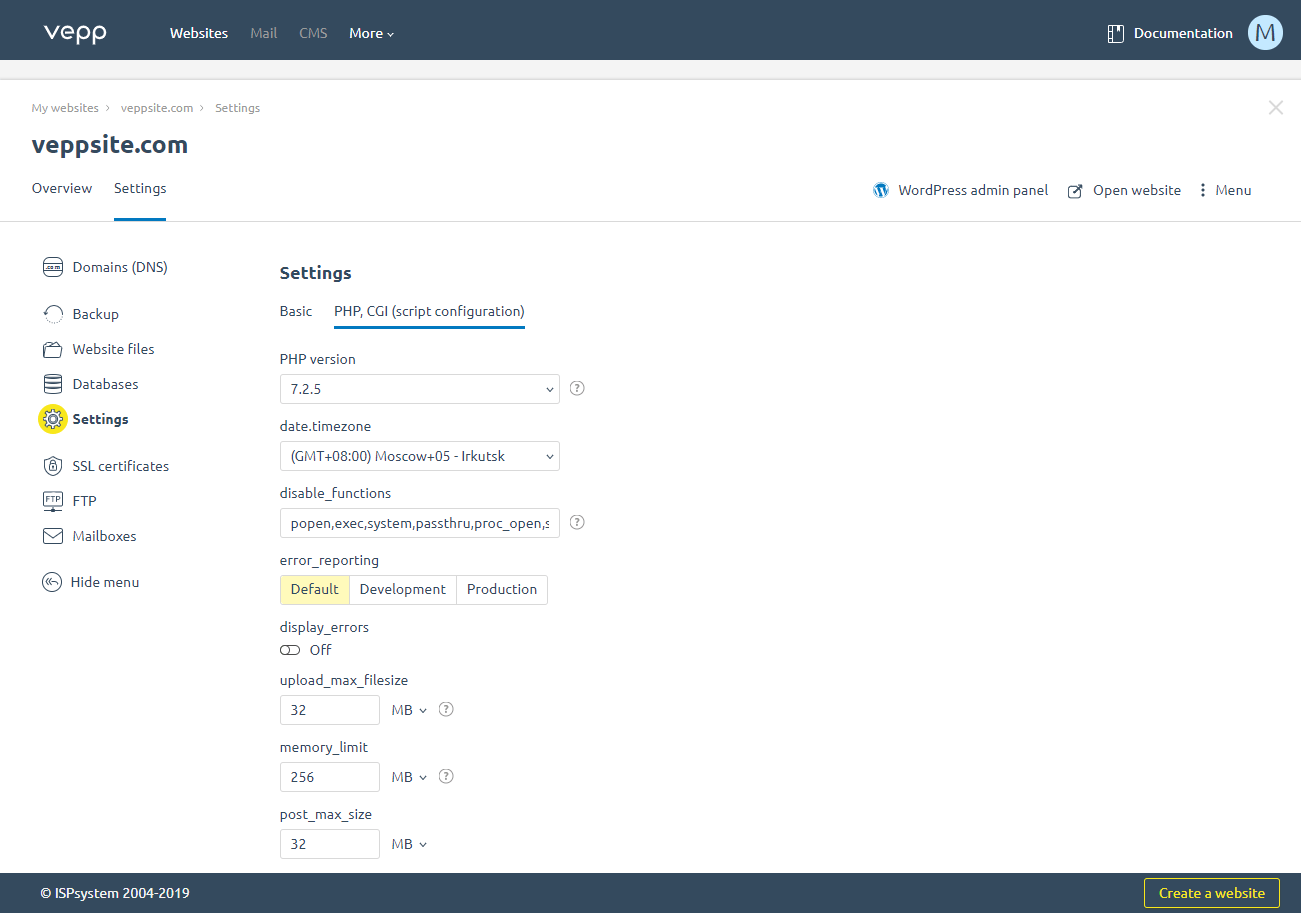 The "Settings" section with the PHP and CGI configuration tab
Currently, the functionality of some sections is limited but we will extend it in the course of time. You can read about our plans below, and now we'll describe the current functions provided by Vepp.
Current functions:
Web server: Apache and Nginx.
PHP: PHP as CGI, versions 5.2 to 7.3. You can set up the time zone, suspension of functions, the output of errors, limit the size of an uploaded file, memory, amount of data uploaded to the website.
Database: MariaDB, support of phpMyAdmin. You can rename, delete, add a user, create a database dump, upload the dump, delete the database.
Domains management: create and edit the records: A, AAAA, NS, MX, TXT, SRV, CNAME, DNAME. If you don't have a domain name, Vepp will create a technical domain.
Mail: Exim, you can create mailboxes and manage them via RoundCube.
Backups: full.
Supported CMS: WordPress (the latest version), different templates.
SSL certificate: you can install a self-signed certificate, Let's Encrypt or your own certificate, the panel redirects to HTTPS automatically.
FTP user: created automatically.
File manager: upload, download, edit content, create files.
Website accessibility monitoring.
Can run behind the NAT.
Can be installed on a cloud: tested on Amazon EC2.
Information for owners of ISPmanager 5: please note that now Vepp cannot perform all the operations supported by ISPmanager. Currently, Vepp can only be used by those users who need to manage their WordPress website without deep knowledge in configuration and administration. Features for professionals will be added later.
We support ISPmanager 5 and issue security updates. That's why you can continue using the panel as before.
Plans
We understand that it's not enough to create a website. There are many operations to be performed after the webserver and mail configuration, and users also need our help.
We are going to make Vepp a powerful service for protection, analytics, and website promotion. We will add the corresponding tools in the nearest future. You can find the roadmap in Trello. By the end of the year we are going to add:
Antivirus for websites.
Import of an existing WordPress website into Vepp.
WordPress website promotion tools.
Integration with Google Analytics.
Security tools WordPress.
External storage for backup copies.
WordPress website speed optimization.
Server status monitoring.
DDoS and spam protection tools.
For advanced users, we will add extended features. We will offer a Hosting pack for hosting providers and a Developer Pack for developers.
Distribution and prices
You can buy Vepp with a virtual or dedicated server from a hosting provider. It is very convenient because the control panel is already connected to the server. Besides, you can buy domains directly from the panel (you won't face problems when assigning or setting up the domain). Finally, providers offer Vepp at a lower price than our company.
On our website
Vepp will cost 10 euros per month or 108 euros per year. The market launch is planned for October. Currently, we offer a promo tariff – you can evaluate Vepp for free.
Be the first to try!
Most hosting providers who started to use Vepp offered promo actions and servers with a new control panel at affordable prices.
If you only want to look at the new panel you can use a promo tariff on our website. Sign up at my.vepp.com and connect a virtual or dedicated server. If you don't have a server, you can use a test one. Access to the server will be granted on the connection form after you confirm the email. For more information please refer to the article Connecting to Vepp.
Please leave your feedback inside the panel or send it to help@vepp.com. We appreciate your suggestions and thoughts!
Vepp for providers: a new approach
With Vepp, providers will have new opportunities and will be able to install panels and provide licenses in a new way. For more information please refer to the article Vepp for providers.
In this article, we'll describe it briefly.
New featuresVepp is more user-friendly than traditional control panels that's why when a service provider offers this panel to his clients he improves the quality of his services and takes an advantage over site builders.
Besides, he can sell additional services through the control panel. Now clients can buy a domain from their provider directly in Vepp. In the third quarter, customers will be able to purchase SSL certificates. Later, the market place will be enlarged enabling providers to offer their own services.
New installation and license provisioning schemeUsually, a control panel is installed on a server and a license is issued for every panel. Many servers – many panels. Many panels – many licenses. Vepp has a different scheme.
Instead of multiple panels and licenses, the provider uses the Vepp platform. It is installed only once on the provider's equipment. Clients' servers are connected to the platform.
Therefore, the provider has one product and one license. He controls the updates and panel stability. Learn more about the installation, integration with billing systems, support, and advantages of the platform in our article Vepp for providers.
Prices and testing for providersProviders pay for the panel's users. The price starts from 8 euros per month per account and depends on their number. The more, the cheaper. Learn more about the prices in the Partners section at the Vepp website.
To test the Vepp Platform you will need a dedicated server. Deploy the platform and test it for free for one month. Server requirements and other information are described in the article Vepp for providers.
New interface and voice
A new name Vepp is consonant with "web" and "app" – this is what we wanted. We have changed not only the name but also the interface of the control panel. It has a unique visual style that differs from everything we developed before, including its mascot. Vepp is more user-friendly and interacts with users in a different way. Finally, it has its
own website
instead of a separate page at ispsystem.com.