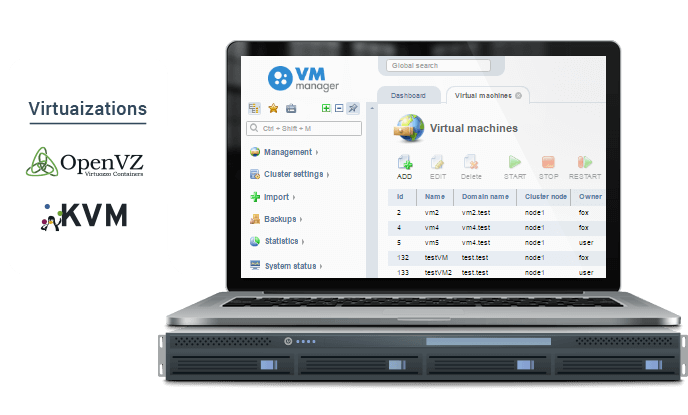 Server virtualization
management
software
Complete toolkit for virtual machines management, VPS provisioning, and building of high-availability clusters.
Manage virtual machines
VMmanager presents a web based user interface for server virtualization management. It allows users to create virtual machines using OpenVZ or KVM hypervisors and manage them using wide functionality of VMmanager.
Hosting providers can use VMmanager to provide VPS services to their clients. The solution is fully integrated with popular billing software such as BILLmanager, WHMCS, or HostBill, and also gives end-users the ability to manage their VPSs.
Build cloud infrastructure & deploy HA clusters
VMmanager Cloud allows you to build cloud infrastructure and deploy high-availability clusters with unlimited number of nodes.
VMmanager Cloud consists of operational nodes (for running virtual machines) and fail-over network storages (for locating VM discs). The solution uses Corosync to detect cluster availability and iSCSI, Ceph and GlusterFS to deploy HA network storages. If one of the servers is down, VMmanager distributes its virtual machines between the remaining nodes one by one.
Get started with VMmanager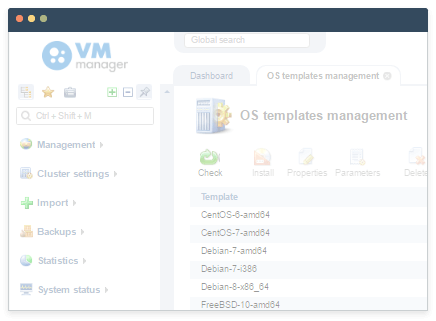 We'd like you to experience the quality and advantages of VMmanager. That's why we offer you to try it's free version.
Main features
Perfect set of tools for server virtualization management
VPS provisioning
VMmanager is an ideal solution for hosting providers who want to automatically sell VPS services to their clients.
VPS provisioning
Automatically provide VPS services to your clients by integrating VMmanager with popular billing software such as BILLmanager, WHMCS, HostBill. Sell pre-configured VPS plans or set up custom configurations for clients.
Client access to VPS management
Allow customers to manage their virtual servers from an intuitive interface. Empower them to deploy a server, re-install OS, reboot virtual machine, make and restore backups, etc.
Clients support
Connect to client's virtual machine using the built-in VNC HTML 5 client. It would save a lot of time of your support team.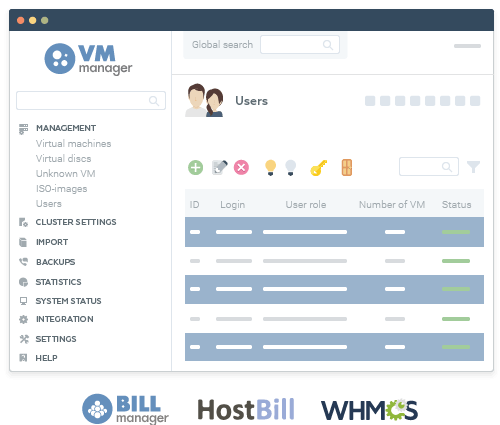 High-availability cluster deployment
VMmanager Cloud makes it possible to deploy a fault-tolerant cluster and build high-availability cloud infrastructure. If one of the nodes is down, VMmanager distributes its VMs between the remaining nodes one by one.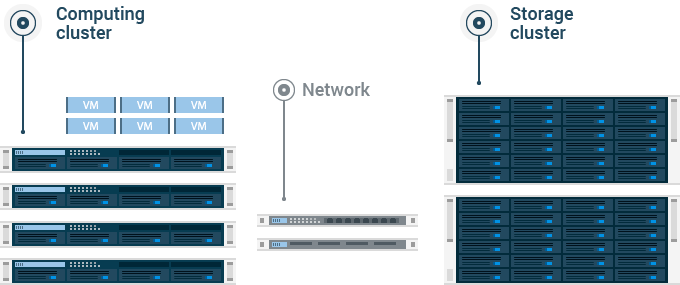 The system consists of operational nodes for running virtual machines and fail-over network storages such as iSCSI, Ceph and GlusterFS for locating VM discs. VMmanager Cloud uses Corosync to detect availability of every VM within a cluster.
How it works
The master node identifies the cluster node with the lowest number of virtual machines.
It checks whether there is enough RAM to locate the VM.
If there is enough memory on a node for the pertinent machine, VMmanager creates a new VM on this node.
If there is not enough memory, the system checks the other nodes with more virtual machines.
Specifications
Restore time
After having tested various hardware configurations and inquired many current VMmanager Cloud users we identified that normally it takes 45-90 sec to distribute and restore operation of all VMs from the failed node, depending on equipment performance.
Security model
VMmanager can use one or a few nodes as a safeguard against emergency situations and not to deploy VMs on these nodes during routine operation. It minimizes the chances of lacking resources on the live cluster nodes for adding virtual machines from the failed node.
VMmanager advantages
Migrate virtual machines between cluster nodes to optimize load on each server & maximize effective allocation of VPSs between your servers, thus negating the need to invest into unneeded infrastructure.
When you need to scale-up, you will be able to easily add new nodes, update hardware, and distribute the load.
Because VMmanager helps to reduce a number of used hardware equipment, you'll be able to minimize the costs of its maintenance and reduce the number of tech specialists working with the system.
The intuitive interface of VMmanager doesn't require a high level of tech skills, allowing to spend less time on maintenance.
Minimize costs of failures
VMmanager Cloud contains tools for automatic failure recovery. Service timeouts in case if one of the nodes goes down will be 45-60 sec. in average and no longer than a couple of minutes.
The system also provides high availability of the control panel itself. In case if the node with VMmanager fails, it would be launched on the other node.
Maximize stability and security
VMmanager gets new security updates and feature improvements every week. The team of developers from ISPsystem is constantly working on improving the user experience, maximizing stability of the control panel operation, and security of the overall system.
If you face any problems, just let us know as our support is available 24/7.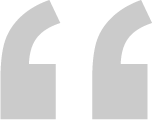 ISPsystem is gaining global traction with their VMmanager. The customer-focused platform is a model of flexibility, offering bargain-priced 1-month or 1-year plans in addition to lifetime licenses and a free version that won't expire.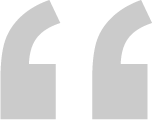 VMmanager was a right tool for starting high availability VPS services. Extensive experience with the products of ISPsystem allowed us to deploy a test version in week, and in two – real clients already worked on the infrastructure.