Monitoring and notifications
Uninterrupted operation of IT services is the foundation of a modern company, regardless of the sphere of activity and size of the organization.
Incidents and failures in the work of the equipment lead to significant financial and reputational losses both for large corporations and for SMEs.It is therefore critical to keep the infrastructure up and running 24/7.
To ensure ongoing operation of the IT infrastructure, it is necessary to be informed about potential threats at the earliest, and in case of an incident, to eliminate the problem as quickly as possible.
Main tasks of the monitoring system
Physical equipment and VM status monitoring
Monitoring the network load
Power supply statistics
History of operations and analytics
Problem detection
Configuring notifications
ISPsystem platforms are created taking into account these tasks: they collect information about the status of equipment, display statistics in real time and report on possible or already existing problems via convenient channels: to the platform monitoring dashboard, by email or in a messenger.
Success Story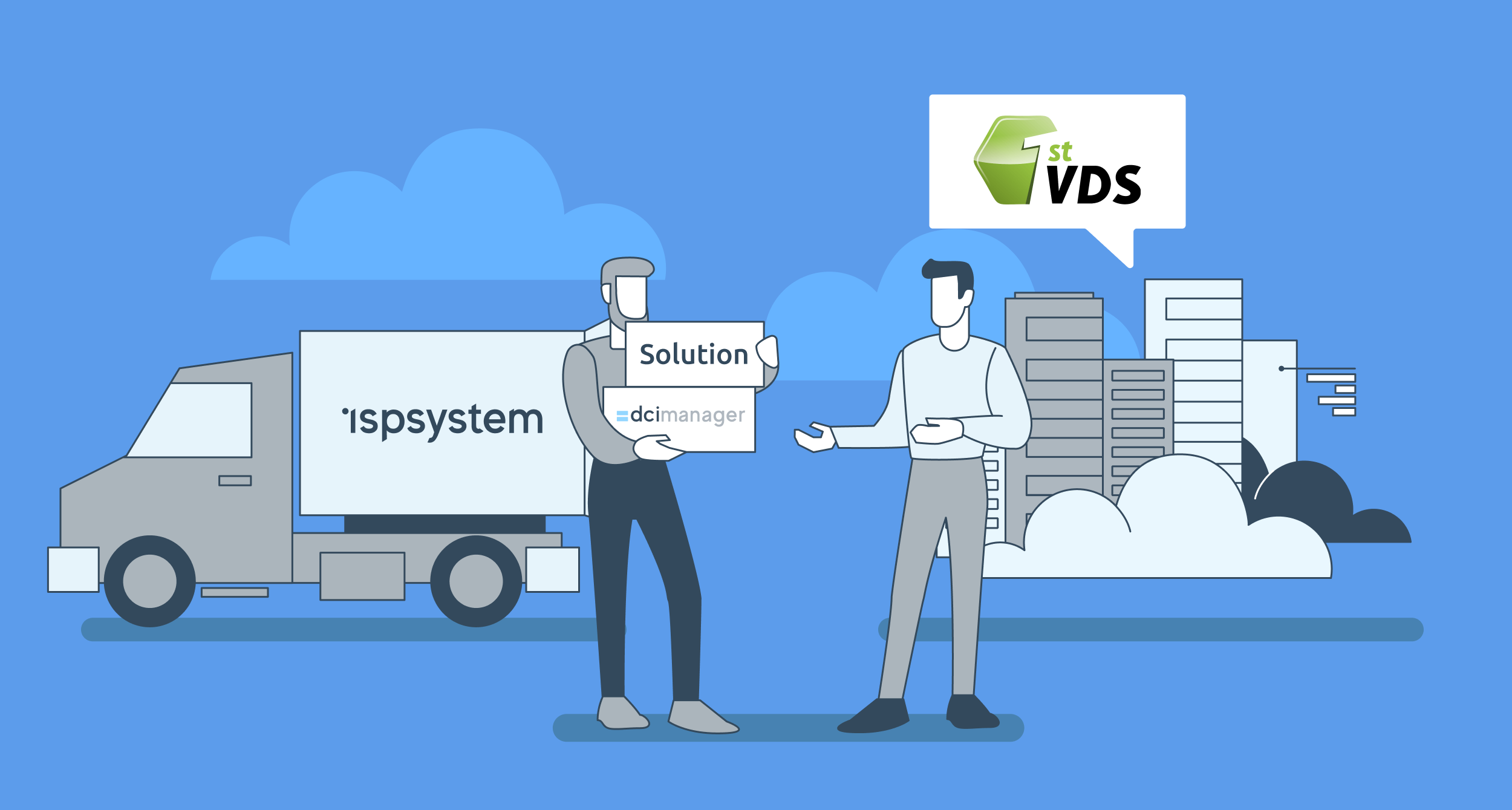 The case of FirstVDS hosting provider data centers integration and infrastructure scaling using the DCImanager platform.
DCImanager
DCImanager, the physical equipment management platform, allows to automate the work with data center infrastructure, reducing costs for monitoring, maintenance and management of equipment: servers, racks, network equipment and PDUs.
DCImanager allows you to control traffic passing through network equipment:
traffic volume,
network load,
burstable.
NetFlow statistics collection,
Server power supply statistics collection,
Server status monitoring: CPU, HDD, RAM, temperature statistics,
Notifications in the platform, alert messaging through Slack and Telegram.
VMmanager
Specialists use virtual machines for any tasks related to the delivery of an isolated service — code testing, graphic design, document management, website development and others.
Public websites and services are always in danger: a DDoS attack, a virus, or an incorrect script can disable a virtual machine. As a result, business processes of the company are at risk.
VMmanager monitors the following parameters of physical servers and virtual machines:
network load,
RAM,
CPU,
Storage,
IOPS.
General load statistics can be displayed for a certain period (previous day, month, arbitrary range) or for an interval (days, hours, minutes).
VMmanager monitors load on servers and virtual machines: monitors RAM use, CPU and disk load, network traffic. If the load becomes critical, the administrator will be notified in the platform.
The platform stores information about all current and completed operations on virtual machines, nodes and OS templates. The log of operations completed with an error is displayed in the interface, so that the administrator can promptly take the necessary measures.
Thanks to the integration with Grafana, you can flexibly customize visualization of parameters in the system, statistics and incident analysis.
Advantages of solution
Security and stability
The monitoring and analytics system allows the IT administrator to monitor the status of the entire system and prevent failures.
Intuitive interface
IT administrator and internal users will find it easier to manage the infrastructure thanks to a simple and intuitive interface.
Free technical support
Our technical support consists of network engineers and Linux administrators. We consult or help solve the problem "on the spot" by connecting to your platform.
Regular improvements
ISPsystem's team releases updates every 2 weeks. The product takes into account market trends and user requests.
Find out more about the platforms
Save your time and find out all the information you need with the consultation.
+
Complete
DCImanager

5 and

DCImanager 6

Not sure if migration from the old version will be useful? Leave your email and we will send you a complete comparison of all features of DCImanager 5 and DCImanager 6

+