Managing virtualization
The use of virtualization technology helps businesses to quickly deploy new services, while flexibly adapting to the rapidly changing market conditions during the digital transformation.
The right solution will help to significantly reduce the load on technical support, improve infrastructure efficiency, ensure its stability and save resources.
Key tasks related to virtualization management
Creating virtual machines
OS and software installation
Live migration of virtual machines
Backups
Statistics and monitoring
Ensuring security
Incident prevention
Managing user permissions
Companies choose to support their own IT infrastructure in order to ensure high performance, security and save resources — and VMmanager has been created with these needs in mind. The platform combines physical servers and network storage into a cluster and turns the cluster into a conveyor belt serving your virtual infrastructure.
Success story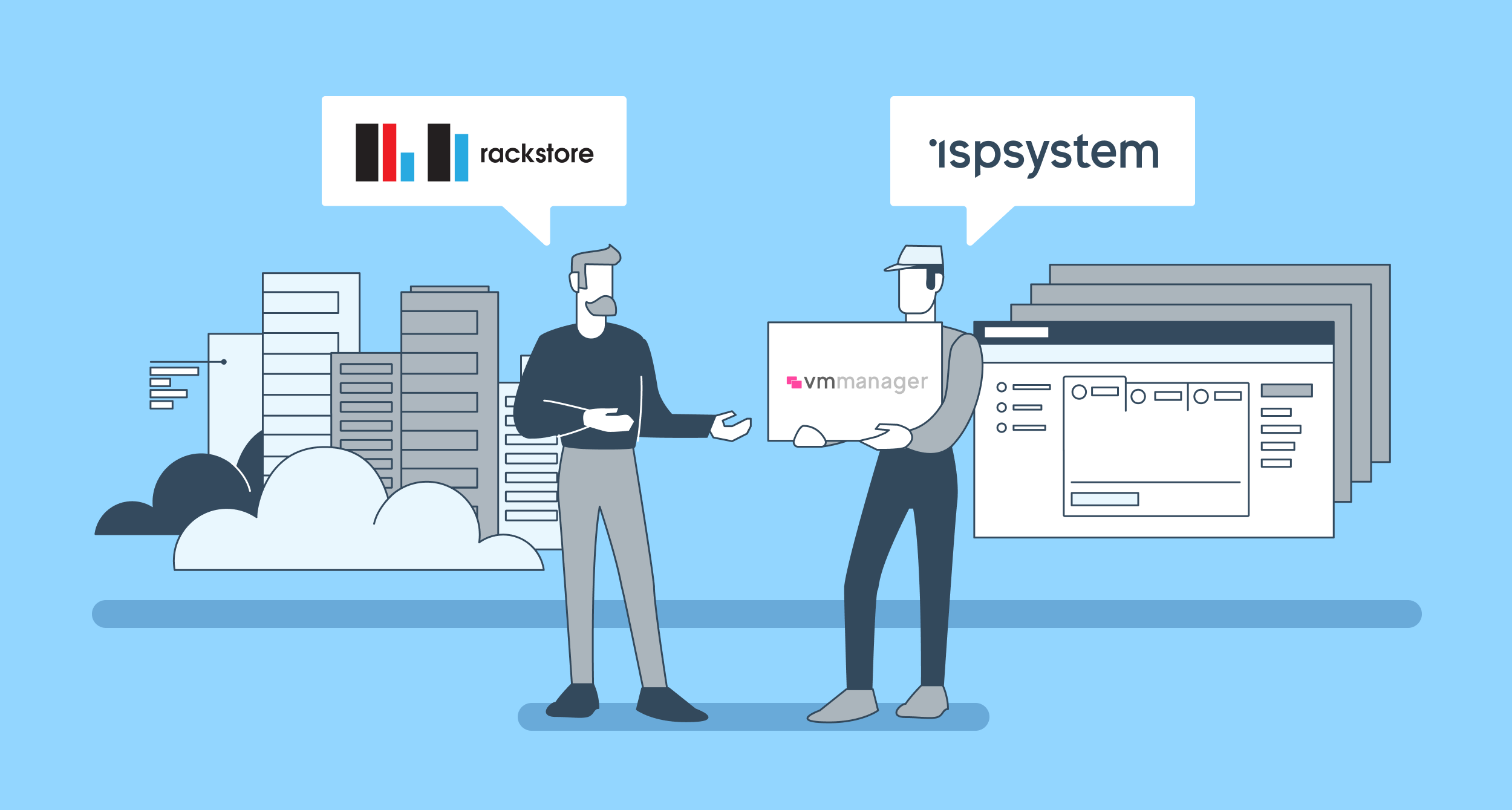 How RackStore is using VMmanager to provide VDS services to its clients
Virtual machine creation and OS installation
There are several ways to create virtual machines in VMmanager:
Based on the recommended configuration: a ready-made set of resources and settings is used that can be changed if necessary.
From an image: a virtual machine disk image is used to create the VM.
From a billing system: in this case, you can choose any of the above methods.
Virtual servers can be created starting at 2 minutes, while containers can be provisioned in only 3 seconds. The majority of routine operations: migration, cloning, reinstalling the OS and software, backups, adding and deleting interfaces, virtual server image creation, monitoring, statistics collection, etc. - are automated in VMmanager.
Migration of virtual machines
Using a single VMmanager control platform, you can connect an unlimited number of physical servers. They will then form a server cluster.
Images of virtual machines can be moved between cluster nodes. This process is called migration. In VMmanager it is provided with libvirt tools.
Live migration. During a live migration, the virtual machine is available and continues to run. Live migration is suitable for moving small and not actively used virtual machines.
Migration of a stopped virtual machine. If you stop the virtual machine before starting the migration, the migration will be performed through normal data copying (copying the virtual machine disk image). This is the safest way to move a large-size virtual machine.
Group migration. The group migration mechanism allows the administrator to move several selected VMs to a specific cluster node "in one click".
Backups
VMmanager uses image technology for backup. Images are created without stopping the virtual machine. You can recover a corrupted VPS from an image or deploy a copy of a VPS on a new server. This speeds up processes and ensures data integrity.
Statistics and monitoring
The platform stores information about all current and completed operations on virtual machines, nodes and OS templates. The log of operations completed with an error is displayed in the interface, so that the administrator can promptly take the necessary measures.
Thanks to the integration with Grafana, you can flexibly customize visualization of parameters in the system, statistics and incident analysis. It is an out-of-the-box ready-to-go container with Grafana complete with all integrations, database connections and a pre-configured demo dashboard. To deploy monitoring, you only need to create your own dashboard, choose the entity, parameters and method of visualization. Everything is configurable via a simple graphical interface in a couple of clicks. Read more details in our documentation: how to work with Grafana in VMmanager.
Ensuring security and preventing incidents
The platform is installed on CentOS, one of the best Linux installation packages, which is constantly updated. Inside VMmanager, a stack of modern technologies is used: C++, Python, Golang, Docker, Grafana, Go-Carbon etc.
The infrastructure created with VMmanager is safer — the open Linux code provides only the declared functions, without unexpected surprises.
VMmanager monitors load on servers and virtual machines: monitors RAM consumption, CPU and disk load, network traffic. If the load becomes critical, the administrator will be alerted in the platform.
Assigning user permissions
With VMmanager, internal infrastructure customers get their own access to the platform. In a simple interface, they can solve basic tasks. Users are completely isolated, so their actions do not affect other users or the system as a whole. It is possible to create an intermediate role for an advanced user who will have access to advanced features.
Advantages of solution
Centralized management
The company gets a single entry point to manage virtualization. The platform is convenient for monitoring infrastructure, using the existing equipment more efficiently and planning for purchase and expansion.
Intuitive interface
IT administrator and internal users will find it easier to manage the infrastructure thanks to a simple and intuitive interface.
Free technical support
Our technical support consists of network engineers and Linux administrators. We consult or help solve the problem "on the spot" by connecting to your platform.
Regular improvements
ISPsystem's team releases updates every 2 weeks. The product takes into account market trends and user requests.