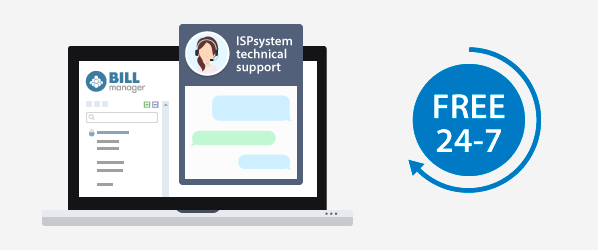 Great news for members of ISPsystem Partnership program. Starting May 17, 2017 technical support for hosting providers is available for free! This positive step is aiming to demonstrate that we appreciate your efforts in popularizing ISPsystem's software products.
Communication with our specialists gets easier! Now you don't need to count how many free support incidents you have on your account. Don't waste your time on searching for the right solution on the Internet. You just need to contact ISPsystem directly. The less time you spend on resolving issues, the more time you have for running your business.
Free technical support is provided for all control panels and integration modules, such as Virusdie, KernelCare, etc. We are available 24/7, response time remaining unchanged.
Who can get free Technical support
Free technical support is provided only for hosting companies who joined our Partnership program. This new feature is not available for other clients. If you a service provider and offer ISPsystem's software licenses with VPS, but you're not our partner yet, please refer to ISPsystem Partnership program for more information.
Partnership program for hosting providers
How it was before
Before May 17, 2017 ISPsystem's partners could not get premium support. Free assistance was provided only for pre-sales and billing questions. Support incidents cost 10 to 30 euro, and free incidents were added for complete 100 euros of the Annual Turnover.
Regards, Team ISPsystem