We will talk about a marketing sales funnel in this article: how does the user path look like starting from getting familiar with a hosting company to buying hosting and how BILLmanager can help raising sales without spending additional resources. This information may be useful for hosting, VPS, and cloud providers and software vendors as well.
I work in a marketing department of ISPsystem. The idea is to share some ideas on promoting your services with BILLmanager. It is one of our products and we not only sell it but use it by ourselves as well. At first, I'd like to tell briefly about marketing tools and switch to the sales funnel afterward shedding a light on how BILLmanager helps you to work with clients.
I. Marketing tools review
While the main functions of BILLmanager are payment automation and delivering services to the clients, it also has CRM functionality that allows building a flexible system of working with client base.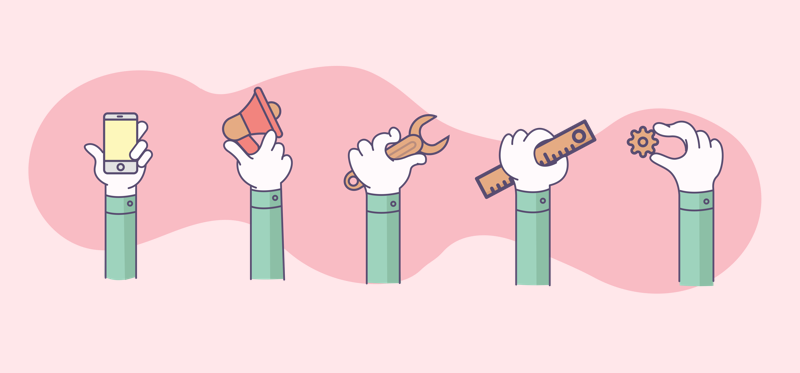 An admin can see the information about a total number of clients, the overall income they provide, the most and the least popular services and tons of other important data. Having this data on hand a provider is able to see how healthy his business is, he knows growth points and can use it for raising profit. So if a provider uses BILLmanager for building a customer relationship management system he doesn't need to integrate a 3rd-party solution for this.
The tools I'll describe below are available in "Marketing" folder of the left menu. Let's take a look on its purposes.
Client segments
It is a fundamental marketing tool that allows us to segment clients to different target audiences and work with it individually. You won't look intrusive if you offer different deals for different clients.
Mailings
This tool allows creating one-time and regular trigger mailings. Thanks to the built-in HTML 5 builder, you can easily create great letters with media content. Mailings in BILLmanager have no limits on the number of emails or total contacts count. Therefore you do not need to resort to paid services of third-party services such as MailChimp.
Default letter example is on the left, while on the right there is a better example how such letters may look like.
Promotions and special deals
Promo mechanism provides you with an ability to build a complex system of one-time or permanent special offers and generate promo code.
Referral program
Encourage your clients to invite their friends and relatives to your hosting project and show your gratitude by giving them discounts or other bonuses. BILLmanager has referral links system:
a client of yours copies and distributes his unique referral link,

another user clicks the link and makes any purchase of your services,

the client receives a reward.
Just tell your clients how to get the link and define reward volume they can receive.
Advertising
Show your clients advertising banners, using this tool. It is displayed in a personal area on an upper dashboard. Tell about new services, promotions, company's news or just congratulate clients on holidays.

Advertising banners we use in ISPsystem. Banner for an old interface is on the left and for the new one – on the right.
The accompanying goods
As a provider, you can recommend users additional goods and services. For example, sell backup space or server administration services with every VPS. Moreover, any service can have several accompanying and you can set a certain rotation for it. If you carry out a special promotion for limited time period on time, then the accompanying goods can be added for the same period and removed right after the promo ends.
II. Sales funnel or 7 circles of hell
Let's study in details the sales funnel that all the clients go through to see how BILLmanager can optimize its every stage.
Any client passes a long path from being not familiar with your company to become your loyal customer. It happens with an every one of us. No matter what you sell, at first you need to present yourself to a client, tell about your company, make the best offer and retent him as long as possible.
Circle 1. Coverage
It is a point where a client hears the first time about your company. It can be any of a vast number of communication channels: advertising in the Internet, media article, speech on a conference and other. However, hosting market has a high level of competition that is why it's not enough to simply tell about yourself. A powerful unique selling proposition (USP) and broad coverage of target audience is a must.  Creating the USP is a very individual process for every business, but as for coverage expansion, BILLmanager can help.
Expansion of target audience. Let's imagine, you have a client base already. It is possible to unload e-mail contacts, and then use Google tools to expand the audience, for example, create a similar audience with look-alike technology. It will consist of a number of new clients whose internet behavior is similar to your current clients. Advertising networks use site visits history, videos viewing or search engine inquiries as "similarity" indicator. In this case, BILLmanager is helpful as a uniform storage of all the data.
Promo code for new clients. If you advertise in the Internet, you can make an advertising even more attractive for new clients. For example, offer them a promo code for the first purchase. Tell about it in advertisements, at third-party forums or blogs, place on banners with an appeal to action, etc. A kind advise: the promo code should be simple and easy memorable so clients can remember it.
Circle 2. Audience capturing
In order to continue communication with a client, it's important to capture his contact information: phone and e-mail. If you integrate BILLmanager with your website, clients who press "Sign-up" on the website will be automatically redirected to billing for filling up a registration form. I recommend enabling email verification to have an actual contact information for future communication.
As the next important step will mention a full integration of BILLmanager with your website. I mean adhering to uniform color scale and displaying the same products with the same prices both on the website and in billing. In this case, a client will have no feeling that he got into the different place after signing in and it's more likely that he will leave his contacts.
For increasing conversion from site visitors to registered users, it is possible to resort to a trick called "a free step". Offer a client something truly useful for free. It can be a helpful presentation or an expert consultation. For this case, we can configure an automatic mailing with the "registration" trigger and right after signing-up, a client will receive an email with valuable free content.
More details in our documentation:
Circle 3. Heating-up
At this step, the interested client makes his choice or looks for answers to his questions. The heating-up means education in this case. We should remember that buying hosting is not so simple for somebody who wants to get his first website on a web. As an expert, you have to tell him in details about services you provide. Use your blog, documentation, Youtube channel and other means for this.
Now I want to tell how you can use BILLmanager mailing tools for heating-up registered clients without purchase history.
Create a client segment with the following conditions:
account activation is required
or no purchase ever.
Then make a dispatch for this segment with handy training material. People don't sign up for no reason usually. If you don't hear from them after creating an account, it means they had some issues with the order or payment or maybe they just can't make their choice. You should help them.
Circle 4. Sale
At this step a client makes a purchase and your marketing investments begin to pay off. If he has reached this stage and wants to buy a service from you a service, do not disturb him. Make purchase process simple, fast and clear.
Deploy Buy buttons on your website and set up BILLmanager links leading to the chosen service purchase page. It is very important since not every client sees a difference between the website and billing area. And therefore, after getting into billing, they may not find the service they wanted to buy from the website. It is possible to get a direct link for the service in the tariff plans settings in BILLmanager.
Direct order link for ordering a service for different periods.
Circle 5. Upsale
Selling one service to one client should not be your only task. You can easily motivate a client to make the second purchase if you have right tools.
Idea 1. Upsale. Let's imagine your project has 3 types of hosting: cheap, average and expensive. Respectively, there are 3 groups of clients who buy different tariffs. It is possible to create a segment of clients who buy the cheapest hosting and offer them the average hosting plan with a small discount. The following tools will be suitable: advertising banner, mailing, promo code. And it's up to you to decide when do you want to make this offer.
Idea 2. Sale of accompanying goods. Many providers sell domains, SSL certificates, site builders, antiviruses and another third-party software together with their hosting. It is possible to configure an automatic mailing with the "Purchase of Expensive Hosting" trigger, to tell about additional goods. A client will receive the email right after expensive hosting purchasing, what means that the accompanying services will be relevant for him, therefore, such mailing will be appropriate and timely.
Circle 6. Customer loyalty
It is worth to notice that upsale will be difficult if you use only advertising notification as it will be an another service. Therefore it is necessary to take care about heating-up (see stage 3) before selling additional goods.
It is a well-known fact that selling something to the loyal client is cheaper, than to the new one. Therefore it is important to build up the strong relationship with clients, love them and foster their trust.
However giving discounts to random clients may not be your best choice. Therefore you need to separate those who bring you profit on a regular basis. It's up to you to decide who will be considered as a loyal customer. But please remember that the total cost of client retention should not exceed the total profit generated by him. BILLmanager will help to check your client base to find the most loyal ones and determine a separate segment for them. Just specify a simple condition "Income not less, than …"
Segment configuration. At this case, a segment consists of all clients having 1000 US dollars or more spent within a year.
Idea 1. Discounts. The easiest idea is to offer the favorite user a discount for further purchases. "Promotions" section allows you to configure a flexible discount system for all occasions: starting from annual turnover discount to a discount for being a loyal customer for a year.
Idea 2. Gifts. The major part of hosting provider clients is a website owners. Keep in mind that people usually make and run websites for commercial purposes. Therefore it will be pleasant to them to receive Google AdWords coupon or accounting service subscription. It is also possible to give a personal gift, like Netflix coupon. Any of these gifts can be provided  automatically after setting up notification or mailing in BILLmanager.
And yes, the more interesting gift you'll give, the higher chance that the client will tell about it in his social media mentioning your company.
Circle 7. Recommendation
At this stage, a client is so happy with your services that he will recommend you to his relatives and friends. And you will receive new clients easily. Use referral program to encourage your clients to such recommendations. They bring new clients to you, you give them bonuses and everybody gets profit.
III. Instead of a conclusion
On a fiercely competitive market, it's not enough to just sell. It is important to segment target audiences, work with every segment individually, educate your clients, to be the expert, to build up the long-term loyal relationship and increase clients trust.
BILLmanager is just a toolkit, it won't make your business successful just by itself, but it can give you advantages over your competitors.
Economy. Thanks to marketing tools in BILLmanager you save on CRM systems and mailings services.
Automation. Almost every point of contacts with a client can be automated. Create and customize your sales funnel, spend some time configuring it once and the system will cultivate loyal clients for you by itself and generate new ones coming by referral links.
Being a marketing specialist of ISPsystem, I use BILLmanager every day. Of course, it has its own shortcomings, but who doesn't? We do our best to improve the product, make it even more convenient and handy, we add features requested by clients and partners. Therefore we are always glad to hear your feedback. If you have some ideas how to improve our software you can post a topic in a Feature Request service.