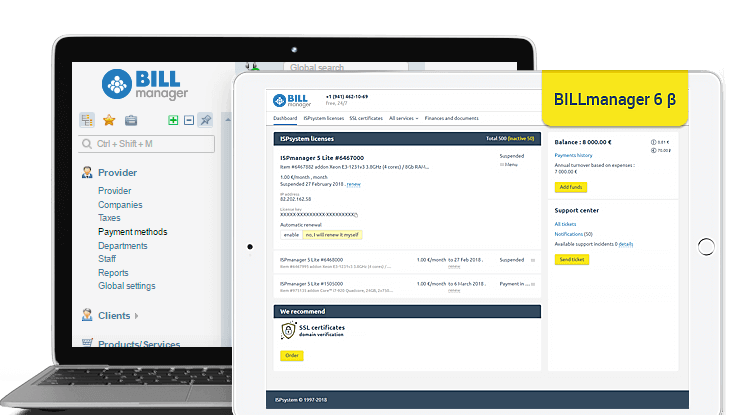 All-in-one
web hosting
billing software
Highly customizable automation system for web hosting and cloud providers. Free up to 50 clients.
Billing automation
Accept one-time and recurring payments by setting up invoices and processing payments via popular payment gateways. Customize tax rules for different clients.
Service provisioning
Sell or resell all types of hosting services. Automatically create, suspend, terminate domains, shared hosting, SSL certs, VPS, dedicated servers, SaaS or IaaS.
Client portal & back office
Let your customers manage services & account details from a single interface. Set up a flexible system of user rights for administration, support, finance, etc.
Support center
Provide customers with professional support using an advanced ticketing desk, built-in free live chat, and notification system.
Get started with BILLmanager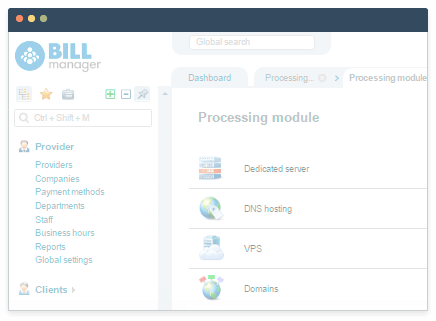 BILLmanager is absolutely free up to 50 clients added
Billing automation
BILLmanager is a flexible platform that can process payments. It doesn't matter what country you or your clients are from. Choose different currencies for various projects and set up tax regulations in full compliance with the law.
Generate professional invoices in automatic or manual modes. Send automated notifications to clients with unpaid invoices and overdue balances.
Process one-time & recurring payments via 30+ popular payment gateways: PayPal, 2Checkout, Scrill, Authorize.net
Allow clients to pre fund their accounts or credit them with reserved payments.
Customize both inclusive and exclusive tax regulations for different clients and countries. Create special tax rates for certain customers.
Automatically create, suspend, terminate, and upgrade services. Send automated reminders to inform customers about service suspensions.
Client area & back office
On one side BILLmanager is a customizable and easy-to-use client portal with a lot of branding options, on the other it is a workspace for provider employees.
Client area
Payment history
Detailed information about all payments made by customer.
Service management
A place to order new (or manage existing) products & services.
Interaction with support
Built-in ticketing system and live chat.
Account management
Ability to change customer profile details.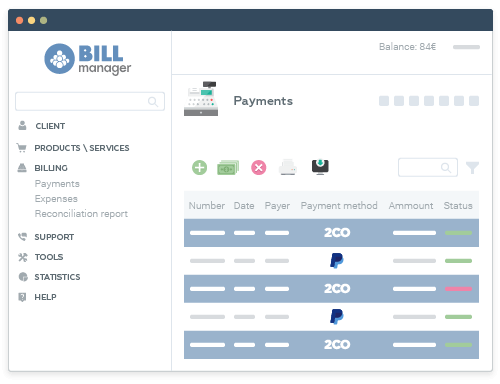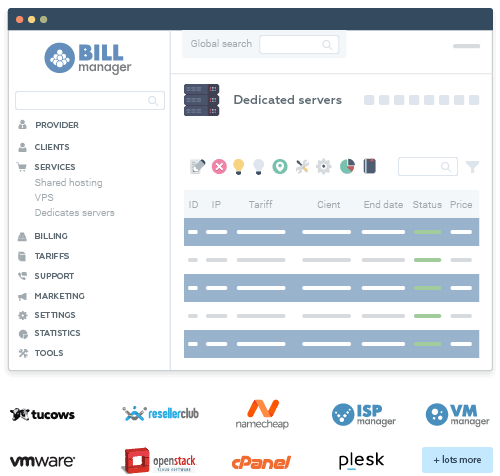 Admin area
Payment history
Browse payments, filter them by status, and automatically remind customers about their overdue balances.
CRM
Create customer segments, assign importance statuses, set personal discounts, and write internal comments.
Analytics
Create your own reports or use over 15 existing ones for finance, customers, services, support, etc.
Service management
Manage customer service in automatic or manual modes. Activate, suspend, and terminate them.
Marketing tools
Flexible system of discounts. Built-in referral program and tools for mass mailing, upselling, and notifications.
Service provisioning
BILLmanager is designed to sell, resell, and manage hosting and hosting related services: domains, SSL certificates, etc. It works perfectly with popular automation tools and can be easily integrated with other solutions via open API.
Via integrations with ISPmanager, cPanel / WHM control panels.
Via integrations with Enom, ResellerClub, NameCheap, tucows and others.
Via integrations with The SSL Store, ResellerClub, Enom and others.
Via integrations with VMmanager, SolusVM, Proxmox.
Via integration with DCImanager.
Easily deploy a broad range of add-ons: support, website builders, backups, DDoS protection, etc., and bundle them with your services to sell more to cients.
DDoS protection, website builders (web presence), cloud storages, collaboration tools, communication tools, backup services, remote desktop, etc.
Deploy cloud infrastructure, virtual data centers, SaaS, batch computing, etc. Via integrations with VMmanager, VMware vCloud Director, OpenStack, Azure.
Support center
BILLmanager provides the advanced and flexible support system to stay in touch with your customers at all stages of interaction: pre-sales, service installations, after-sales.
Ticketing system
Set different amount of rights for various departments. Use admin notifications. Send auto responders. Pipe emails and chats into tickets. Allow users to attach files with requests.
Built-in live chat
Install the live chat to your BILLmanager as well as your website. Log your customers in their client area directly from the chat window. View client information within the chat.
Announcements
Notify customers with all latest news and updates from you projects. Keep your clients updated on launches of new services, discount programs, or any other important events.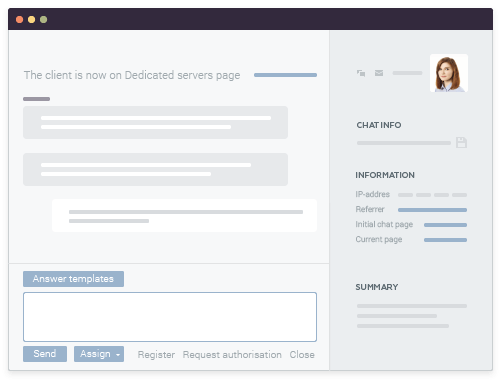 BILLmanager advantages
Highly customizable
Set languages, currencies, taxes rules for every brand within one BILLmanager. Use branding options to make the panel look the way you want it. Add new features by sending a request to us or develop something by yourself using API.
Reseller capabilities
Give your resellers, distributors, and partners the ability to provide your services through their own fully white label BILLmanager.
Cost effectiveness
Use BILLmanager for free for up to 50 clients added to the system. Try its free mobile version and use free community support on ISPsystem forum as well as free access to documentation. All of this comes with premium functionality.
Security & stability
BILLmanager offers a two-factor authentication. It automatically blocks brute force logins and can easily prevent fraud payments. The platform itself is super secured, written in C++, and has new release updates every two weeks.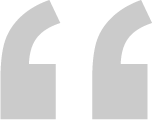 BILLmanager could become a real discovery for web hosting providers. It is an exceptional SMB to enterprise-grade billing platform of ISPsystem — the team behind many exceptional hosting software control panels.
Trusted by
and hundreds of other companies