In May we launched free technical support for hosting partners and released a few new features in ISPmanager and BILLmanager. Find more details in our digest.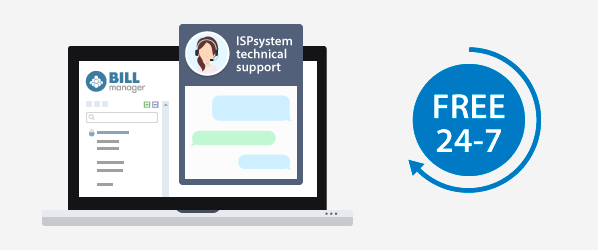 Starting from May 17, technical support for hosting partners has become free. 24/7 availability and time of reaction haven't been changed. These positive alterations express our gratitude to all partners who help us make ISPsystem products more popular among users. More.
Promos from our partners
Useful news for those who are looking for a hosting provider. The following partners give ISPmanager 5 Lite for free with their VPS plans in June:
The extended list of our partners and resellers is available here.
Product changes
Virusdie plugin. Virusdie scanning results can be sent to user emails. Before that, the results had been only available in the control panel interface. (5.106.0)
User import from Plesk This feature allows importing backup copies created in Plesk. The process of migration from Plesk has become easier. (5.103.1)
Extended SSL security. We added dhparam key generation for Nginx and Apache web servers, so www-domains would fully comply with requirements of the extended SSL security. This feature can work in Apache only if the headers module is installed. (5.107.0)
User names. We changed the max length of user names. Read more in our documentation. (5.107.0)
PPHP in LSAPI mode (CloudLinux). Now you can utilize PHP in LSAPI mode in CloudLinux. You would need ApachePrefork installed to use this mode. LSAPI allows choosing a dedicated PHP version for every www domain (per website).(5.105.0)
PayMaster automatic payments. Now BILLmanager supports PayMaster Direct for automatic payments. This feature would be handy if you need to charge your customers regularly without any additional confirmation from them, e.g. for prolongation of domains or hosting services. Use our documentation to set up Paymaster integration.(5.107.0)
Payment method description We added a new field for BILLmanager administrators to add comments to payment methods. Comments in the field "Payment method description" will be seen by the client on the first step of payment. It can tell e.g. how many days the payment will be processed by the bank, or other useful information. (5.107.0)