The 6th generation of all ISPsystem control panels will obtain the new user interface. The first one to get upgraded is the client area of BILLmanager. Alexey Sorokin, the head of UX department, talks about the principles our team uses in building new interfaces.
It's time to change
We have not upgraded the looks of our control panels for a long while. However, our clients have changed since our first product had been released. There are less admins now and more simple website owners. The latter group of users doesn't want to learn deep professional terms and work with overloaded user interfaces, and definitely they shall have this right.
ПThis is the reason why we're now making every our product easier-to-use for the beginners, at the same time keeping the profound functionality for the professionals. It refers to all ISPsystem control panels but is of the utmost significance for the client area of BILLmanager.
We're going to change the client area first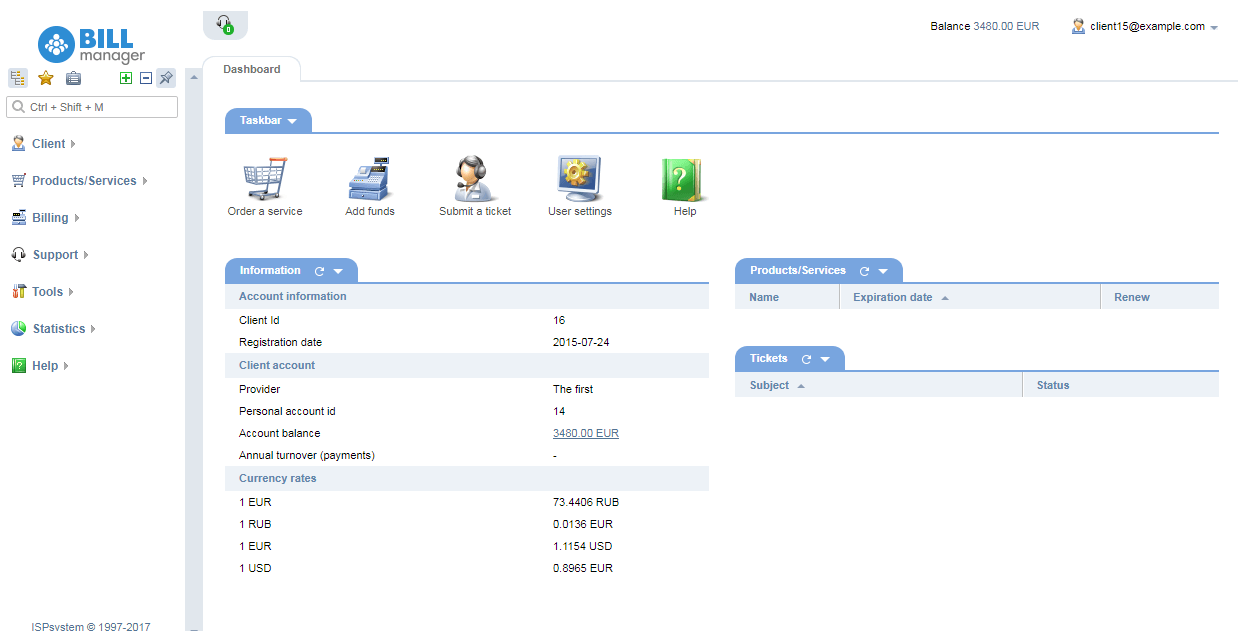 Сlient area of BILLmanager
Most of the newbies work with the client area of BILLmanager, so we decided that we need to start with it. When a customer orders a virtual machine or any other service on the provider's website, he/she is transferred to BILLmanager. The billing system impacts conversion rates, showing how many potential customers have eventually bought something.
After that, we're planning to upgrade the interfaces of VMmanager, ISPmanager, DCImanager, and only then — the admin side of BILLmanager.
We follow a few key principles in our work.
Important things shall be conspicuous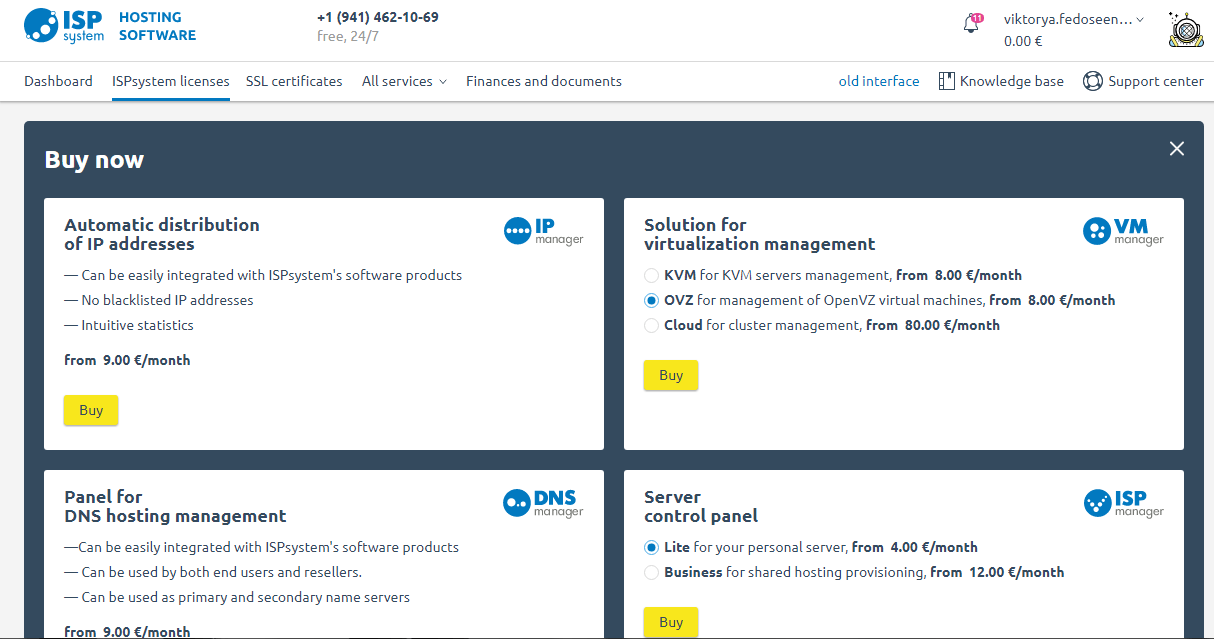 New interfaces of BILLmanager
In our new UI everything revolves around services. However, we decided to remove the word "services" itself, so that people would buy virtual servers instead of the virtual server service.
Service functions will be accessible from anywhere. The user can top up the account balance or open a support ticket from any window. Furthermore, the new interface will have less icons and be cleaner and easier-to-use.
Easy to understand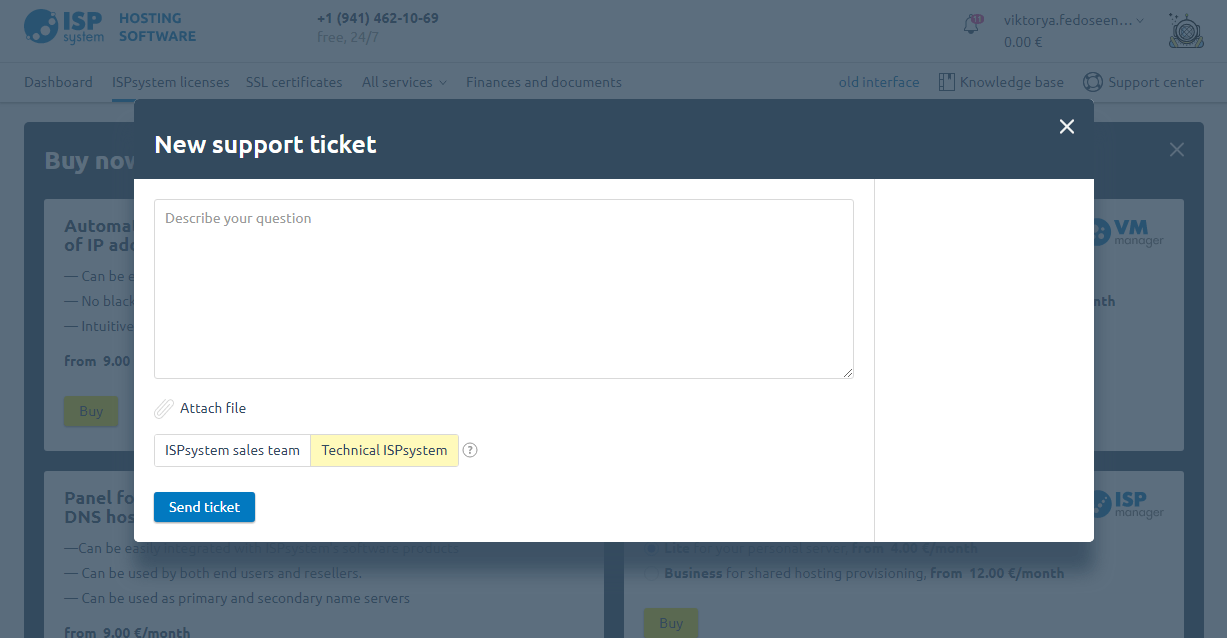 Example of contextual references for the ticket opening form
We strive to make our new user interface as user friendly as possible. We use less professional terms, utilize the understandable date format (DD-MM-YYYY) instead of the MySQL format (YYYY-MM-DD), and add contextual access to FAQ.
Contextual references will be visible during ordering or service editing, as well as in some other windows. E.g. when a new ticket is opened, the user will see links to documentation articles suggested by the system according to the context of the ticket. These links can facilitate conversation with support or resolve the problem completely. Every provider will be able to add their custom links.
Custom services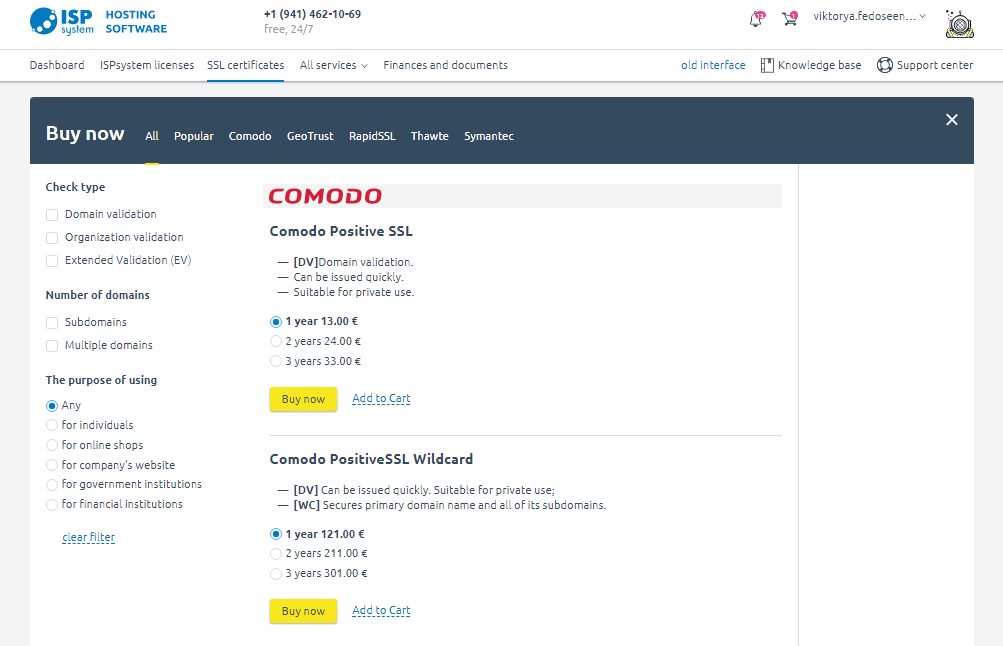 SSL order page for FirstSSL
BILLmanager is designed for hosting providers - those who sell servers, domains, SSL certificates, and VPS. Each of these services requires a different order page, thence we have redeveloped them on the UX level.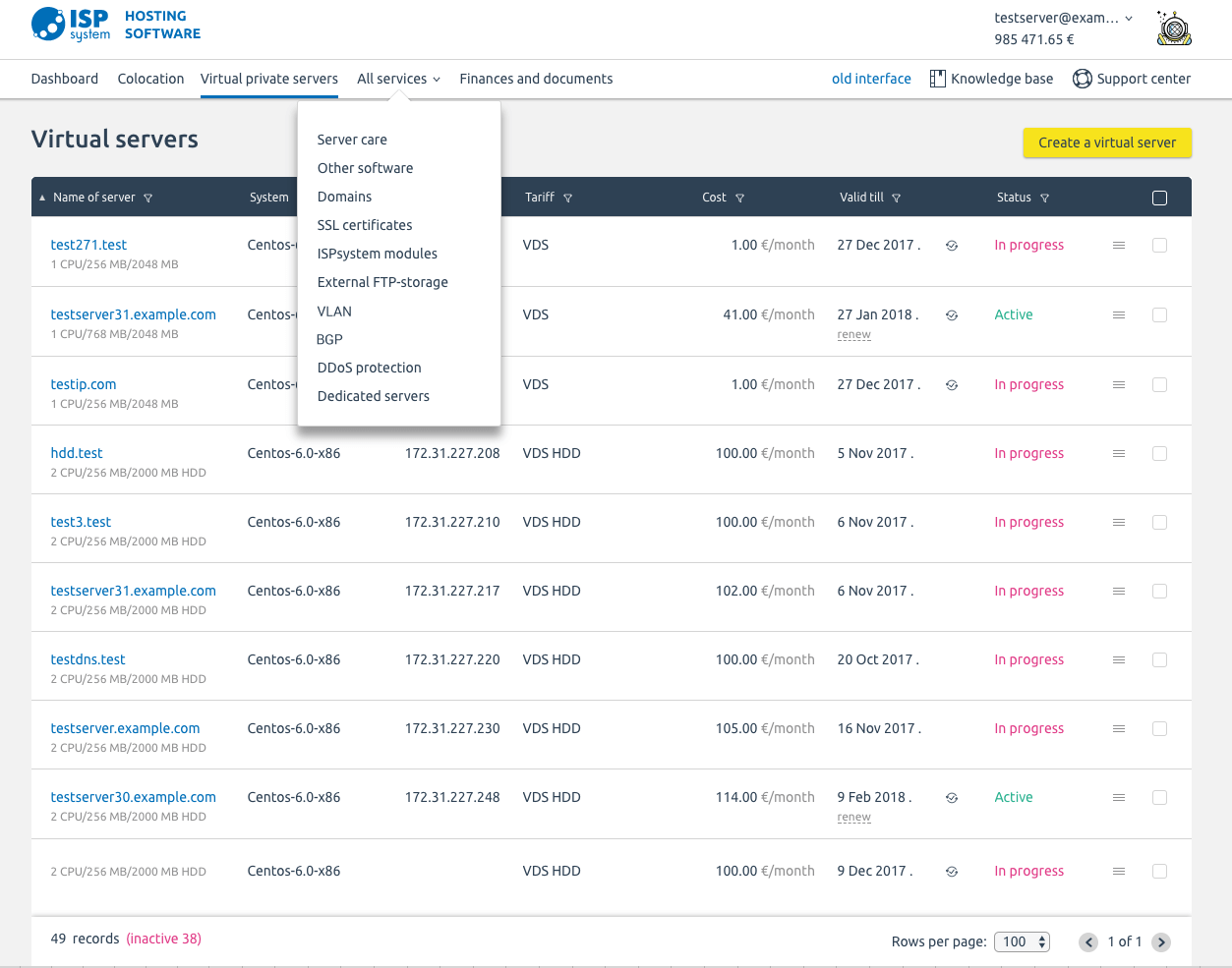 Apart from their key services, hosting providers also sell added value services. Colocation, managed services, third party services are available but their order pages will be standard.
Keep features for professionals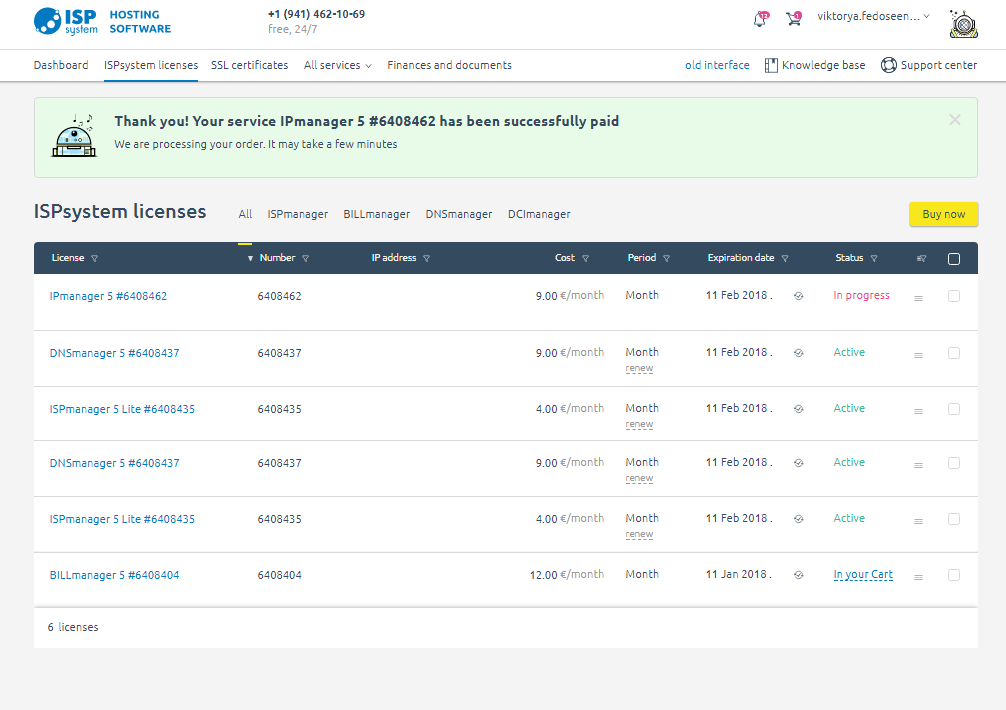 We strive to keep the important functionality for professionals. All table components are designed for thousands of records and provide tools for filtering, information, and group operations. We will also keep the opportunity to use one account for different users.
Branding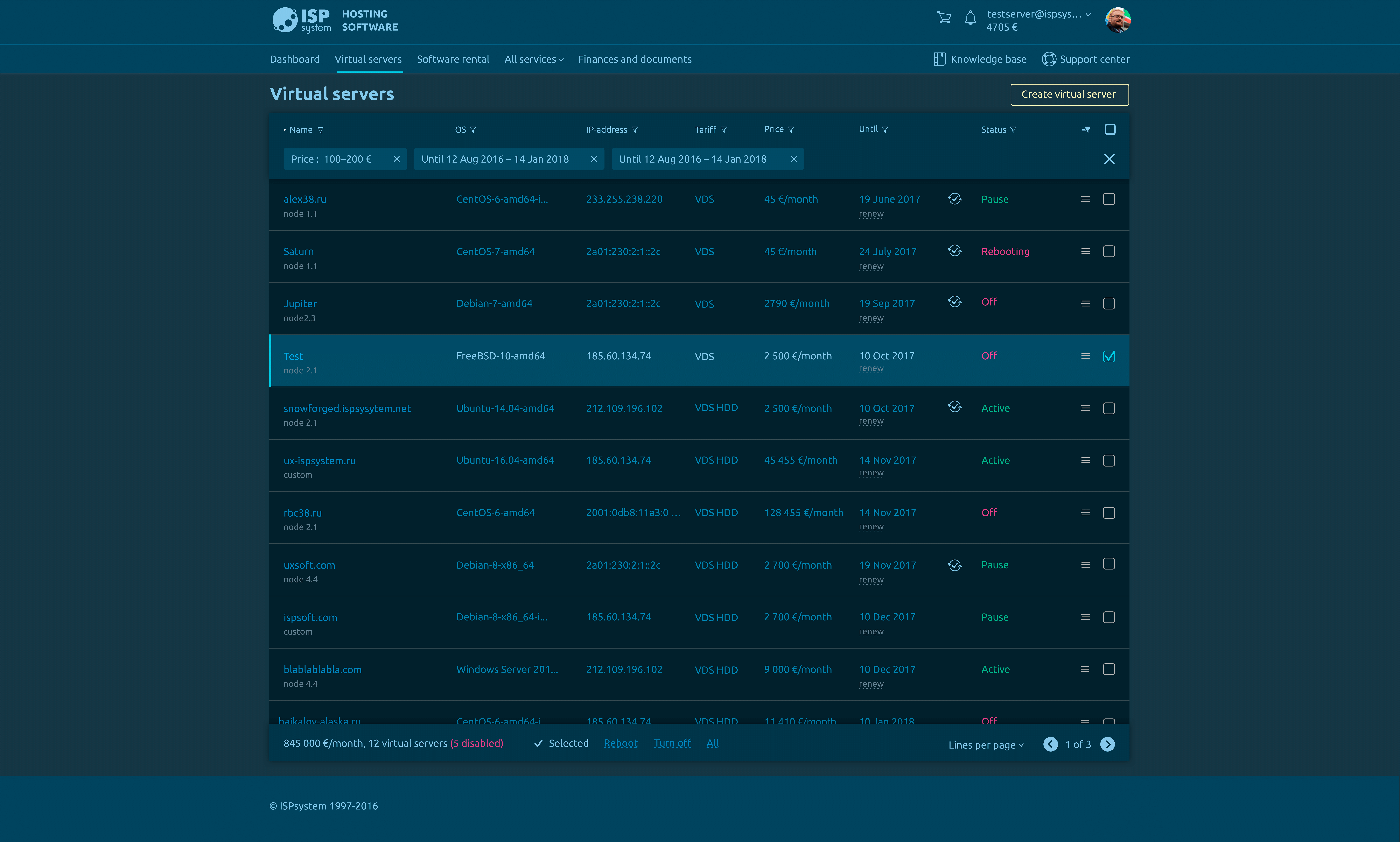 BILLmanager will receive wider branding features. You will be able to alter colours of the whole control panel, which is technically possible already now. We plan to introduce branding management to the admin interface.
Future
Mobile interface. Users visiting the billing system from their mobile devices will see a different interface. It will look like the desktop version and provide all key features.
Deeper integration in provider's website. We want to set up data transfer between the billing and the provider's website, so that a user could see on the website that he or she is authorized in the billing system. Services from BILLmanager will be embedded in the website as light boxes for faster integration.
Integration with ISPmanager and VMmanager. We plan to add tools for virtual machine and web server management, so that users won't have to switch between different control panels.
This is only a part of our plans on the UX side for BILLmanager and other control panels. We will provide more details soon.