DCImanager checks every new or released server. This feature is used by hosting providers to automate the preparation of equipment for sale.
As soon as the client refuses the service, the platform erases client's data from the server and performs diagnostics of all systems. If an error is found during the check, DCImanager will inform the administrators and block the server sale. When a new server is added, the system analyzes its configuration.
This way, the platform helps providers save time through automation and improve service by eliminating the sale of faulty servers.
How diagnostics works
The platform uploads the SystemRescueCD operating system to the server for diagnostics based on one of the templates — Diag-x86_64 or Diag-x86_64-noipxe. The first uses iPXE loader, and the second – PXE loader.
Using the SystemRescueCD utilities, the platform checks:
number of CPUs, RAM and disk size,
RAM damage,
disk read/write speed,
Disk SMART data: Reallocated_Sector, Seek_Error_Rate, UDMA_CRC_Error_Count, Current_Pending_Sector, Offline_Uncorrectable, Media_Wearout_Indicator,
LAN connection speed,
network adapters,
RAID controllers.
In addition, the platform can erase drives and configure IPMI during diagnostics. After the diagnostics, the installed software is uninstalled from the server and the network settings are restored to their original state.
If there are any problems with the drives, performance or other issues, the diagnostics will end and an error or warning will be produced.
DCImanager will display to the administrator an error message and block provisioning of the defective server to the client. The client will not be able to order this server through the billing system until the provider resolves the issue.
How to run diagnostics in DCImanager
If integration with the billing system is configured, diagnostics will start automatically. The platform supports WHMCS, HostBill and BILLmanager. Thanks to convenient API, you can configure integration with other billing systems.
To start the diagnostics manually, select the server and open the menu. Press Run diagnostics. Select the template, enable IPMI check and disk cleaning if necessary and press Run.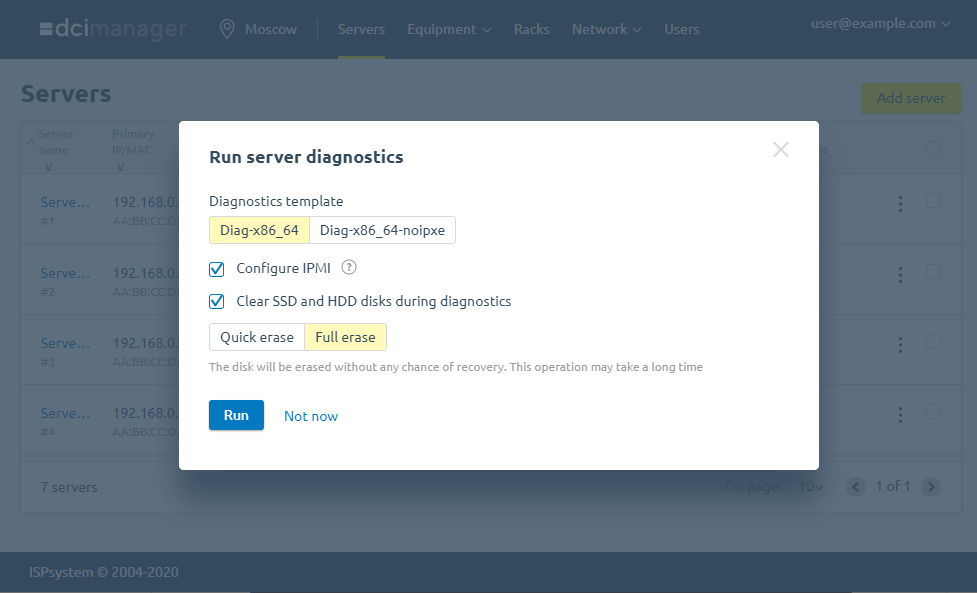 Starting server diagnostics in DCImanager
Information about the progress of diagnostics will be displayed in the servers list and on the server page. You can monitor the diagnostics process by clicking the "Details" link.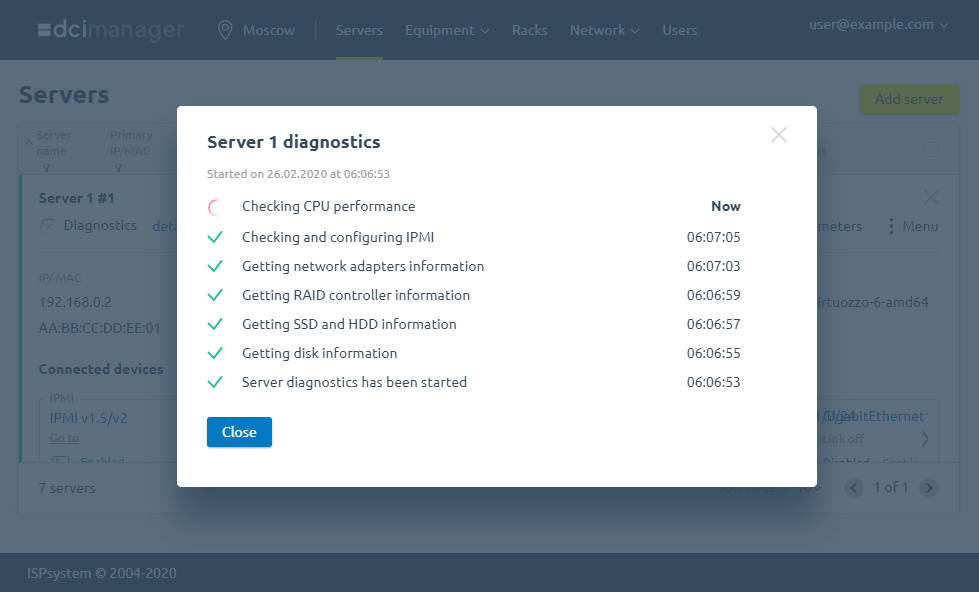 You can monitor the progress of diagnostics directly in the interface
A message will be displayed after the diagnostics: "Diagnostics complete. Equipment status has been updated and the server configuration has been formed based on diagnostics results".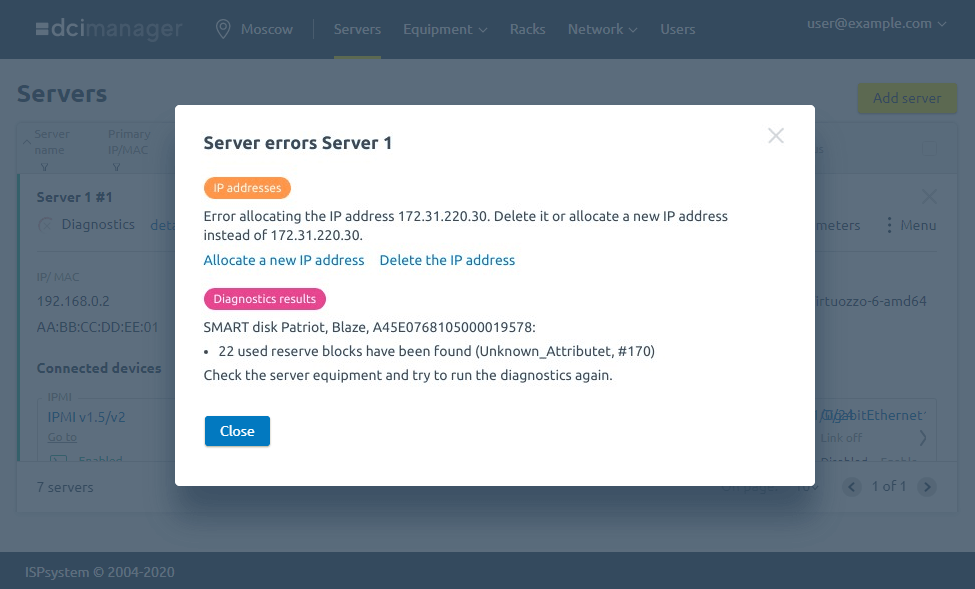 Server error
Information about errors detected during diagnostics is displayed in a pop-up message in DCImanager interface. To view the errors, go to Servers and in the status column click Details.
To evaluate the diagnostics, run a demo version of the platform or download the trial version.