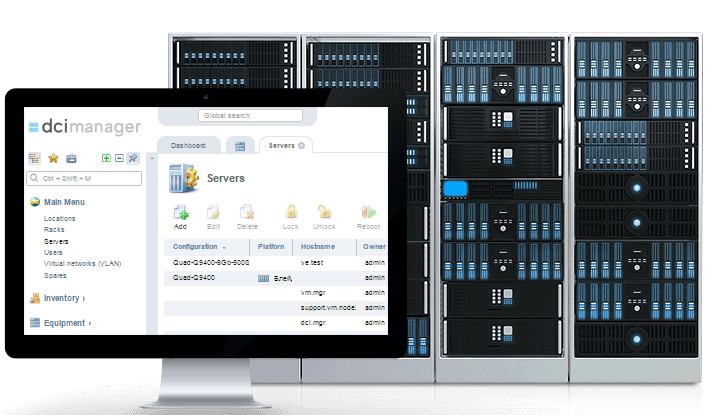 DCIM software &
dedicated server
provisioning toolkit
Easily manage hundreds of dedicated servers or take control of the entire data center infrastructure
DCIM software
DCImanager is capable of managing infrastructure of any scale, from a few servers to all physical assets of the data center. You can administrate server equipment, keep track of inventory & parts, and check power consumption.
Our software easily scales up from a few servers to a few DCs. If you rent resources in one or a few DCs, you have a single UI to manage all server equipment. If you're a DC owner, you get a complete toolkit for infrastructure management.
Dedicated server provisioning toolkit
Hosting providers use DCImanager to automatically provide dedicated servers to their clients. Our solution is fully integrated with popular billing software (BILLmanager, WHMCS) and it gives end-users the ability to remotely manage the machines they rent.
As a provider you'll be able to set up automatic activation of the dedicated server after the payment is received. The system will quickly deploy an OS and prepare the server for operation. It will also empower users to boot, reboot, and shutdown the machine.
Get started with DCImanager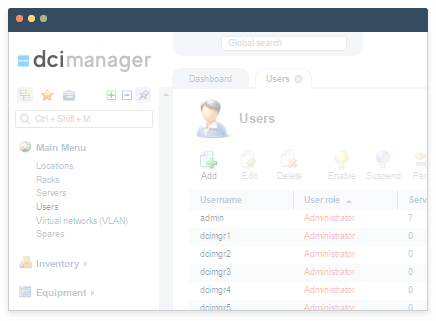 We'd like you to experience the quality and all advantages of DCImanager and invite you to try it's free version.
Main features
Maximize convenience and efficiency of your infrastructure management with DCImanager. It presents a single point of access to all your servers, equipment, and networks.
Enterprise features
DCImanager Enterprise is an advanced version of the standard DCImanager, which enhances monitoring of a data center at large and give more tools for inventory management.
Monitoring of engineering infrastructure
Monitor consumption and possible losses of electricity. Control how effective your cooling system is, as well as battery charges. Learn more.
Extended inventory management
The module streamlines operations with suppliers and inventory management in the data center system. It also allows data center administrators to send a server to maintenance and specify the missing parts to optimize delivery process from equipment vendors. Learn more.
Data center map
The data center map visualizes allocation of racks, cabinets, UPS, and other pieces of equipment located in DC. It simplifies the process of controlling bandwidth, temperature, and free slots per each rack. Learn more.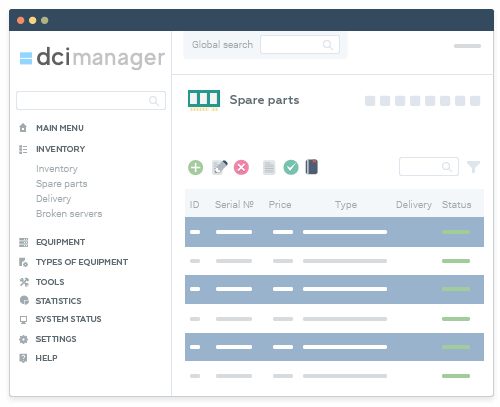 Supported vendors of equipment
DCImanager uses handlers for managing equipment and connecting with dedicated servers, switches, PDU, IPMI, Intel AMT, UPS, routers. We are constantly working on enlarging the list of supported equipment.












Extension of functionality
DCImanager is fully-featured software but you can still extend the range of its abilities without a headache.
Each data center is unique. That's why we're ready to customize DCImanager to offer you one-of-a-kind functionality: add new handlers for your equipment or integrate it with other 3rd party software solutions you use in production. Send us an email with your specifications to sales@ispsystem.com, and we will make you an offer tailored to your needs.
And of course you are always able to extend DCImanager functionality by using developer's documentation and API.

DCImanager advantages
Support for multi locations
Many DCs have more than one physical location, and the more locations they have the harder it is to have full control over the whole infrastructure, in a unified system.
Rich functionality
Say goodbye to spreadsheets or dozens of separate solutions. DCImanager has rich functionality for managing all aspects of your data center operation.
User-level access to servers or racks
DCImanager has a multi-level system of users: super-user, admin, support team, rack or server owner. Give your team and customers a powerful tool for managing the infrastructure. Cut support costs and at same time add value for customers.
Security & stability
DCImanager get new security updates and improvements every week. Our developers team is constantly working on improving the user experience, maximizing security and stability of the system.
Facts about DCImanager:
7
Days updates
release cycle
10
€ per rack per
mo. and below
80K
Racks already
under management