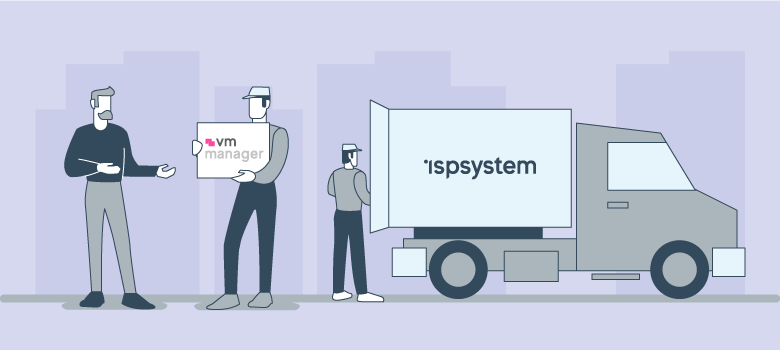 On October 8 we finished testing and released a stable version of VMmanager 6. It features a user-friendly web-interface and can manage a large number of clusters, nodes, and virtual machines. Try it for free and start using the new control panel for your projects.
From cloud to on-premise version
The section "Virtual machines" in VMmanager 6. Here you can view brief information about a virtual machine, perform quick actions, and run mass operations
The first version of VMmanager 6 was released on February 5, 2019. It was a cloud solution that allowed adding several clusters, creating virtual machines from templates and images, installing OS and scripts. 120 users tested the panel during several months.
We followed up the feedback from our first users and in summer, prepared a version that can be installed on a server. Besides, we introduced support of LVM-storages, OS Windows, machines inHetzner, integration with billing systems. We also improved statistics, monitoring, and VM cards, as well as added group migration.
30 providers tested the on-premise version of VMmanager 6 on their equipment. Based on their requests, we made some improvements and on October 8, released the stable version.
Now you can install VMmanager 6 on your equipment and use it for production – for new or existing projects. There were little clients interested in the Cloud version that's why we decided to stop its development.
Current features of VMmanager 6:
User levels: administrator, advanced user, user.
Cluster nodes: create, modify, delete, block; support of Hetzner nodes, real-time monitoring, statistics, status, individual RAM overselling settings for every node.
Clusters: add and manage several clusters from a single control panel.
Network settings: create IP pools and ranges, add an IP range into a pool, manage private networks.
VM creation: based on recommended configurations and OS, based on user images.
VM management: start, suspend, restart, change passwords, modify resources, limit speed, install and reinstall OS from templates (Windows support), delete and create images, clone virtual machines, migrate, gain access via VNC.
Scripts management: create, edit, delete, and manage personal scripts for users.
Storages: File, LVM.
VM monitoring: CPU, RAM, Storage, Network speed. сети.
Integration with billing systems: BILLmanager and WHMCS.
Tasks management: the system displays background tasks, statistics by time, starting parameters and logs of operations with errors.
IP and networks management.
Mail notification.
Till the end of the year, we will add support of IPv6 and the administrator dashboard. Moreover, you will be able to create images without suspending a virtual machine.
Learn more about the panel features and use cases in the Documentation.
Feedback from VMmanager 6 users
We highly appreciate the feedback from all the users who helped us test VMmanager 6! When the tests were over we asked our first users what they liked in the control panel. Please read some of their answers below:
| | |
| --- | --- |
| | VMmanager 6 is the evolutionary development of the functional and stable solution for virtual servers management VMmanager 5. The new product has an up-to-date web interface and extended function for KVM management. Developers plan to add VLAN management tools (Open vSwitch) and the service "Virtual data-center". In my opinion, these features will suit the needs of service, hosting, and cloud providers. CEO of TheHost.ua Alexander Sedinkin |
| | |
| --- | --- |
| | This is a brand new user-friendly interface. You can view the real-time load. A new cloning function made it possible to take the product to a new level. We are also happy to see the function that allows service providers to add cluster nodes easily. Founder of ServeraUkr Stanislav Tretyak |
| | |
| --- | --- |
| | In VMmanager 6, I liked the quick installation of operating systems as it allows improving service provisioning in the products BILLmanager + VMmanager. Enhanced web-interface – I haven't managed to make the panel hang during my tests. It was a real drawback of the products of the previous generation. Clusters – you can manage equipment in different locations, you don't need to install several panels anymore. Ease of use – the Dashboard with graphs can help newbies understand resource consumption. Due to the VM cloning function, you can create multiple virtual machines of the same configuration simultaneously. This is a very common use case. System Engineer of Rustelekom, Ivan Anfimov |
Try VMmanager 6 for free
Now, you can test VMmanager 6 absolutely free of charge. A trial version is valid for 30 days. Leave a request at our website and follow the instructions that you will receive in the email.
You can buy a VMmanager 6 subscription for 1 month and 1 year. The subscription price consists of two parts: the nodes price and the VM package.
You can buy nodes per item. A node costs 4 euro/month.
Virtual machines by packages. The minimum package includes 20 VM and costs 8 euro per/month.
Request the price and order a license on the website.
Migration from VMmanager 5
We continue supporting VMmanager 5, that's why you can use it as before. We will inform about its EOL later.
If you want to move your projects from VMmanager 5 to VMmanager 6, please inform us. Due to numerous configurations of systems, it's not possible to create a universal migration tool. That's why we help every customer individually and use a semi-automatic migration tool. We are waiting for your tickets in the Client area or in the Live chat.
If you plan to migrate the project in the future, please describe it in detail. This will help us make the migration tool better.
VMmanager 5 — VMmanager 6
If you have an active license of VMmanager 5, you can switch to VMmanager 6 and use it with your old price within a limited period of time.
For monthly licenses — 3 months.
For yearly licenses — 1 year.
In order to upgrade from a lifetime license, you must have actual updates. If you have actual updates, we can provide a discount:
First two years — old price.
Then — 50% of a yearly license of VMmanager 6.