DCIM solutions
The amount of physical equipment installed in data centers around the world is increasing every year. Users are becoming more and more demanding in terms of service quality and want to be able to perform many operations on their own.
The process of managing a modern data center is a set of routine tasks, the number of which is constantly growing and requires significant investments from business. Accordingly, there is a need for a comprehensive solution that will grow together
with the business without loss of productivity.
Key tasks related to data center management
Managing servers
Managing network equipment
Managing power supply
Technical support
Launching applications
Backups
Preventing failures
Keeping track of equipment
and address space
DCImanager allows you to solve most tasks related to data center infrastructure management remotely, without requiring the physical presence of a specialist.
Success Story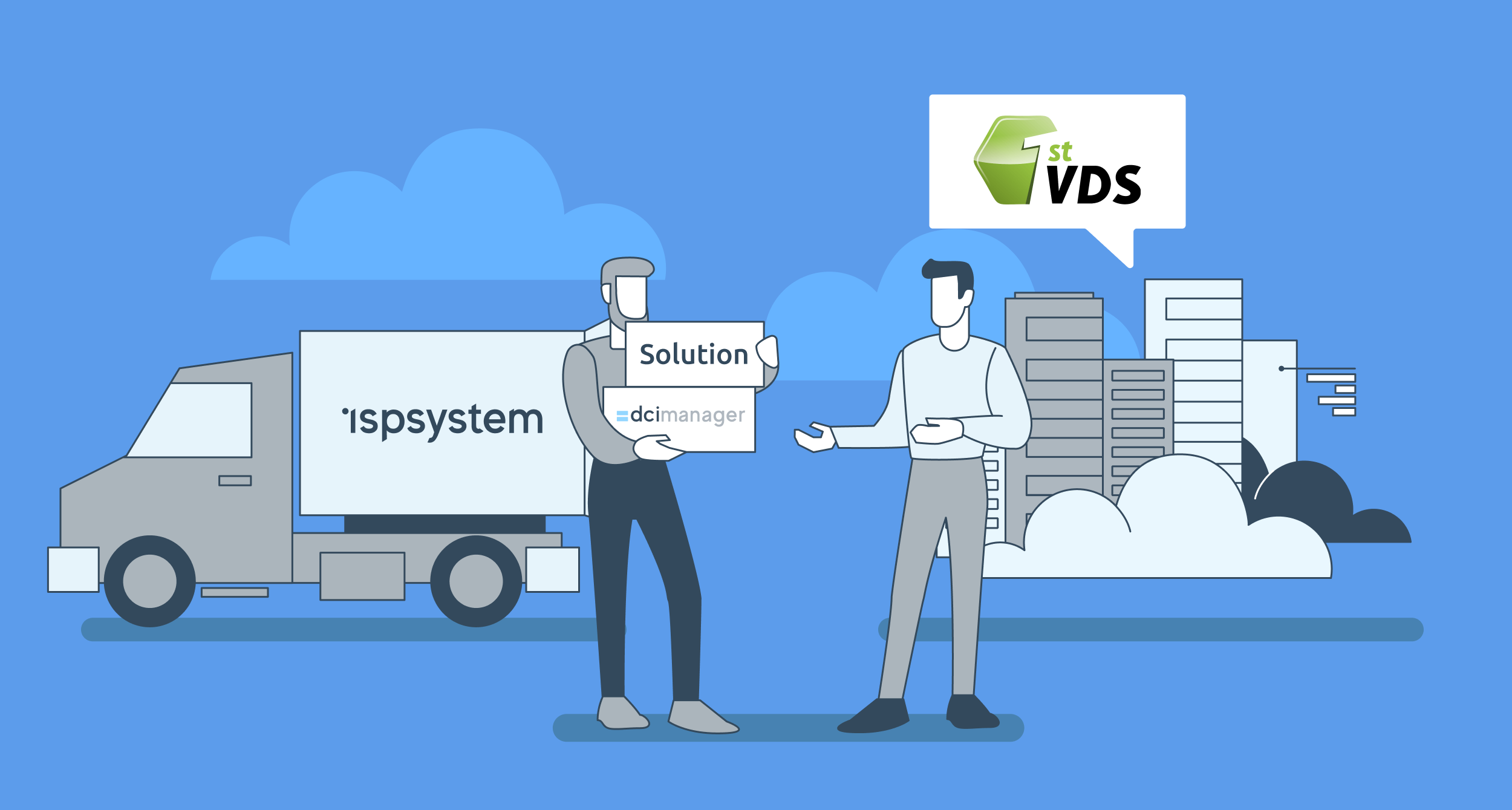 The case of FirstVDS hosting provider data centers integration and infrastructure scaling using the DCImanager platform.
Multi-vendor support
DCImanager supports devices by the majority of popular vendors: there is no need to install software to work with each infrastructure element separately. Servers, blade servers, network equipment and power supply are managed in a single panel.
Support of rack servers and blade servers
DCImanager supports rack servers and blade servers of all popular brands. Administrator can manage server power, connect to IPMI via web interface or console, install the OS,
and monitor equipment load.
Switch support
DCImanager supports network equipment by the majority of popular vendors:
Cisco, Juniper, Arista etc.
PDU support
DCImanager allows managing server power supply. You can monitor connections to PDU ports, enable, disable or poll the ports.
Equipment inventory
DCImanager allows you to bring order into equipment inventorying, rationally plan your purchases and save time: you no longer have to inspect the racks regularly to check the number of units free and occupied.
Rack occupancy control
Using the platform, you can determine in a few seconds which data center, room or even rack a particular piece of equipment is located in. The following information is available
for each rack: rack name, the number of rack units and how many of them are free.
When adding a blade server to DCImanager, you may specify the rack, chassis and the chassis slot number in which it is located.
In the near future, we plan to add the ability to view the equipment installed in the rack, mark units for colocation and view errors on devices installed in the rack.
Locations
DCImanager uses the location mechanism to logically divide the infrastructure into data centers or, for example, rooms. Locations allows you to manage the entire infrastructure from the platform without using multiple software products.
You can manage each location in a single interface: view the location status: whether there are errors, whether configuration is required, etc., track the number of free racks and units, manage all equipment, configure OS templates etc.
Peak value notifications
DCImanager allows you to extend the life of your infrastructure investments. The platform informs the administrator about the status of all vital infrastructure elements promptly. When even a slight failure occurs in this system, DCImanager instantly sends an error alert. This enables to react quickly to critical changes.
Advantages of DCImanager
Flexible scaling
The entire functionality of the platform is broken down into isolated services. This microservice architecture allows you to simultaneously install DCImanager on several servers and distribute the load evenly between them. Even if an administrator has tens of thousands of servers, he/she can easily manage them in a single platform.
Intuitive interface
The user-friendly and easy-to-use interface reduces the entry threshold for experts to work with the platform. To master them, you do not need to undergo special training, which increases the speed of work and saves time on operations.
Optimization of costs
Automation of server, power, and network management allows accomplishing operational tasks faster while saving the company's resources. The platform enables to work from anywhere and from any device, which saves time eliminating the need to visit the server room.
Fault tolerance
The solution allows you to quickly get information about the status of all infrastructure elements and predict problems. Troubleshooting costs are reduced, incident response speed is increased and business continuity is maximized.