Remote server access
Enable your team to work anywhere and on any device with safe and easy access to equipment control from a single digital workspace.
Manage your IT infrastructure from anywhere on the planet:
Servers and network equipment
Virtual machines
Server power supply
Monitoring and statistics
Backups
Launching applications
ISPsystem solutions help remotely manage the infrastructure of a company of any scale. Use the advantages of the platform to prevent downtime caused by accidents and data loss and ensure the stability of IT resources.
Success story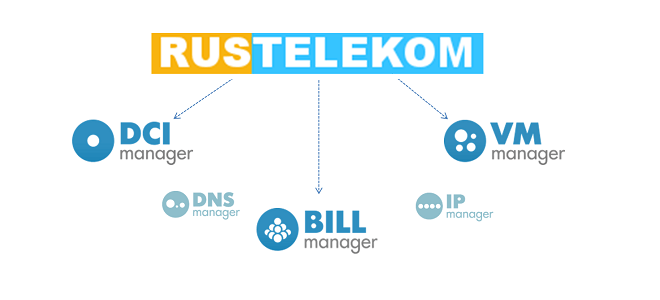 How to optimize technical support costs with ISPsystem products
Remote server management in DCImanager
Remote server management via IPMI
The server management interface (IPMI) allows you to remotely monitor, diagnose and recover the server at the physical level. IPMI is independent of the operating system and works even if the server is powered off.
Features available from the platform:
managing the server's power supply;
connection through a web interface in public networks;
connection through built-in proxy methods in private networks;
automatic IPMI configuration when the server is released.
Remote server power supply management via PDU
PDU is the device for distribution of electric power supply. DCImanager allows you to monitor the state of connection of servers to PDU ports, turn on or off the servers' power, monitor the load.
Remote VM management in VMmanager
VMmanager uses an HTML5 VNC client to remotely manage virtual machines. Websockify is used to support websocket. The network interface on which the VNC server accepts connections is automatically determined by default. A network bridge is used for this purpose, to which the network interface of the virtual machine is connected. It is possible to restrict access to VNC using standard VNC clients by creating a private network such as NAT.
Advantages of solution
Security and stability
The monitoring and analytics system allows the IT administrator to monitor the status of the entire system and prevent failures.
Intuitive interface
IT administrator and internal users will find it easier to manage the infrastructure thanks to a simple and intuitive interface.
Free technical support
Our technical support consists of network engineers and Linux administrators. We consult or help solve the problem "on the spot" by connecting to your platform.
Regular improvements
ISPsystem's team releases updates every 2 weeks. The product takes into account market trends and user requests.
Find out more about the platforms
Save your time and find out all the information you need with the consultation.
+
Complete
DCImanager

5 and

DCImanager 6

Not sure if migration from the old version will be useful? Leave your email and we will send you a complete comparison of all features of DCImanager 5 and DCImanager 6

+