The Warehouse module is a new tool that has become available in DCImanager. It allows you to keep track of all the server equipment in a single system.
The Warehouse module solves the following tasks:
helps you plan ITAM purchases;
prevents loss of equipment;
helps keep track of warranty service periods;
makes inventory taking easy and fast.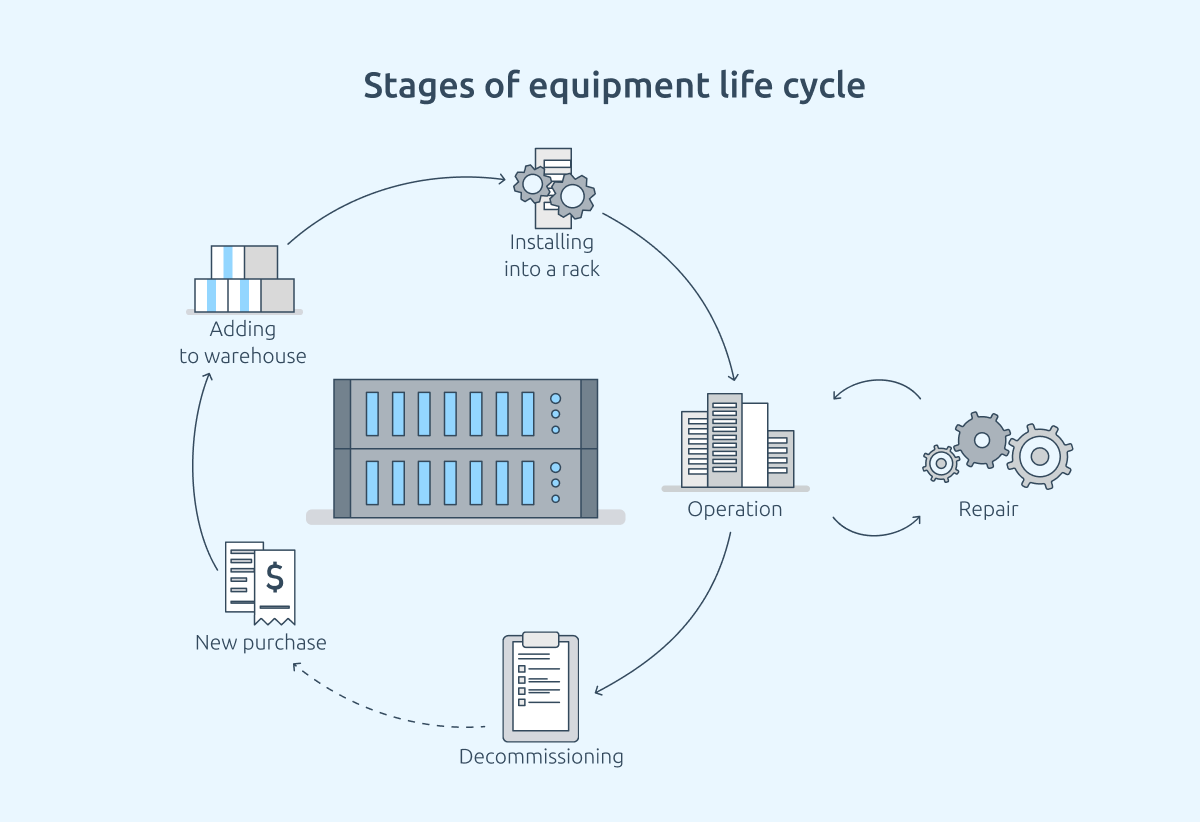 DCImanager with the Warehouse module manages equipment at all stages of its life cycle: from purchase planning to decommissioning
Contents
1 Simple entry of new equipment into the system
To add new equipment to the system, just select its type and fill out a card.
DCImanager supports inventorying of all major types of equipment.
Servers, including server components:

platform,
CPU,
RAM,
hard drives.

PCI devices
Switches
Routers
PDU
UPS
By the end of the first quarter, we will add the ability to create custom equipment types. This will allow you to keep an inventory of any equipment you use: from printers to keyboards.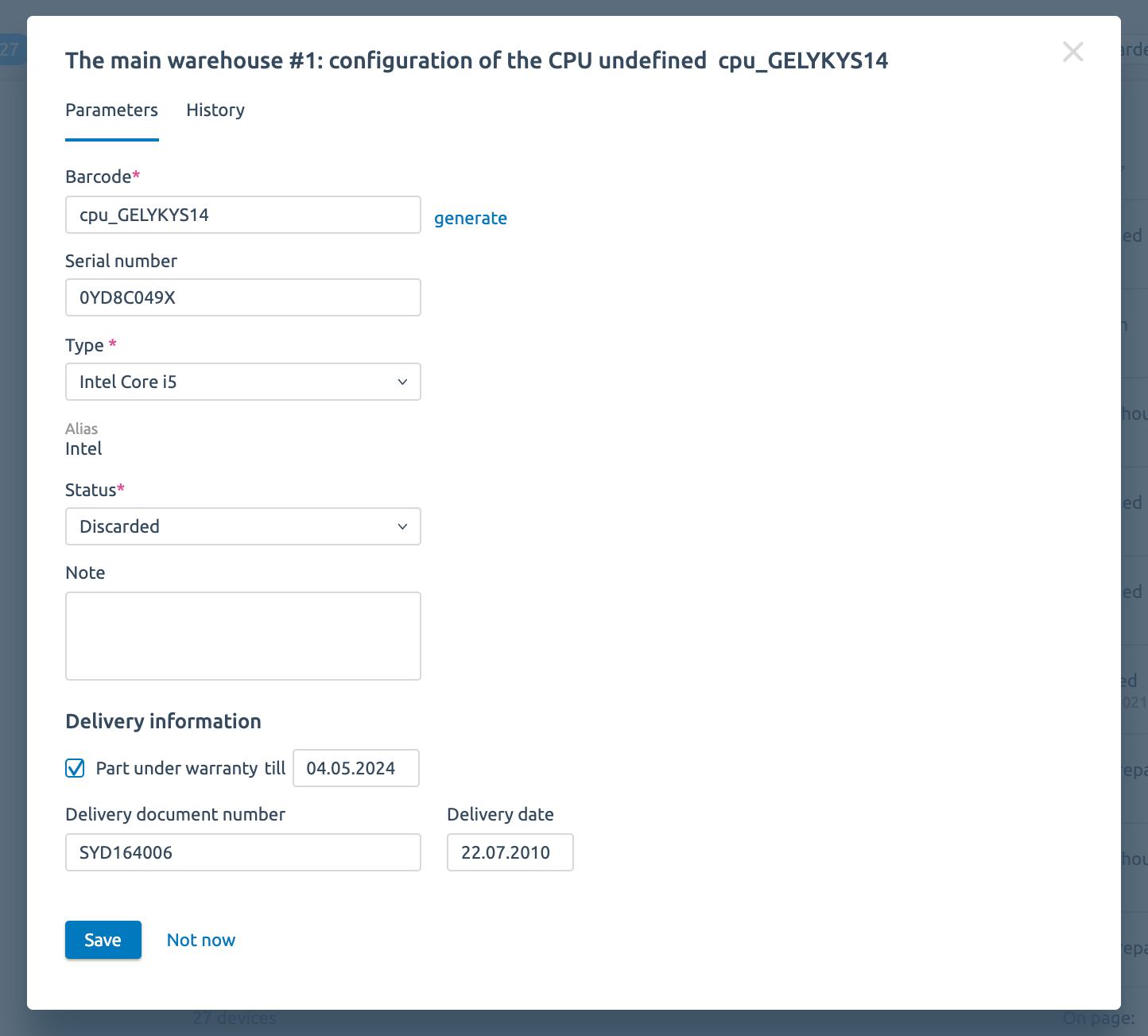 Server adding card. You can specify the platform, make notes, specify the barcode and MAC address. The Delivery Document Number and Delivery Date fields will help match the equipment with the data in the accounting system
Once parts are entered into the system, their movements can be recorded in a user-friendly interface. The module eliminates the need to manually copy data into different tables thus reducing the likelihood of error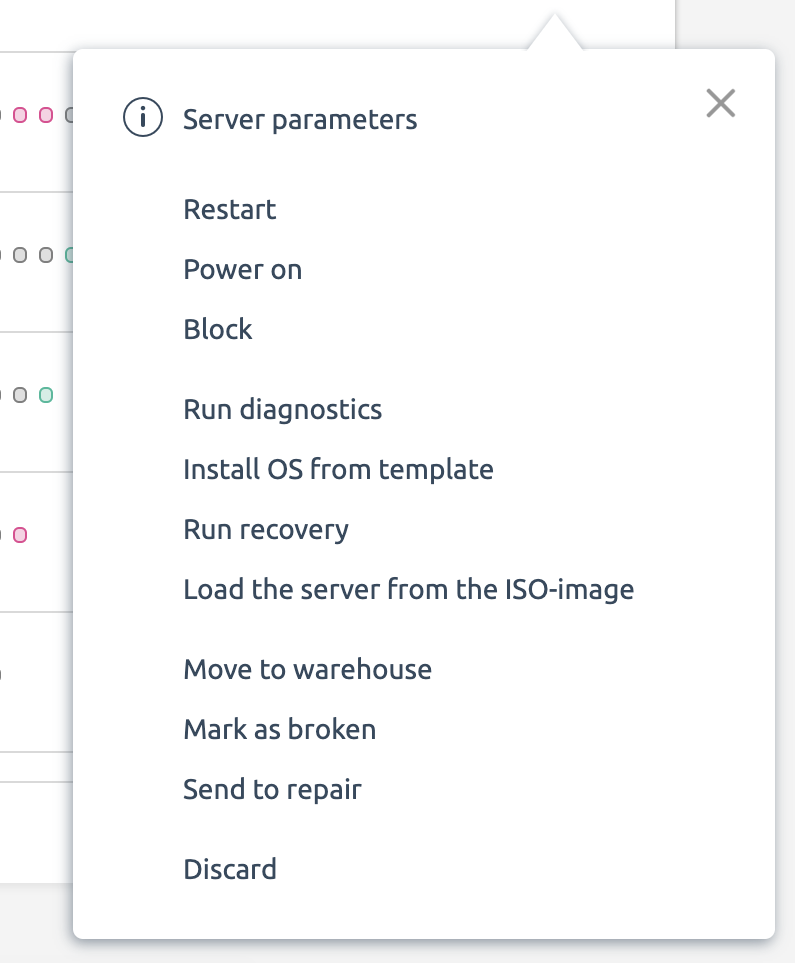 With the Warehouse module, you can record the movement of equipment in a couple of clicks
2 Automatic tracking of components
Usually, when a batch of assembled servers arrives, components have to be entered into the inventorying system manually. DCImanager automates this work.
After the server is placed in a rack, the diagnostic service checks which parts are used in it (RAM, CPUs, hard disks, NICs). Detected components can be entered into the inventorying system in a couple of clicks.
Diagnostic service checks not only the components of the server, but also its condition. If a problem is detected (for example, a factory defect in a part), the system will notify the administrator.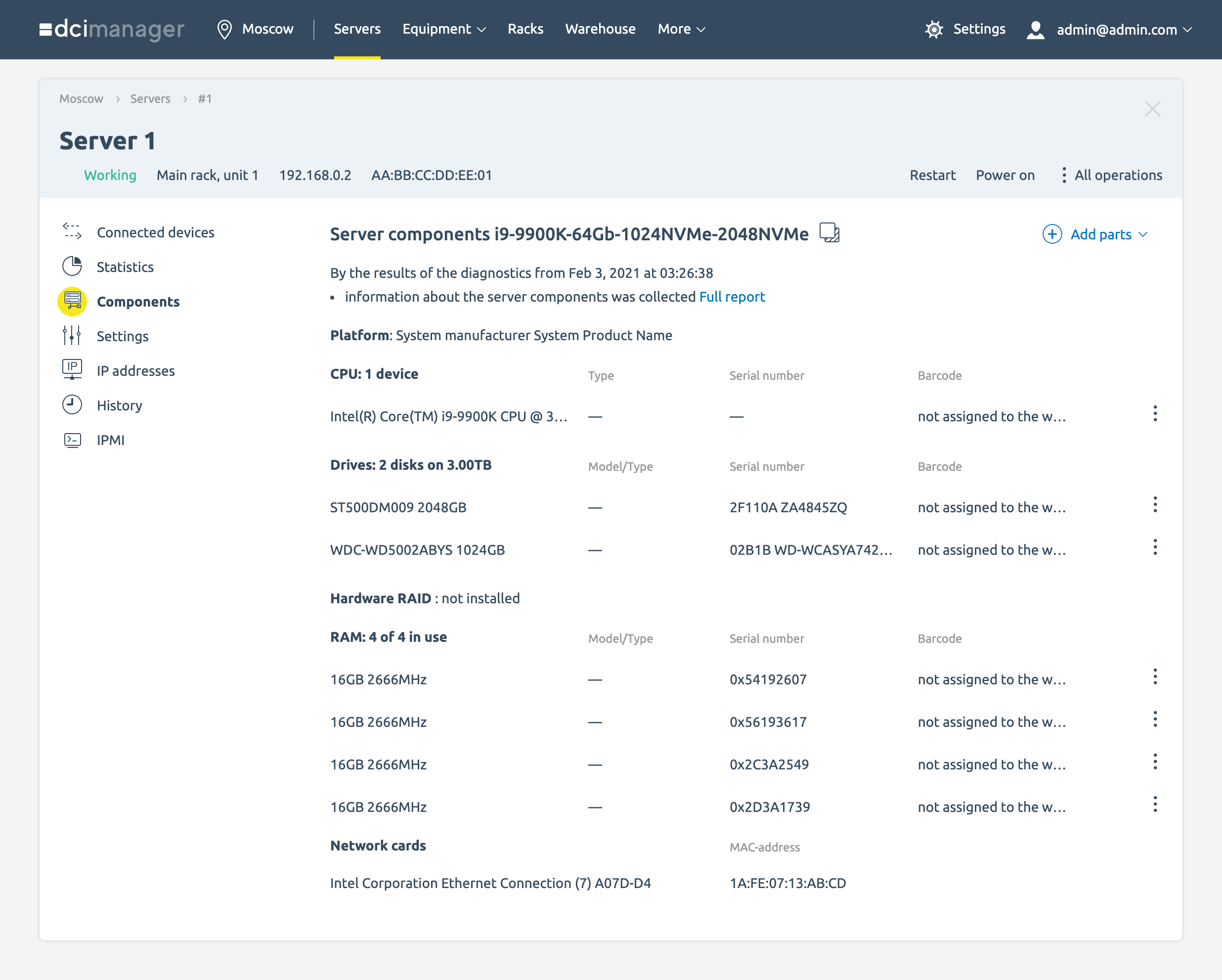 DCImanager automatically detects server components and reports issues and discrepancies in the inventory data
If components have been moved from one server to another, you can run the diagnostics again. DCImanager will show in which equipment the part with the given serial number is now used. The administrator will only have to confirm that movement of the part was intentional.
3 History of operation and movements
Operating history helps you decide how to use the equipment. For example, if you want to choose which of several servers to use for a project, you can see which one is "younger".
With the Warehouse module, it is convenient to view information about the movement of spare parts and equipment. Not only can you find out where it is now, but you can also see who performed the movement, when, and why.
The Warehouse module stores the history of the equipment:
its technical parameters,
commissioning date,
repair history,
history of movements and responsible staff members.

The warehouse records the history of equipment movements
4 Unified system for geographically distributed infrastructure
Often a company may have dozens of data centers in different cities. And each of them has a separate system where engineers enter data about the equipment.
But for the business, all IT assets are united. Scattered inventorying leads to difficulties. To determine what equipment is available, you have to request data from different departments and summarize them in a common form. It makes it harder to take inventory, move components, find missing equipment, or plan a purchase.
With the Warehouse module, you can keep a centralized record of all equipment in a single interface.
For example, if one location requires additional capacity, you can see where the unused servers are located.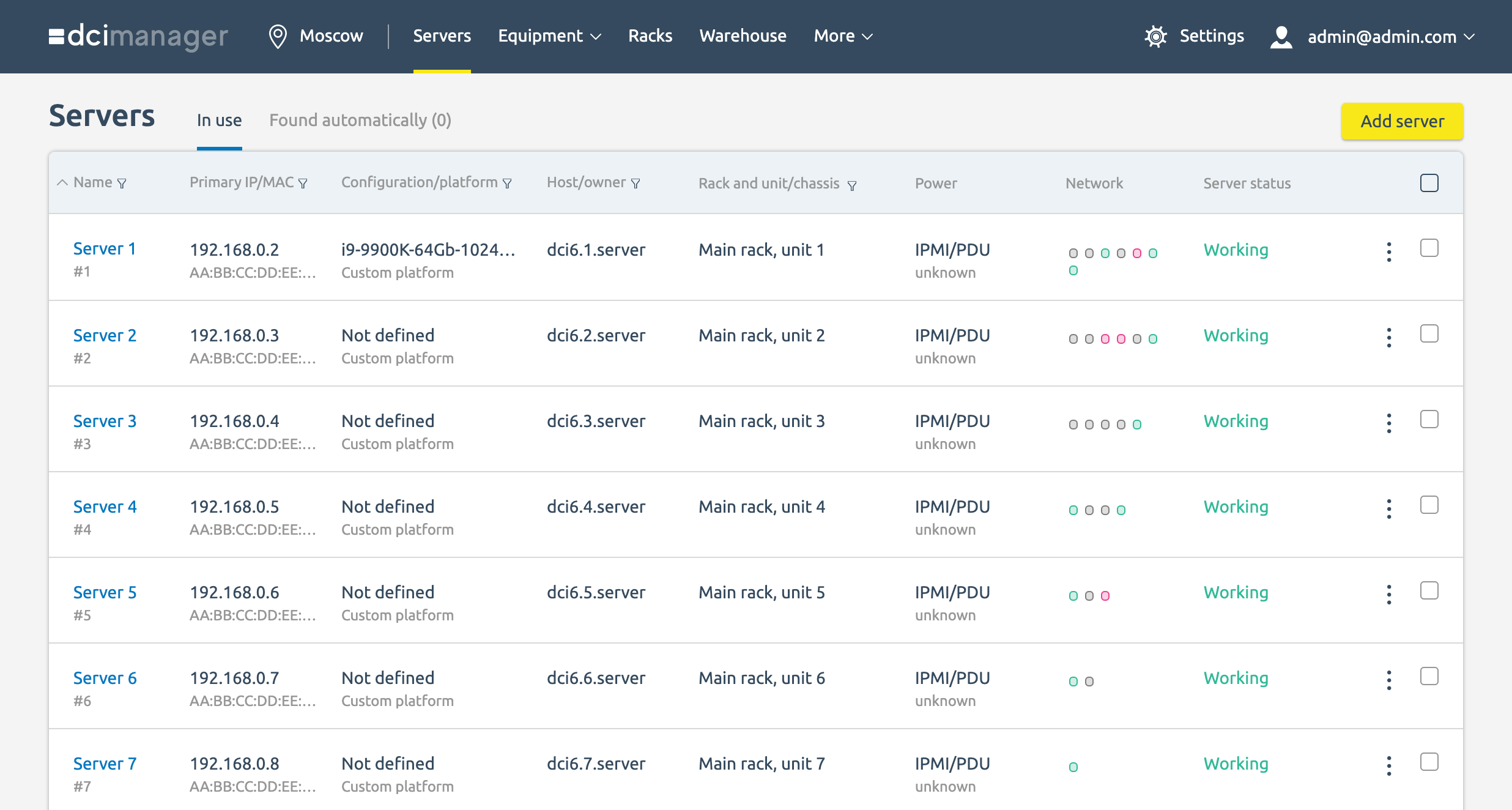 In DCImanager you can see where each piece of equipment is located and in which rack it is installed
5 Managing warranty service
You can specify the warranty expiration date in the equipment card, and this information will be at your fingertips at any time.
If there is a problem with the equipment, it will be easy to determine whether or not to contact the service organization under warranty. And if you have service contracts with vendors, you will not miss their renewal deadlines.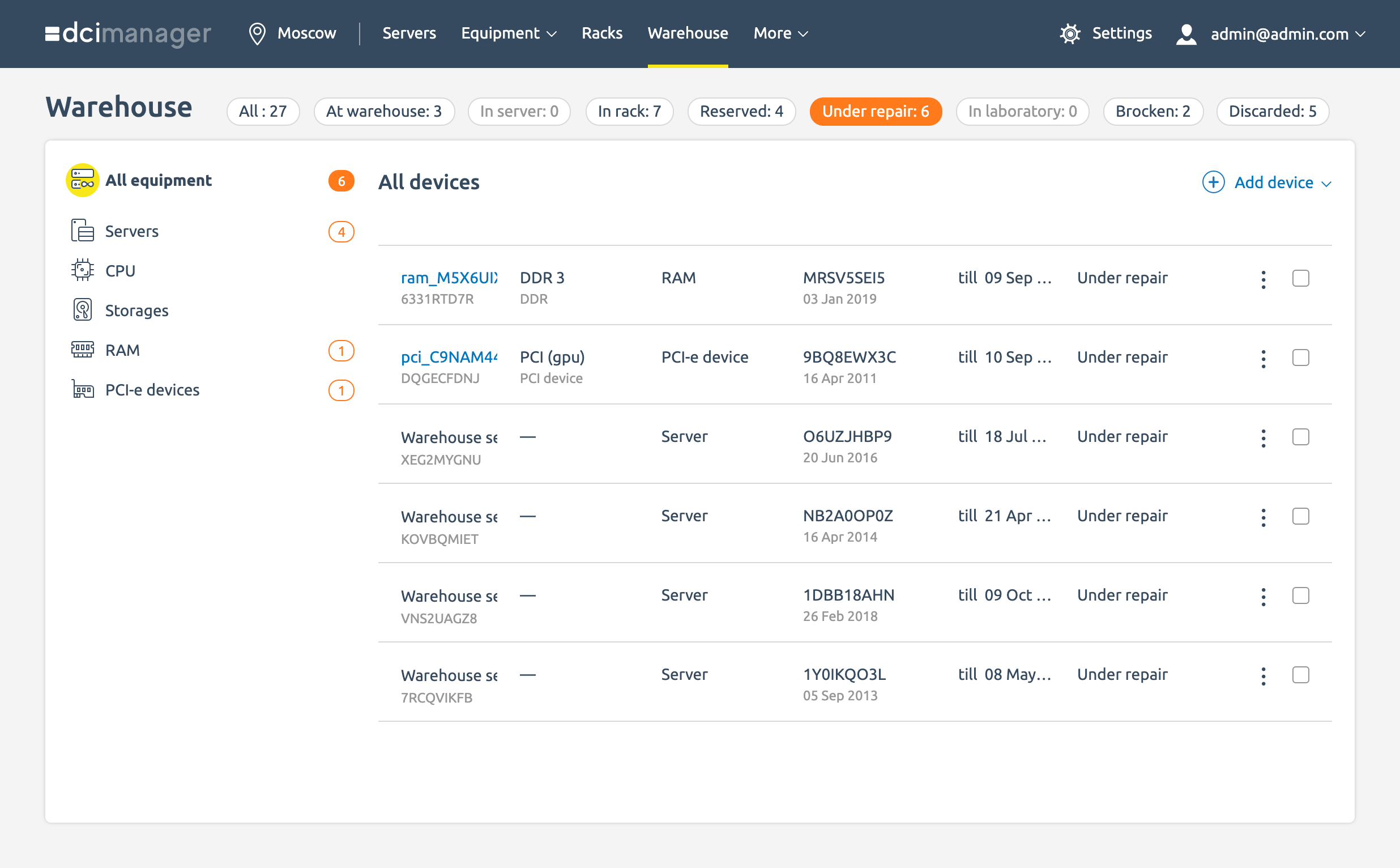 The Warehouse module helps you monitor where each piece of equipment is located. For example, you can see which servers are in repair
6 Help with procurement planning
Transparent inventorying helps save the company's budget. DCImanager stores data on equipment from purchase to decommissioning. It helps to analyze how IT assets are used in your infrastructure, plan new purchases, and protect your budget.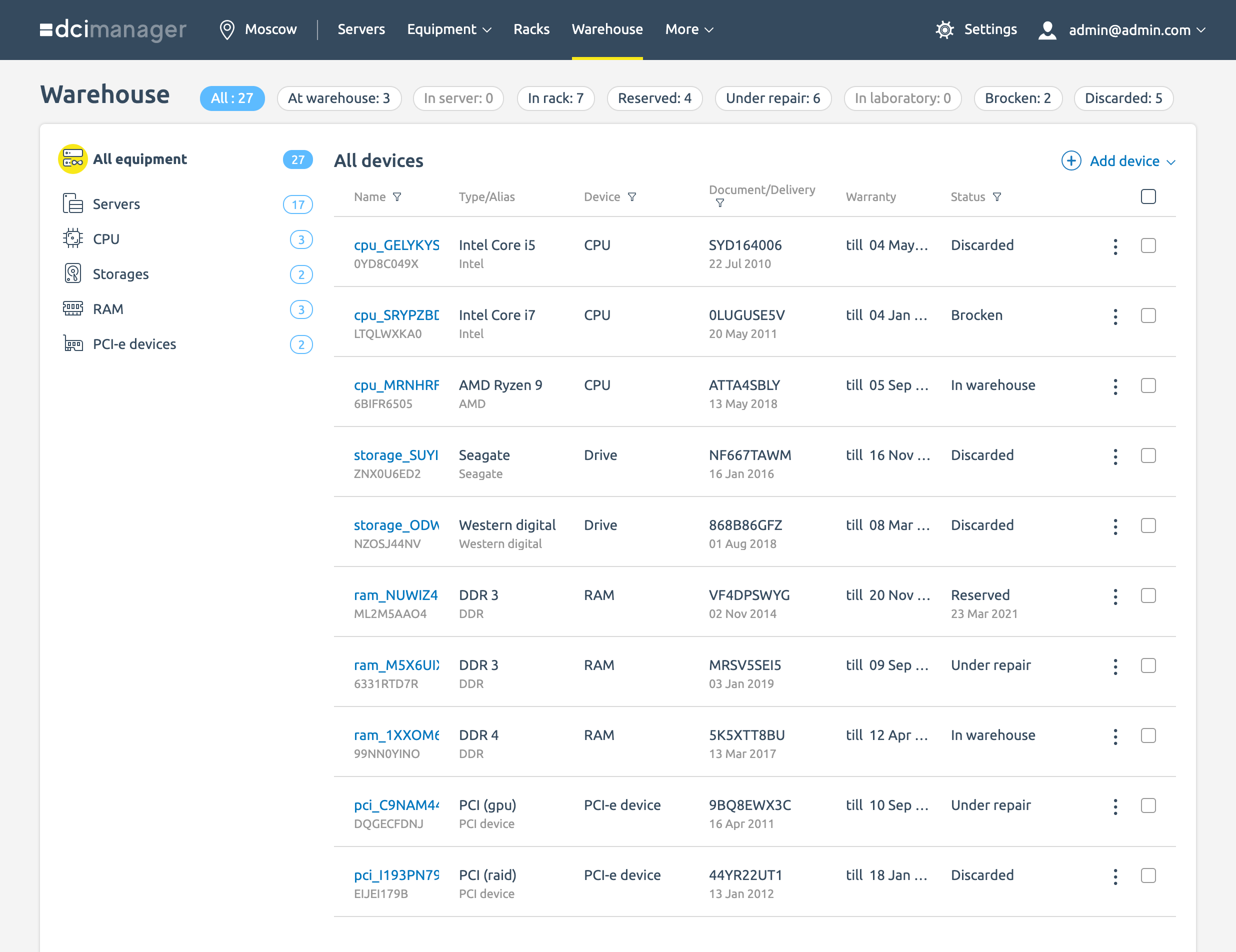 The dashboard of the Warehouse module. Equipment is sorted by type and location
How to try the Warehouse module in DCImanager
You can learn more about the Warehouse module by signing up for a free demo.
Sign up for a free demo to get acquainted with all the features of the Warehouse module.
To connect Warehouse to DCImanager, you need to extend the scope of your license. Then you can connect the Warehouse in DCImanager → Global settings → Modules.