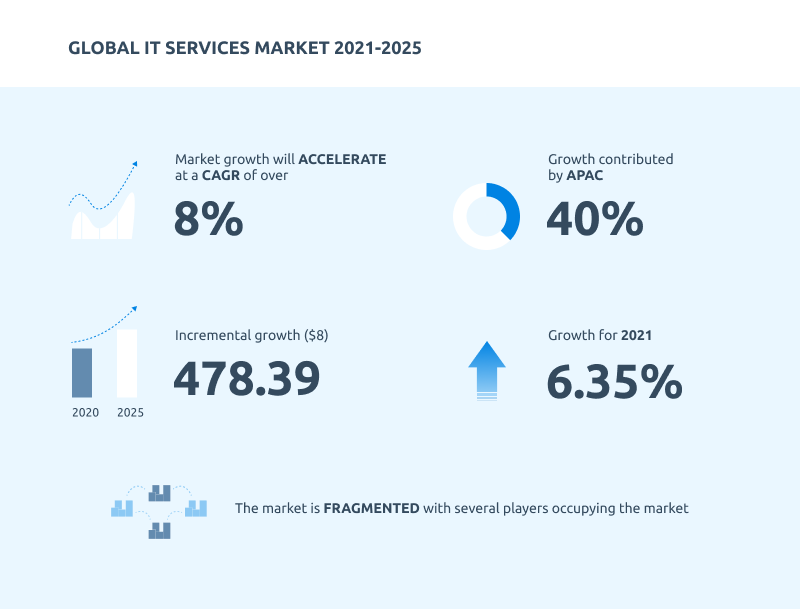 Jump forward to the modern day and the internet and cloud or hybrid cloud infrastructure storage offers limitless opportunities to create repositories of knowledge that can usually be accessed by all. From the World Digital Library to ibiblio, books, essays, music, and much more has been digitized and (hopefully) preserved forever.
Of course, many online libraries deal in specialist subjects, offering more focused knowledge to those looking for that information. One such repository is the IT Infrastructure Library (ITIL). Just what is it? How did it come about and what sort of information does it contain? Can anyone access it if needed?
What is the IT Infrastructure Library (ITIL)?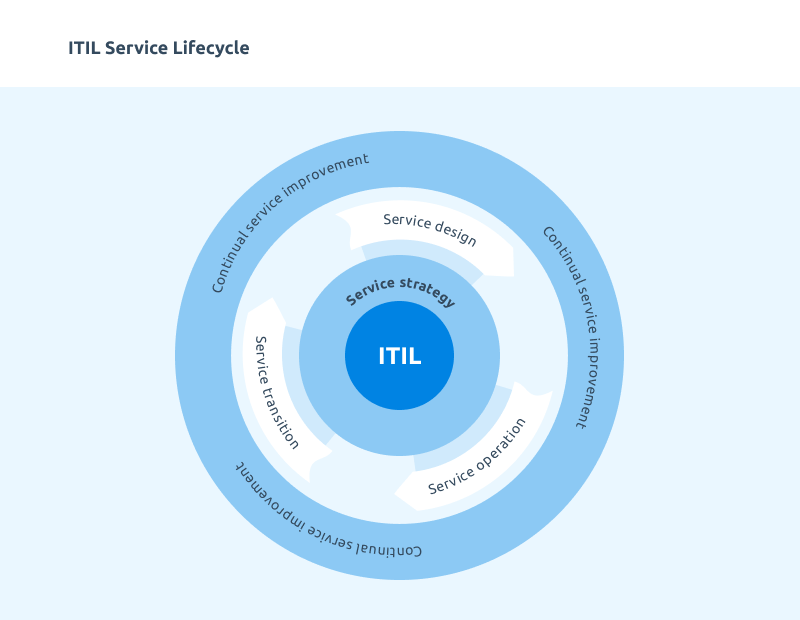 ITIL Service Lifecycle
As the name suggests, the IT Infrastructure Library is related to information technology. It is best defined as a repository of information that outlines frameworks and best practices for anyone delivering IT services. Those services can cover anything IT-related from asset management to ITSM (IT Service Management) or network management services.
The main focus of ITIL is to help align IT services with your business strategy and the needs of your customers. The ultimate goal is to help organizations get the best value possible from their IT services by utilizing best practices.
The IT Infrastructure Library allows you to access various IT practices that can help you solve business problems and add value to your business through better systems, such as choosing the best video conferencing solution rather than just improving your IT capabilities alone. ITIL's frameworks can help any size of organization to change business strategies when needed and to meet customer needs at all times.
Evolution of ITIL
The origins of the IT Infrastructure Library lie back in the late 1980s in the UK when the first framework was introduced by the CCTA (Central Computing and Telecommunications Agency). The reason for the agency's work was the poor IT services that the UK government were being provided with by outside agencies. They wanted to find a methodology that would lead to higher quality IT services but at a lower cost.
From the CCTA's early work came a list of recommendations that would meet both those goals. That list then became a set of best practices which evolved into ITIL. Those best practices could then be used by IT organizations and departments to make their own practices more efficient.
Prior to ITIL being established, the IT world was not really focused on customer needs but rather on the tech they were using, including hardware and software. ITIL brought about a major paradigm shift that stated any IT services provided should be aligned closer with those customer needs and there should be agreement on any services delivered to that customer base.
The reality of that paradigm shift means that organizations should have clearly outlined responsibilities as well as processes that guarantee service provision. One reason that ITIL works so well is that the CCTA discovered through research that nearly every organization (regardless of size of industry) had similar needs and requirements.
As you would expect with anything technology-related, ITIL has evolved over the years since its inception. There has been four main steps in that evolution:
1. GITIM (Government Information Technology Infrastructure Management)
This was the first version of ITIL, created by the CCTA at the end of the 80s. It was made up of 30 volumes that offered the best practices for IT teams and companies. This first version was widely accepted and used by both public and private sector organizations across Europe and by the early 90s, it was expanding beyond Europe.
2. ITIL v2
ITIL remained relatively unchanged until 2000. That was when Microsoft adopted it as the foundation for its MOF (Microsoft Operations Framework). It now became ITIL v2 and changed to trying to be more accessible to anyone and the original 30 volumes were split into nine separate categories. The adoption by Microsoft, and the wider access available, led to it becoming the most used ITSM tool globally.
3. ITIL v3
The next change came in 2006 with the introduction of the ITIL Glossary, designed to make the ITIL system more user-friendly. This led to ITIL v3 being published in 2007, a version that focused on integrating business IT around the idea of a service lifestyle structure. This version had 26 processes or functions condensed into five volumes. A revised version of v3 was released in 2011 to resolve the errors and inconsistencies in the 2007 version.
4. ITIL v4
The most recent update of ITIL was launched in 2019. The focus of this version highlighted practical guidance to individuals and organizations using ITIL, particularly when environments were collaborative in nature. This is a more inclusive version with the modern digital environment you work in and makes it easier for organizations to align ITIL with DevOps, Agile, and other systems.
What's in ITIL?
Through the various revisions, there have been some changes to what is in the IT Infrastructure Library, though the core information has largely remained the same. From the original 30 books, it moved to the five volumes mentioned in v3.
The newest version, ITIL v4, keeps some of the focus on improving IT services, including automated processes, integrating IT into the wider business model, and improving overall service management. It also recognizes the often rapid changes in the tech you use such as tools and software (including SaaS). It updates the framework to include these changes.
Since ITIL v4 was published, most organizations recognize that their IT department is an integral part of their business model as a whole and has thus created a framework that is more agile, more flexible, and more open to collaborative working. ITIL v4 also contains nine guiding principles to steer companies in things such as communication, organizational change management, and metrics.
The nine principles are:
Focus on value
Design for experience
Start where you are
Work holistically
Progress iteratively
Observe directly
Be transparent
Collaborate
Keep it simple
The idea of integration lies at the heart of ITIL v4 as well as how IT fits within company culture. It also seeks to encourage collaboration between the IT department of any organization and all the other departments within that business. This is vital as companies increasingly turn to tech and sales automation for many of their processes. There is also an emphasis on customer feedback so that businesses can see and understand what they're doing right and what they're doing wrong.
How do you use ITIL?
Unlike a normal library, it is not just a case of reading any (or all) of ITIL's collection of ebooks. You have to have some understanding of the concepts being presented and your staff have to buy into the whole process of learning and change. It is not always a simple process, especially when it comes to getting your IT staff to change their mindsets and adopt new ways of doing things.
ITIL is far more than a repository of knowledge and info; it also comes with a collection of consultation, training, and certification services. As of 2014, these services have been owned by Axelos who provides the certification with exams being administered by ATOs (Accredited Training Organizations) and accreditations administered by EIs (Strategic Examination Institutes) who have to be accredited by Axelos.
What is ITIL certification?
There are a few options for certification under ITIL v4. The certification scheme under v4 is more streamlined than v3 and includes the ITIL Foundation and the ITIL Master exams. The ITIL Foundation exam has two separate paths: the SL (strategic leader) path or the MP (managing professional) path. Each path has its own exams and modules.
1. Managing professional (MP)
This path and exam is aimed at IT staff who work across your organization with any team utilizing technology or other digital solutions. Its aim is to give those staff the knowledge to run any sort of IT project successfully, including aspects such as team working and workflow management. The modules on this path include: 0
Create, Deliver, and Support
Drive Stakeholder Value
High Velocity IT
Direct, Plan, & Improve
2.Strategic leader (SL)
The SL exam is aimed at staff who work with any and all services that are digitally enabled. This covers aspects of your business that don't fall under normal IT department remits. The primary focus of this path is on how technology directs and affects your business strategy and how IT plays a part in that. The modules included on this path are:
Direct, Plan, & Improve
Digital & IT Strategy
It should be noted that either path allows you to then progress to the ITIL Master exam, which is the highest certification offered by ITIL v4.
The takeaway
You are increasingly relying on technology and automated tools in your daily business practices. Even a SaaS marketing plan will include the use of technology to sell technology. Utilizing the IT Infrastructure Library goes beyond the practicalities of knowing how IT technology works, it allows you to see how to integrate it into your business model and meet your customers' needs.
Efficient management of your network and IT infrastructure is essential to running your business. To reach the required level of efficiency, ITIL can help ensure that all your IT staff, or those using IT systems and tools, are at the highest possible competency.
Bio:
Jessica Day — Senior Director, Marketing Strategy, Dialpad
Jessica Day is the Senior Director for Marketing Strategy at Dialpad, a modern business communications platform that takes every kind of conversation to the next level—turning conversations into opportunities. Jessica is an expert in collaborating with multifunctional teams to execute and optimize marketing efforts, for both company and client campaigns. She has also written for sites such as: Pretty Links and eHotelier. Here is her LinkedIn.