In late 2019, we launched the commercial box version of VMmanager 6. Over the past year, we've added lightweight LXD virtualization, backups service, IBGP-based IP fabric, 17 other major updates, and countless improvements. VMmanager is designed to replace a whole set of tools for working with virtual infrastructure. Consider which of the features could be the solution you are looking for.
Contents
1. Integration with Grafana
We have added an out-of-the-box Grafana container to VMmanager. It is a convenient tool for visualizing data and analyzing the current state of the virtual infrastructure. All you need to do is configure your dashboard in the VMmanager visual interface. Links to databases for storing system parameters have already been set up..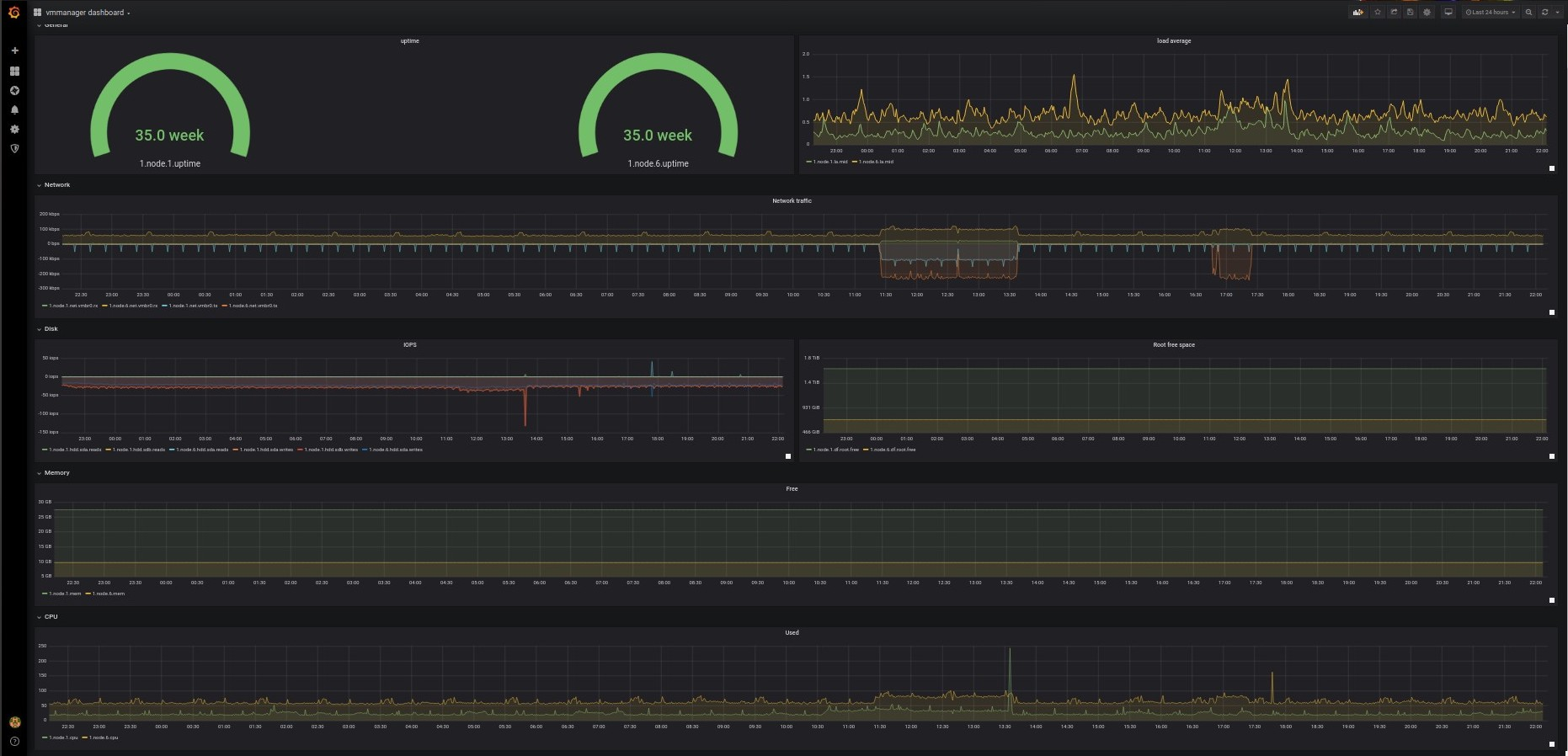 A pre-configured dashboard in Grafana
2. Live migration
In VMmanager, you can move a virtual machine to another server without stopping it. Live migration is available for KVM-based virtual machines. Their disks can be located both in network and local storages.
Administrators can maintain physical equipment without affecting the services of the end user.
3. IPv6 support
The IPv4 address space is shrinking. We decided not to wait until IP addresses are no longer available and added IPv6 support to all network configurations for KVM virtual machines and LXD containers.
4. Distributed network Ceph storage
We analyzed the metrics of the previous version of VMmanager and found that most of our clients use Ceph as a network storage. This is due to its reliability, speed and scalability. Ceph replication ensures data preservation in case of accident, while its implementation will not require large capital expenditures from the company - the storage can be deployed on a minimal server configuration.
You can now connect your existing Ceph storage to VMmanager. In the future, we will provide the ability to create Ceph directly on hypervisor nodes. This will make it possible to implement a full-fledged hyperconvergent virtualization cluster in the infrastructure.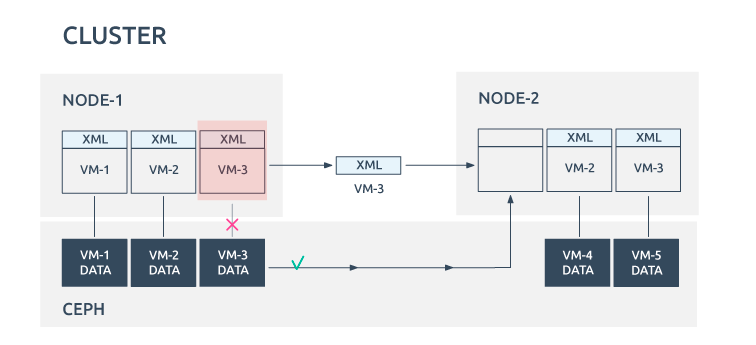 Ceph distributed storage. When you migrate a virtual machine, only its settings are copied. The hard drive of the virtual machine is simply reconnected. The operation takes a few seconds
5. Private and public networks in a cluster
We have added the ability to create private and public networks in clusters. The functionality is implemented on the Linux bridge technology. When creating a virtual machine, the administrator can connect its network interface to any bridge to configure the network.
6. Script support for declarative description of node and VM settings
The administrator can use shell and ansible scripts when configuring nodes and shell scripts run when starting up virtual machines and containers. The platform has pre-configured scripts, but you can create new ones. Script access control for end users has been implemented. This allows to improve the level of client service, as well as expand the capabilities of the self-service portal for your internal or external client. For instance, with scripts you can set up the VDI serviceс.
7. Integration with PowerDNS
VMmanager supports integration with PowerDNS. PowerDNS is a high-performance, free, open-source DNS server. It allows you to manage reverse DNS records for mail and certain Internet services. VMmanager integration with the DNS server must be configured to proceed. After the module is activated, PTR records will be created on the DNS server to convert VM addresses into domain names.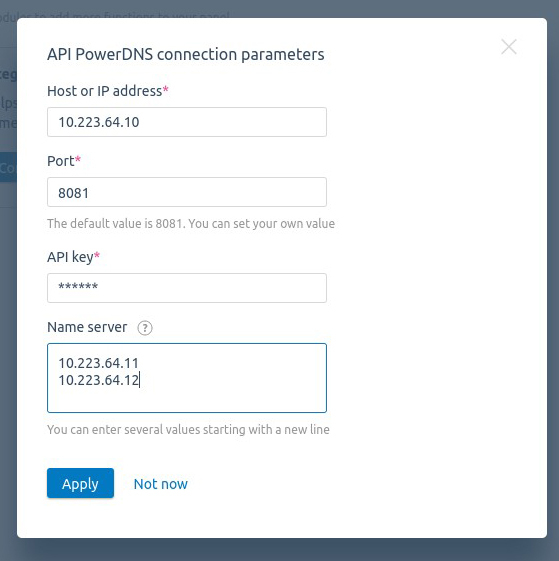 Configuring connection to the PowerDNS API
8. Windows licensing with standard keys and via KMS
We have added the possibility of automatic activation of Windows VMs through your own KMS server. KMS (Key Management Service) server allows you to activate corporate versions of Windows within the network without connecting to a Microsoft server. VMmanager fully automates this process — you only need to specify the IP address of the KMS server. Configuring KMS server in VMmanager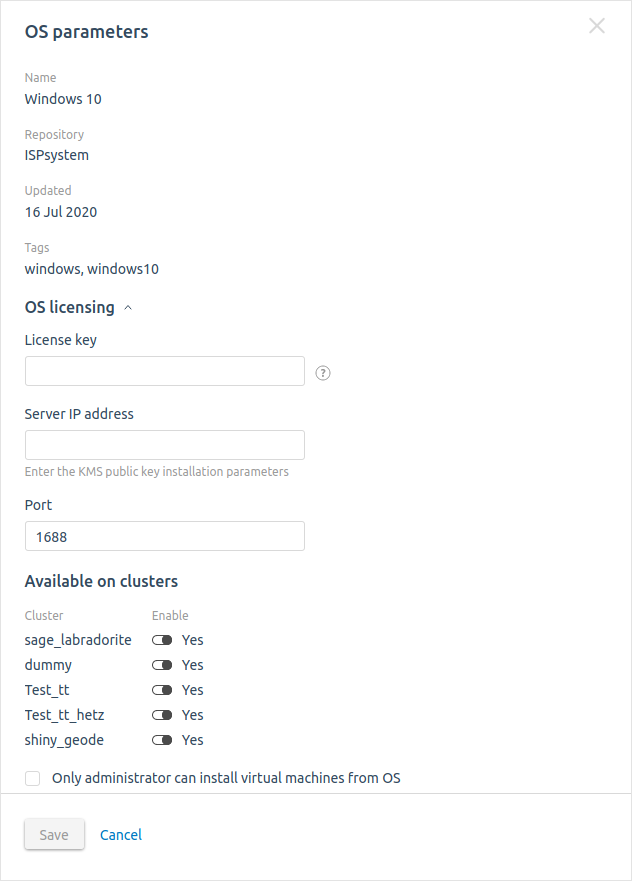 Configuring the KMS server in VMmanager interface
9. Backup of virtual machines
Backup in VMmanager is a disk image of the virtual machine, which can be used to restore it. You can create a backup on the cluster node with the source VM or on an external storage device connected via SSH.
The platform allows you to configure a backup schedule for a specific virtual machine, an entire cluster or all virtual machines created based on a specific template.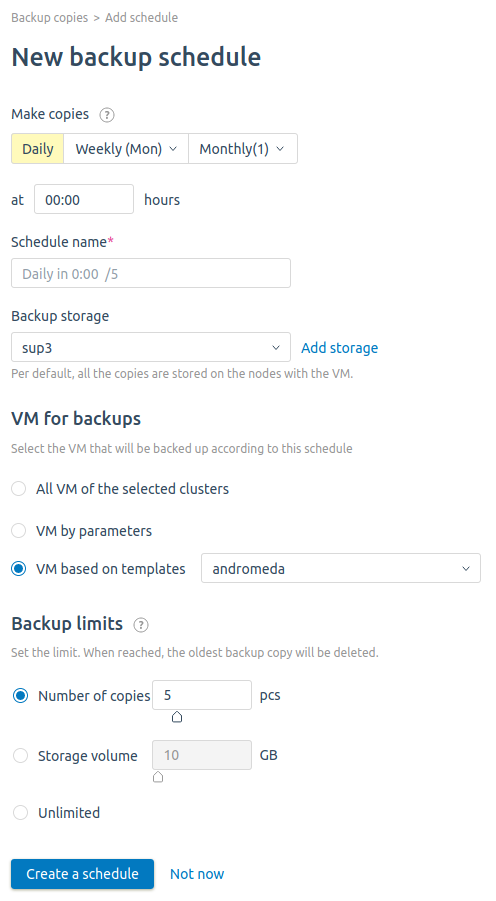 Configuring backup schedule in VMmanager: you can select the schedule, storage, virtual machines for backups and set limits for backup storage
10. VMmanager platform backups
Now you can create a backup of the VMmanager platform manually or by schedule. The backup is saved in tar archive format on a local or a remote storage. It contains the platform configuration files, the Docker service and the database dump file. After creating a backup, you can download the archive from VMmanager in one click.
Recovery of a corrupted platform or reinstalling it can be done using one command only.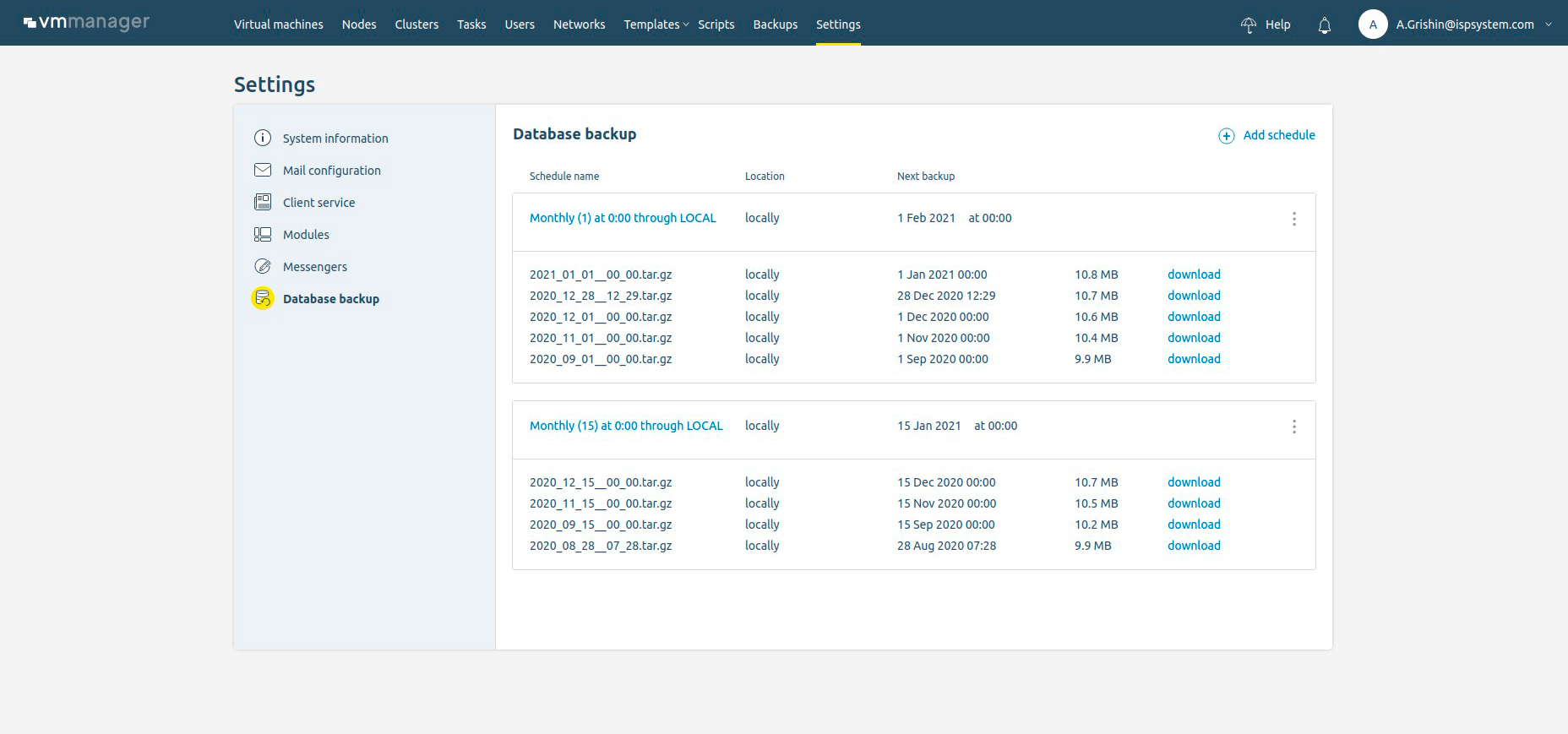 VMmanager platform backups. Configure the schedule using the Cron service
11. Notifications system
Administrators can be notified about the status of virtual machines, nodes and the entire platform.
As of today, notifications are available in VMmanager for:
Virtual machines (CPU, RAM values and VM corruption);
Nodes (CPU, RAM, Storage, as well as node unavailability);
Tasks in the platform (creating and deleting VMs, migration, etc.);
Notifications are displayed in the VMmanager interface. They can also be duplicated via email and/or Telegram. VMmanager uses a Telegram bot to send notifications to Telegram. You can get its token from@BotFather and execute a single command to connect to VMmanager. All chats will automatically appear in the platform interface.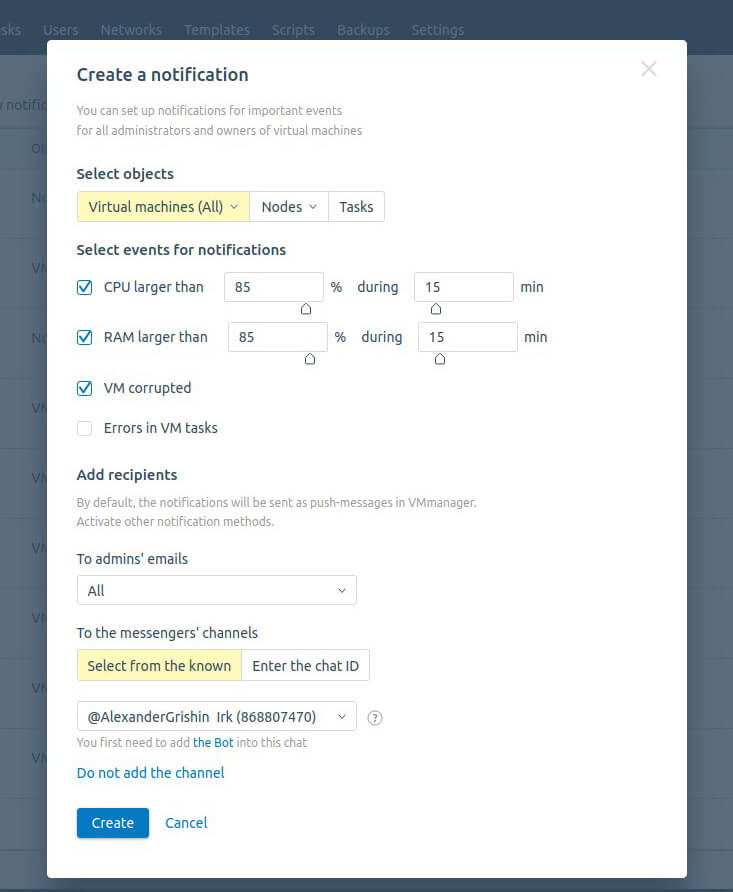 Configuring notifications in VMmanagerr
12. The ability to connect ISO image to a virtual machine
You can connect an ISO image to a virtual machine. You may need this to install a custom operating system. VMmanager uses iPXE technology to connect. It allows to avoid loading the entire image, but rather only the necessary files during the installation process. Administrators can allow end users to mount ISO images on a selected cluster.
13. Fine settings
We have added the ability to fine-tune the settings of virtual machines and LXD containers. Fine settings allow you to adjust the performance of the cluster and improve network security.
Parameters available for fine-tuning:
Resources (CPU, RAM, Storage);
Limits (CPU, I/O, IOPS, traffic, TCP connections);
CPU emulation mode;
Anti-spoofing.
You can configure fine settings when creating a virtual machine or container from the interface, through the billing system or via API. The set of settings can be saved in the virtual machine template and used in the future.
The administrator can change most of the parameters after the virtual machine or container has been created without interrupting its operation.
Editing fine settings
14. Traffic-based billing
VMmanager integrated with BILLmanager allows you to create a tariff based on traffic statistics.
The peculiarity of this type of billing is that the client does not need to perform any actions to order an addon. The system automatically collects statistics on the use of the resource. When the client exceeds a certain value, additional money will begin to be deducted from the client's account.
For example, the provider sells the "Dedicated server" service. The content of the tariff plan has the resource "Outbound traffic" — the cost of the tariff includes 5120 MiB of traffic per month. The billing type of this resource is Statistics-based.
With this setting, additional money will be deducted from the client's account only when the outgoing traffic for the current month exceeds 5120 MiB.
15. Centos 8 and Ubuntu 20 hypervisor support
We have implemented hypervisor support for such operating systems as Centos 7, Centos 8 and Ubuntu 20. This expands the choice of tools for designing a virtual infrastructure.
16. IBGP-based IP fabric
IP fabric is one of the network configuration types that can be used in a cluster along with the Switching and Routing. IP fabric allows you to create virtual machines or containers in an isolated public /32 network on top of the infrastructure in a private network. Routing in the cluster is performed using the iBGP protocol. Route Reflector (RR) equipment is used to transmit information about iBGP routes. Physical or virtual routers and/or servers with the Bird service can be used in this function.
Advantages of IP fabric:
Reduced service traffic;
Saving the address space;
Isolation of VM traffic;
IP addresses are not bound to cluster nodes;
VMs can be migrated promptly among cluster nodes.
17. РAdvanced IP space management capabilities
We have added several tools to administer and manage the address space through VMmanager:
The list of IP addresses used and tools for interacting with them;
The possibility to reserve one, several or a subnet of IP addresses for infrastructure services of your company;
Viewing the IP address history;
The ability to enable checking of IP addresses for listing in DNSBL. For example bl.spamcop.net and zen.spamhaus.org.
18. Policy of VM distribution over cluster nodes
You can choose the virtual machine cluster distribution policy: uniform or sequential. In case of uniform distribution, VMs will be created on the most vacant node of the cluster. In case of sequential distribution — on the most occupied node of the cluster.

Schemes of uniform and sequential distribution of VMs on nodes
You can also now limit the maximum number of virtual machines created on a node.

In the node settings, you can set limits on the maximum number of virtual machines created
19. LXD container support
VMmanager now supports not only hardware virtualization based on KVM, but also LXD containers.
LXD containers function as complete virtual machines with Linux OS. They are suitable for any tasks that use a Linux server: development, a website, a database, backend logic, or a corporate messenger. LXD containers are fast, secure and save computing resources:
It takes as little as 3 seconds to create one container;
More instances can be deployed on one piece of equipment;
Isolated architecture provides security.
20. Support of several storages in a cluster
In a recent release, we added support for multiple local or network storage per virtualization cluster. This adds flexibility to building a virtual infrastructure. For example, you can use different physical disks for virtual machines in the same cluster.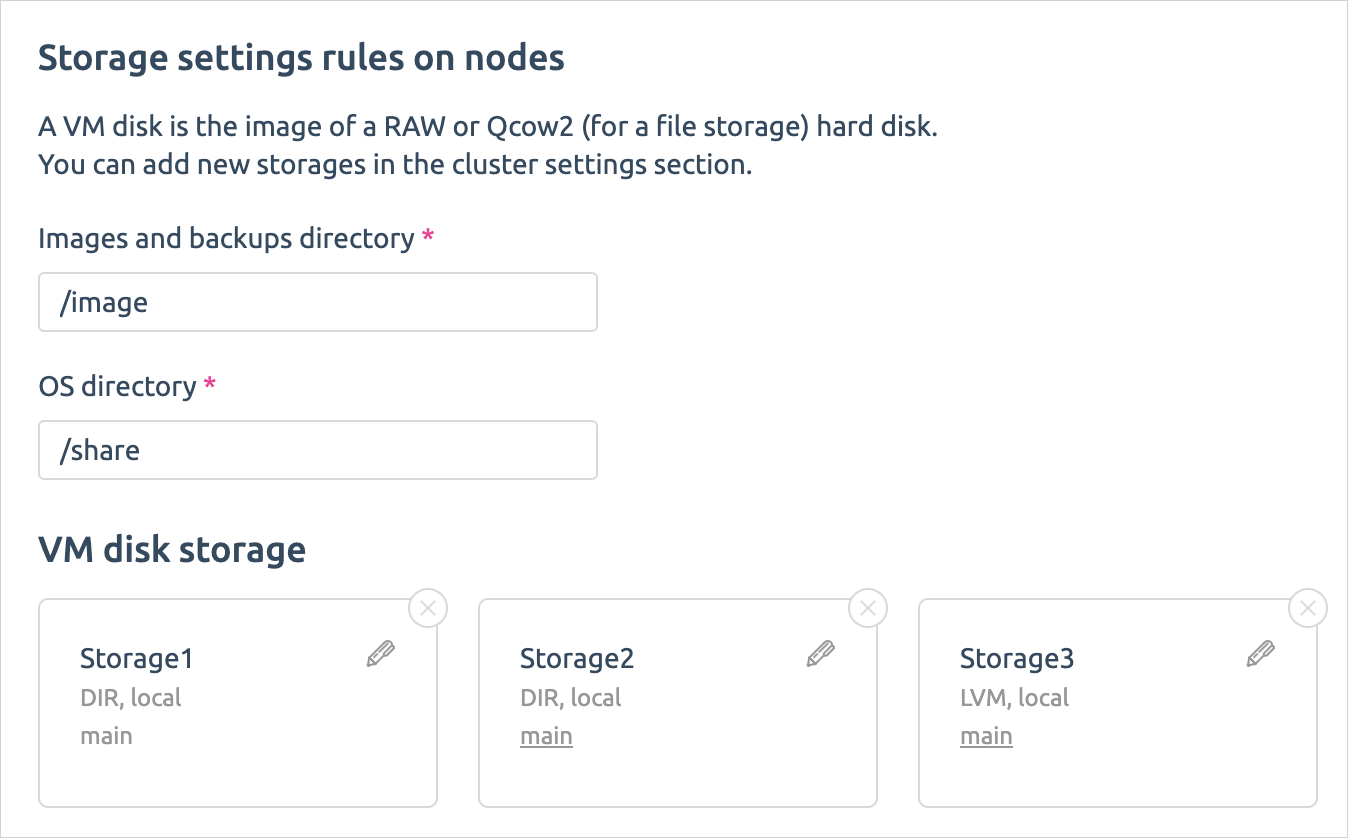 Settings when creating a cluster: you can select several storages and select one of them as the main one
21. Plans for 2021
Next year, we will continue to develop the VMmanager virtualization platform. Here are some of our plans:
High availability for VMs in a cluster
IaaS — VXLAN+eBGP-based isolated infrastructure for the end client;
DRS and sDRS support;
Support of domestic OS;
Policy for distributing VMs in a cluster based on custom tags;
The ability to create Ceph storage directly on nodes with the hypervisor — an implementation of a hyperconvergent platform.
Did you like any of the new VMmanager features?
Order a demonstration of the platform and try it out.